Gwen Verdon
(Gwyneth Evelyn Verdon)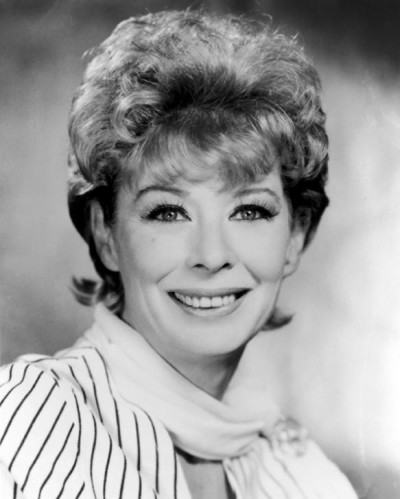 Verdon was born in Culver City, California, the second child of Gertrude Lilian (née Standring; October 24, 1896 – October 16, 1956) and Joseph William Verdon (December 31, 1896 – June 23, 1978), British immigrants to the United States by way of Canada. Her brother was William Farrell Verdon (August 1, 1923–June 10, 1991). The Verdon family could be described as "showpeople." Her father was an electrician at MGM Studios, and her mother was a former vaudevillian of the Denishawn dance troupe, as well as a dance teacher. As a toddler, she had rickets, which left her legs so badly misshapen she was called "Gimpy" by other children and spent her early years in orthopedic boots and rigid leg braces. Her mother put the three-year-old in dance classes. Further ballet training strengthened her legs and improved her carriage. By the time she was six, she was already dancing on stage. She went on to study multiple dance forms, ranging from tap, jazz, ballroom and flamenco to Balinese. She even added juggling to her repertoire. At age 11, she appeared as a solo ballerina in the musical romance film The King Steps Out (1936), directed by Josef von Sternberg and starring Grace Moore and Franchot Tone. She attended Hamilton High School in Los Angeles and studied under famed balletomane Ernest Belcher. While in high school, she was cast in a revival of Show Boat. Verdon shocked her parents and instructors when she abandoned her budding career aged 17 to elope with reporter James Henaghan in 1942. In 1945, she appeared as a dancer in the movie musical The Blonde From Brooklyn. After her divorce, she entrusted her son Jimmy to the care of her parents.
Early on, Verdon found a job as assistant to choreographer Jack Cole, whose work was respected by both Broadway and Hollywood movie studios. During her five-year employment with Cole, she took small roles in movie musicals as a "specialty dancer". She also taught dance to stars such as Jane Russell, Fernando Lamas, Lana Turner, Rita Hayworth, Betty Grable and Marilyn Monroe. Verdon started out on Broadway as a "gypsy", going from one chorus line to another. Her breakthrough role finally came when choreographer Michael Kidd cast her as the second female lead in Cole Porter's musical Can-Can (1953), starring French prima donna Lilo. Out-of-town reviewers hailed Verdon's interpretation of Eve in the Garden of Eden ballet as a performance that upstaged the show's star, who jealously demanded Verdon's role be cut to only two featured dance numbers. With her role reduced to little more than an ensemble part, Verdon formally announced her intention to quit by the time the show premiered on Broadway. But her opening-night Garden of Eden performance was so well received that the audience screamed her name until the startled actress was brought from her dressing room in her bathrobe to take a curtain call. Verdon received a pay increase and her first Tony Award for her triumphant performance.
With her short shock of flaming red hair, exquisite body of a pin-up girl and a guileless vulnerability on stage and off, Verdon was considered the best dancer on Broadway in the 1950s and 1960s. That reputation solidified during her next show, George Abbott's Damn Yankees (1955), based on the novel The Year the Yankees Lost the Pennant. She would forever be identified with her role as the vampish Lola, and it was on this show that she first worked with Bob Fosse as her choreographer. In the story, Verdon's Lola is a woman who was once "the ugliest woman in Providence, Rhode Island" but sold herself to the Devil to be the beauty we see in the play. The Devil (played by a wryly comic Ray Walston) convinces a baseball fan to sell his soul so he can play for the Washington Senators and win the league pennant in the playoffs. The Devil then employs the seductive Lola to keep the guy ("Joe") from escaping his grasp. The hitch is that Lola falls for the guy and has to choose between her love for him and her beauty pact with the Devil. The musical ran for 1019 performances. Vernon won another Tony and went to Hollywood to repeat her role in the 1958 movie version Damn Yankees, memorably singing "whatever Lola wants, Lola gets". (Fosse can be seen partnered deliciously with her in the original mambo duet "Who's Got the Pain".) Another Tony came when Verdon memorably played a role associated with Greta Garbo, Eugene O'Neill's Anna Christie, the hard-luck girl fleeing from her past as a prostitute, in the musical New Girl in Town. When Fosse directed as well as choreographed his first Broadway musical, it was Redhead, for which Verdon won her fourth Tony. In 1960, Fosse and Verdon wed.
In 1966, Verdon returned to the stage in the role of Charity in Sweet Charity, which like many of her earlier Broadway triumphs was choreographed and directed by husband Fosse. The show is based on Federico Fellini's screenplay for Nights of Cabiria. But whereas Fellini's black-and-white Italian film concerns the romantic ups and downs of an ever-hopeful prostitute, the musical makes the central character a hoofer-for-hire at a Times Square dance hall. The trademark Fosse showmanship, a dynamite musical score and theatregoers' affection for the exuberant, 41-year-old Verdon put the show over, despite Fellini's source material straining against the sanitized, Broadway-ized storyline. It was followed by a movie version starring Shirley MacLaine as Charity, featuring Ricardo Montalban, Sammy Davis, Jr. and Chita Rivera, with Fosse at the helm of his very first film as director and choreographer. Characteristically generous, Verdon helped with the choreography. The numbers include the famed "Big Spender", the fast-paced "Rhythm of Life", the witty "If My Friends Could See Me Now" and "I'm a Brass Band", in which MacLaine's Charity marched down the middle of Manhattan's Wall Street district. Verdon would also travel to Berlin to help Fosse with Cabaret, the musical film for which he won an Academy Award for Best Director. Although estranged as a couple, Verdon and Fosse continued to collaborate on projects such as Chicago (1975) (in which she originated the role of murderess Roxie Hart) and the musical Dancin' (1978), as well as Fosse's autobiographical movie All That Jazz (1979). The helpmeet/peer played by Leland Palmer in that film is based on the role Verdon played in Fosse's real life. She also developed a close working relationship with Fosse's partner, Broadway dancer Ann Reinking, and she instructed for Reinking's musical theatre classes. Reinking can be seen in All That Jazz playing the protagonist's partner, as she was in Fosse's real life. She, as much as Verdon, would become responsible for keeping Fosse's trademark choreography alive after Fosse's death. Reinking played Roxie Hart in the highly successful Broadway revival of Chicago that opened in 1996. She choreographed the dances "in the style of Bob Fosse" for that revival.
After originating the role of Roxie opposite Chita Rivera in Chicago, Verdon focused on film acting, playing character roles in movies such as The Cotton Club (1984), Cocoon (1985) and Cocoon: The Return (1988). She continued to teach dance and musical theater and to act. She received three Emmy Award nominations for appearances on Magnum, P.I. (1988), Dream On (1993) and Homicide: Life on the Street (1993). Verdon appeared as Alice's mother in the Woody Allen movie Alice (1990) and as Ruth in Marvin's Room (1996), co-starring Meryl Streep, Diane Keaton, and Hume Cronyn. In 1999, Verdon served as artistic consultant on a plotless Broadway musical designed to showcase examples of classic Fosse choreography. Called simply Fosse, the revue was conceived and directed by Richard Maltby Jr and Ann Reinking and choreographed by Reinking and Chet Walker. Verdon's daughter Nicole received a "special thanks" credit. The show received a Tony for best musical. In 1997 Verdon appeared in an episode of Walker Texas Ranger as Maisie Whitman. She later reprised the role in 1999. Verdon played Alora in the movie Walking Across Egypt (1999) and appeared in the film Bruno, released in 2000. Verdon received a total of four Tonys, for best supporting actress for Can-Can (1953) and best leading actress for Damn Yankees (1955), New Girl in Town (1957) and Redhead (1959), a murder-mystery musical. She also won a Grammy Award for the cast recording of Redhead. Gwen Verdon was inducted into the American Theatre Hall of Fame in 1981. In 1998, she was awarded the National Medal of Arts.
Verdon had two husbands, tabloid reporter James Henaghan (married 1942, divorced 1947) and Bob Fosse (married 1960, his death 1987). She and Henaghan had one son, Jim Henaghan (born 1943); she and Fosse had a daughter, Nicole Fosse (born 1963). Fosse's extramarital affairs put a strain on their marriage and by 1971 they were separated. They never divorced. She held him in her arms as he suffered a fatal heart attack on the sidewalk outside the Washington theatre where Sweet Charity [6] was being revived. She was a cat fancier, and had up to six cats at one time, with names such as "Feets Fosse", "Junie Moon", and "Tidbits Tumbler Fosse". Verdon died in her sleep in 2000 of a heart attack at the home of her daughter, Nicole, in Woodstock, Vermont, at the age of 75. At 8 p.m. on the night she died, all marquee lights on Broadway were dimmed in a tribute to the actress. Her remains were cremated.
Born
January, 13, 1925
USA
Culver City, California
Died
October, 18, 2000
USA
Woodstock, Vermont
Cause of Death
Other
8998 profile views