Gus Hardin
(Carolina Ann Blankenship)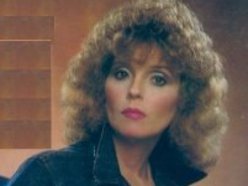 Gus Hardin
One of the more interesting singers of the 1980s was a female singer who went by the name Gus Hardin. While never a big star, she had one of the more distinctive female voices and enjoyed at least a modicum of recording success. Her voice was hard to describe, although some listeners said it reminded them of Bonnie Tyler, while others described it as 'whisky-soaked.' Perhaps a more accurate description would be that it was the sort of Blues/Rock/County/Gospel sound sometimes referred to as the 'Tulsa Sound' that later, appropriately enough, spawned Garth Brooks–appropriate in that Garth's sister, Bettsy Smittle, sang backgound for Hardin.
I had the pleasure of seeing her perform only one time, at the Five Seasons Center (now U.S. Cellular Center) in Cedar Rapids, Iowa in early 1984, a few weeks after the University of Miami's stunning victory over Nebraska in the Orange Bowl for their first National Championship. Because the show was a package put on by a local radio station, none of the acts were able to put on a full set (Jim Glaser was also on the bill). I regret that I never had an opportunity to see her again.
Biographical information on Gus Hardin is fairly sketchy, although she is known to have been at least part Cherokee. She was born Carolyn Ann Blankenship on April 9, 1945 in Tulsa, Oklahoma and grew up in the Tulsa area, where she picked up the nickname "Gus" as a teen. After high school, she attended Tulsa University. Although she initially planned on being a teacher of the deaf, marriage, music and a pregnancy derailed that plan.
Hardin seemed to have a tumultuous personal life having been married at least six times, thrice by the time she was 23. Marriage number three was to keyboard player Steve Hardin who had previously played in Jody Miller's band and later played for Glen Campbell (see Forgotten Artist article on Jody Miller). After their divorce, she retained the last name as her professional name.
She signed a recording contract with RCA during the early 1980s. Her first RCA single, "After The Last Good-Bye" was a Top 10 Country hit in 1983, and several other singles from her albums reached the Top 40 over the next few years. None of her solo efforts ever again reached the level of her first single. Although she was named 'Top New Country Artist' by Billboard magazine in 1983, it did not lead to great commercial success as her voice was ill-suited for the synthesizer-driven sound of the early to mid 1980s country music. A 1984 duet with fellow RCA recording artist Earl Thomas Conley, "All Tangled Up In Love" reached #8, but other than that, none of her subsequent records even reached the Top 25.
Gus Hardin won the "Best New Female Vocalist" award from the Academy of Country Music in 1984. It should be noted that the Academy of Country Music was much more oriented to west coast based artists during that period.
In all, Hardin charted 10 singles, the last occurring in early 1986 when "What We Gonna Do" peaked at #73. Although she charted over a four year period, all of her recordings for RCA were recorded within a span of less than two years. She released three albums on the RCA label for a total of 25 songs. After her chart career ended, she continued to perform regularly.
Gus Hardin died in a car crash on Highway 20 east of Claremore, Oklahoma on the way home from singing at a Sunset Grill in Tulsa, on February 17, 1996. She was survived by a daughter, Toni.
Born
Died
February, 17, 1996
Tulsa, Oklahoma
Cause of Death
Cemetery
Other
16569 profile views