Grigori Alexandrov
(Grigori Alexandrov)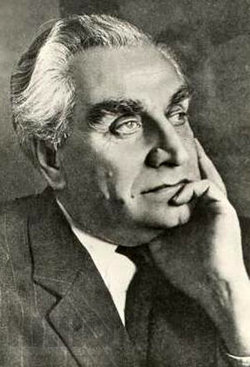 Aleksandrov was born Grigori Vasilyevich Mormonenko in Ekaterinburg, Russia in 1903. Starting at age nine, Aleksandrov worked odd jobs at the Ekaterinburg Opera Theater, eventually making his way to assistant director. He also pursued a musical education, studying violin at the Ekaterinburg Musical School, from which he graduated in 1917.
Aleksandrov came to Moscow after studying directing and briefly managing a movie theater. In 1921, while acting with the Proletcult Theatre he met a then 23-year-old Sergei Eisenstein. Eisenstein and Aleksandrov collaborated on several plays before Eisenstein made his first feature length film, Strike, which Aleksandrov co-wrote with Eisenstein, Ilya Kravchunovsky, and Valeryan Pletnyov. Next came Eisenstein's landmark The Battleship Potemkin, in which Aleksdanrov played Ippolit Giliarovsky. Aleksandrov co-directed Eisenstein's next two features, October: Ten Days That Shook the World and The General Line, which were also their last works in the silent era.
Along with Eisenstein's other major collaborator, cinematographer Eduard Tisse, Aleksandrov joined the director when he came to Hollywood in the early 1930s. He also traveled with them to Mexico for the filming of Eisenstein's unrealized project about the country. An edited version of the footage, known as ¡Qué viva México!, was put together by Aleksandrov in 1979.  Aleksandrov returned to the Soviet Union in 1932 under direct orders from Joseph Stalin. He directed a pro-Stalin film, International (Интернационал), the following year and after a meeting with Stalin and Maxim Gorky, he embarked on making the first Soviet musical, Jolly Fellows, starring Leonid Utyosov and Lyubov Orlova, whom Aleksandrov would later marry. Orlova had been previously married to an economist who had been arrested in 1930. She would go on to star in his most successful films: Circus, Volga Volga, and "Bright Path".  Aleksdandrov's first postwar film was Spring, another musical comedy starring Lyubov Orlova, as well as several other top-notch actors, including Nikolai Cherkasov, Erast Garin, and Faina Ranevskaya.
Popular public figures in the Soviet Union, Aleksandrov and Orlova had a difficult relationship with Stalin, who admired their films (he reportedly gave a print of Volga Volga as a present to U.S. President Franklin D. Roosevelt) but frequently harassed the pair, imprisoning or executing several of their close friends. Paradoxically, Aleksandrov found it harder to work in the more politically relaxed atmosphere that followed Stalin's death. He taught directing at VGIK from 1951 to 1957 and made several films about the years leading up to the Russian Revolution, including several about Vladimir Lenin.  His last narrative feature was Skvorets i Lira (Starling and Lyre) (1973), which starred Orlova in her last role and was not released. Orlova died in 1975. In 1983, he worked on a documentary about the career of his late wife. He died in December of that year of a kidney infection and was buried next to Orlova in Novodevichy Cemetery in Moscow.
Born
February, 23, 1903
Ekaterinburg, Russia
Died
Cemetery
Novodevichy Cemetery
Moscow, Russia
16280 profile views