Gordie Howe
(Gordie Howe)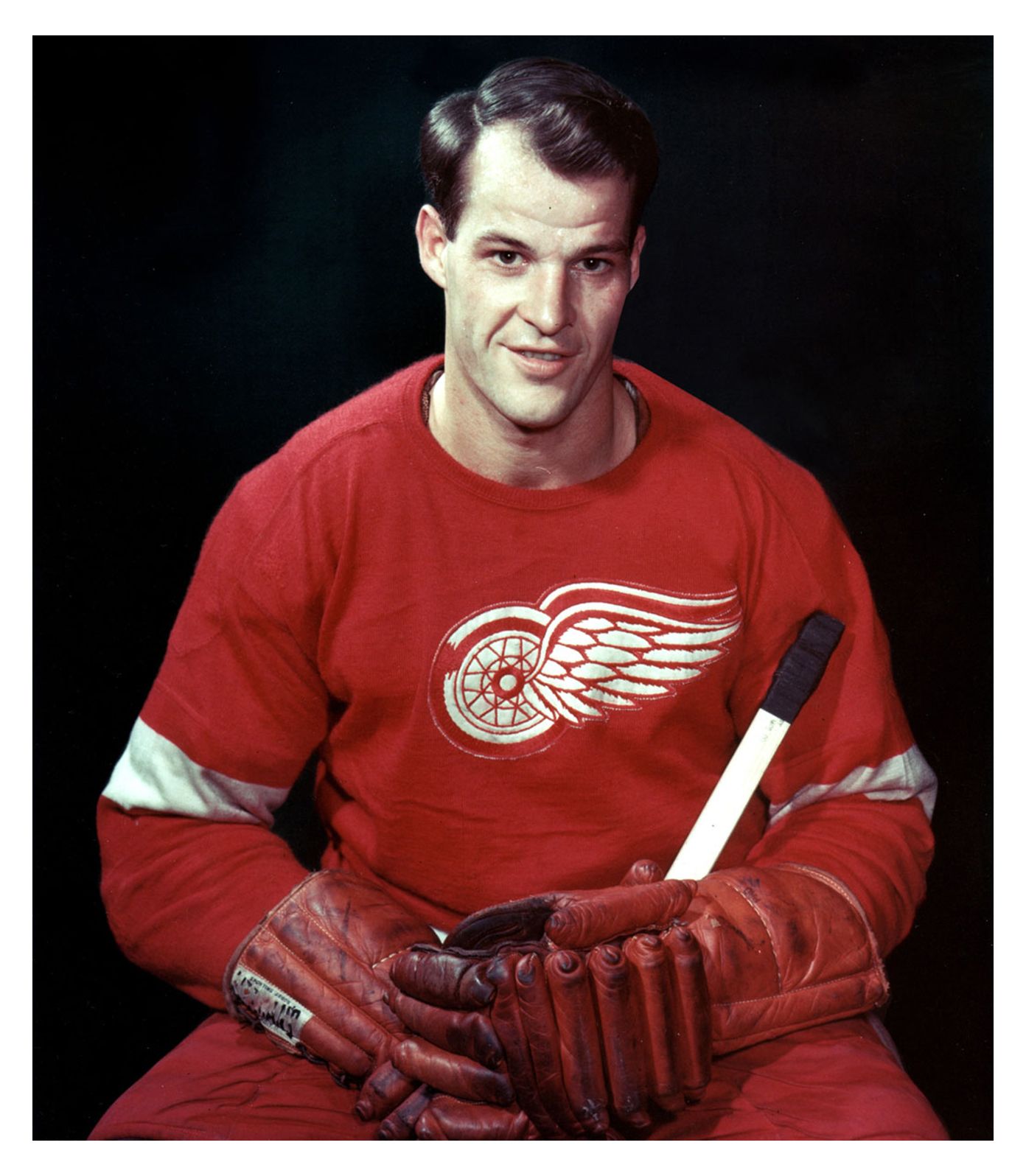 Gordie Howe
Gordie Howe, the rough-and-tumble Canadian farm boy whose blend of boundless talent and toughness made him the NHL's quintessential star during a career that lasted into his 50s, has died. The man forever known as Mr. Hockey was 88.
Son Murray Howe confirmed the death Friday, texting to The Associated Press: "Mr Hockey left peacefully, beautifully, and w no regrets."
The Howe family released this statement:
"Hockey legend Gordie Howe, age 88, passed away peacefully this morning with his family by his side. The Howe family would like to thank friends and fans for their love and support. Gordie had a special connection with Red Wings fans and was always touched by their commitment. We are celebrating the life of a devoted husband, father, grandfather, great-grandfather and a friend to all."
Howe shattered records, threw elbows and helped the Detroit Red Wings win four Stanley Cups, becoming an idol to Wayne Gretzky and countless other Canadians while also helping the sport attract American fans.
His final NHL season came at age 52 when Gretzky was a rookie — a fitting symmetry, since Howe was the league's most prolific scorer until The Great One set new records for goals and points.
With finesse and a hefty dose of grit, the Hockey Hall of Famer set NHL marks with 801 goals and 1,850 points — mostly with the Red Wings — that held up until Gretzky came along. Howe was also so famously fierce that having a goal, an assist and a fight in one game became known as a Gordie Howe Hat Trick.
"On behalf of the generations who were thrilled by his play and those who only know of his legend, and on behalf of all the young people and teammates he inspired, we send heartfelt wishes of condolence, comfort and strength to the Howe family and to all who mourn the passing of this treasured icon of our game," NHL commissioner Gary Bettman said in a statement.
"It's always tough when it finally does happen, because you don't want to see, hear or think about that day," Gretzky told ESPN.com. Gretzky said he knew a couple of weeks ago that the family had put Howe in hospice, so he wasn't completely caught off-guard Friday.
"Unfortunately, it happened," Gretzky said. "In sports every 10 years or so, many great athletes come along, whether it's hockey, or basketball, or baseball or football or boxing. But … Muhammad [Ali] and Gordie transcended sports and were great to people. You can replace athletes, but you can't replace great people. Unfortunately the sports world lost two of the greatest in the last seven days. It's reality of life."
Red Wings owner Mike Ilitch issued a statement that said in part, "The Red Wings organization and the National Hockey League would not be what they are today without Gordie Howe. There is no nickname more fitting for him than 'Mr. Hockey.' … He will be deeply missed."
Howe suffered a stroke in late October 2014 while at his daughter's home in Lubbock, Texas, losing some function on the right side of his body. He suffered another stroke a short time later, and family members said chronic back pain, advanced dementia and high blood pressure were taking a toll. The body Howe had relied on as an athlete remained relatively strong, but family members noticed that he was experiencing memory loss before the death of his wife, Colleen, in 2009.
Howe was a giant of the game, and every list of the NHL's greatest players places him near the top, alongside players like Bobby Orr, Maurice Richard,Mario Lemieux, Guy Lafleur, Bobby Hull and Gretzky. Like few others, Howe's impact on the game stretched over decades.
"It's sad, but you know at the same time, you don't want to see a man of stature and his greatness, live like he was living. He's in a better place," Brett Hull, Bobby's son, told ESPN.com Friday. Brett Hull grew to know Howe while playing with the Red Wings and winning the Stanley Cup in 2002.
"To lose an icon like that, I don't know what it is but they are so bigger than life than you think they're immortal," Brett Hull said. "And then when they pass, it's maybe not a part, but the part of hockey that is gone. I think Mr. Illitch said it the best when he said the NHL wouldn't be the NHL if it wasn't for Gordie Howe."
Besides the four Cups, Howe, a right winger, won six Hart Trophies as NHL MVP and six Art Ross Trophies as the league's top scorer. Howe began playing for the Red Wings in 1946, leading them to seven straight first-place finishes in the regular season. He was a part of what was known as the Production Line with fellow future Hall of Famers Ted Lindsay and Sid Abel during his 25-year run with the franchise.
"When Gordie came into the NHL, hockey was a Canadian game. He converted it into a North American game," former NHL president Clarence Campbell said when Howe retired the first time in 1971 because he was playing with arthritis in his left wrist and for a last-place team.
Howe's wife orchestrated a plan to get Mr. Hockey back on the ice two years later. She helped him live his dream of playing professional hockey with his sons, Mark and Marty, in the World Hockey Association. And at the age of 45, Howe still had it. He scored 31 goals and had 69 assists, was named MVP of the NHL's rival league and led the Aeros to the 1973 WHA title — a run that was the focus of a movie: "Mr. Hockey: The Gordie Howe Story."
Howe had 41 points for the Hartford Whalers during the 1979-80 season in what was his 26th and final year in the NHL.
"Gordie really was the greatest hockey player who ever lived," Lindsay said in a statement Friday. "I was fortunate to play with Gordie for 12 seasons with the Detroit Red Wings and I've known him for over 70 years. He could do it all in the game to help his team, both offensively and defensively. He earned everything that he accomplished on the ice."
When Howe finally retired for good from the NHL, he was 52. And thanks to taking the ice for a single shift with the Detroit Vipers in the International Hockey League in 1997, he played professionally in a sixth decade at the age of 69.
He referred to his late-career play as "poetry in slow motion," a far cry from the score-and-smash style of his 20s, 30s and early 40s.
"The list of hockey players who suited up in six different decades, including returning to the ice after being inducted into the Hall of Fame, is a short one: It starts and ends with Gordie Howe," President Barack Obama said in a statement. "But the list of kids who skated around the pond until dark, picturing themselves passing, scoring, and enforcing like Howe, dreaming of hoisting the Stanley Cup like him — that one comprises too many to count."
Of course, Howe's prowess in scoring was matched by his skill with the rough stuff. Howe handled his business with his elbows and fists almost as often as he did with wrist and slap shots. He ranked among the NHL leaders in penalty minutes three times, spending 100-plus minutes in the penalty box in those seasons. When he resumed playing as a parent with sons on the same sheet of ice, opponents often found out not to mess with his boys.
"If I can skate, I'll get even," Howe once said.
Over the course of his career, Howe needed more than 400 stitches, lost several teeth, and broke ribs and his nose. He had a serious head injury in 1950 that led to emergency surgery to relieve pressure on his brain. Despite the blood and broken bones, he didn't miss many games during his NHL-record 1,767-game career, and he played in all 80 games during his final season, which ended after his 52nd birthday.
"You've got to love what you're doing," Howe once said. "If you love it, you can overcome any handicap or the soreness or all the aches and pains and continue to play for a long, long time."
Mark Howe said his father was "the toughest, meanest guy I've ever seen on a pair of skates," and that's why he was able to play for decades.
"No one in their right mind ever wanted to tangle with him," Lindsay has said. "Gordie had a lethal pair of elbows, was strong as a moose and knew every angle."
Gordon Howe was born March 31, 1928, in tiny Floral, Saskatchewan, and raised nearby on the Canadian prairie in Saskatoon. His father was a laborer and Howe pitched in early, growing strong with the work.
"He was born in a barn, and the house he grew up in was no bigger than a garage," Mark Howe said. "They had nothing, like many people during the Depression. Someone was going door-to-door, selling bags of stuff for $1, and in one of those bags, dad got his first pair of skates."
Howe left as a teenager to pursue a career in hockey. He made his NHL debut for the Red Wings at age 18. In his second season, he was an All-Star for the first of a record 23 times.
"Finally, I saved enough to buy my mom and dad a brand-new home — with running water," he once recalled. "I think that's the biggest thing I ever achieved. That's what I wanted, and I saved my money to buy it."
Howe was 6 feet tall and weighed 205 pounds during his career, making him bigger than most of his peers. His ability to skate, shoot and pass made him a threat every time he had the puck. No one, according to Hall of Fame coach Scotty Bowman, was quite on par with Howe's style of play, which led to a lot of both points and punches.
"He could fight, intimidate, play offensively," Bowman recalled.
Howe surpassed Richard's NHL record of 544 goals in 1963, and after the turn of the century, the humorous Howe would walk around Joe Louis Arena in Detroit carrying around a teacup poodle named Rocket. Howe ranked among the top five in scoring for 20 straight seasons.
Gretzky would later break his records for goals, points, MVP trophies and scoring titles while wearing No. 99 in a tribute to Howe, who wore No. 9 during a lower-scoring era of the game. He finished his career in 1999 with 894 goals.
"I thought I had something they would never touch," Howe said. "But I knew when they started scoring 80 goals in a season, I was in trouble."
Mark Messier reached 1,887 points in 2004 during his 25th NHL season and pushed Howe from second to third in the record books.
"I haven't celebrated coming in second too many times in my life," Messier said back then. "But I'll tell you, because of what Gordie has done, for us mere mortals who have played this game, being No. 2 is not so bad."
Lanny McDonald, chairman of the Hockey Hall of Fame, called Howe "a true legend who not only inspired so many people by his achievements on the ice, but to all of those who interacted with him throughout his life."
"He represented our game with great dignity and always had time for his legions of fans," McDonald said. "On behalf of the Hockey Hall of Fame and all of our Honoured Members, I would like to extend heartfelt condolences to Mark, Marty and the entire Howe family, and to express our gratitude to Gordie for the treasured memories and legacy he is leaving behind for all to celebrate. Thank you 'Mr. Hockey.'"
Howe, without a doubt, was most proud of his family. He raved about Colleen, whom he married in 1953. They became personal and professional partners as the woman known as Mrs. Hockey championed the game for children and later became her husband's agent. She died in March 2009 at age 76 after battling Pick's disease, a rare form of dementia similar to Alzheimer's. The couple's children, Murray, Mark, Marty and Cathy, took turns having their father sleep at their houses for weeks or months at a time after their mother died.
Playing with his sons, though, was the career accomplishment Howe said he was most proud of. "The fact that I had an opportunity to skate five years with them," Howe told The Associated Press in 2011, "I think that's every father's dream."
Born
March, 31, 1928
Floral, Saskatchewan, Canada
Died
June, 10, 2016
Sylvania, Ohio
Cemetery
Gordie Howe Memorial Statue Burial Site
Saskatoon,
Saskatoon, Canada
2492 profile views