Goldie Hill
(Argolda Voncile Hill)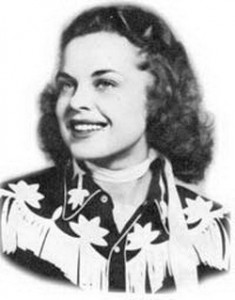 Goldie Hill
Hill was soon performing on Louisiana Hayride as part of her brother Tommy's band. On the show, she was dubbed The Golden Hillbilly, and the name stuck with her for the rest of her career. Louisiana Hayride opened even more doors for Hill, and she soon had a contract with Decca Records. Her first single, "Why To Talk to My Heart," released in 1952, brought no success for Hill .
Hill recorded the song "I Let the Stars Get In My Eyes" the same year. It was an answer song to the Perry Como pop hit "Don't Let the Stars Get In Your Eyes", which was also a hit for two country singers, Slim Willet and Skeets McDonald. Willett helped Hill's brother Tommy write the song, as well as writing "I Let the Stars Get In My Eyes". The song was originally intended for Kitty Wells, but Hill picked it up first. The song was a hit in 1953, and made it to the top of the country charts. In 1954, she followed up with two hit duets with singer Justin Tubb, son of Ernest Tubb. Among their hits together are "Looking Back to See" and "Sure Fire Kisses". As a solo artist, she continued to record on her own as well, and released "I'm Beginning To Feel Mistreated" .
In the early 1960s, she recorded two albums for Decca Records, but her singles failed to place in the chart
Her musical career was still strong when she decided to marry country singer Carl Smith in 1957. She then retired to their horse farm south of Nashville, where she raised their children. She made a short-lived comeback in the late 1960s on the label Epic Records under the name Goldie Hill Smith. However, her songs and albums failed to make any major impact. Only one of the songs, "Lovable Fool", released in 1968, barely placed in the charts. Under Epic, she released two albums which were unsuccessful; Goldie Sings Again and Country Gentleman's Lady. She then returned to home life on their farm. In the 1970s, following her husband's retirement, Smith and Hill showed their horses professionally .
On February 24, 2005, Hill died from complications of cancer. She was 72 years old.
Born
January, 11, 1933
Coy City, Texas
Died
February, 24, 2005
Nashville, Tennessee
Cause of Death
Cemetery
Williamson Memorial Gardens
Franklin, Tennessee
16645 profile views