Gloria Talbott
(Gloria Talbott)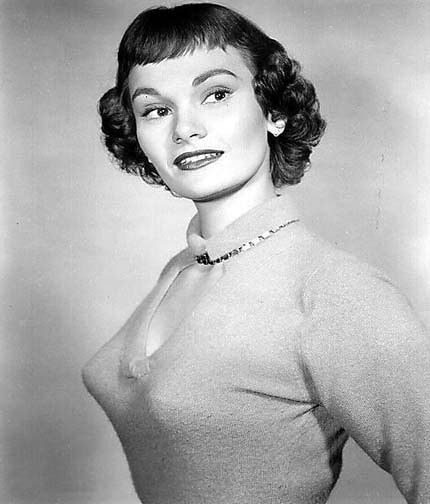 She grew up in Glendale in Los Angeles County, California, a city co-founded by one of her grandfathers. Her sister, Lori Talbott, also became an actress.  Talbott began her career as a child actor in such films as Maytime (1937) , Sweet and Low-down (1944) and A Tree Grows In Brooklyn (1945).  After leaving school, Talbott formed a dramatic group and played "arena"-style shows at various clubs. She stopped acting following her first marriage, and resumed after her divorce, having worked extensively in film and television. She worked on a regular basis during the 1950s, having appeared in Crashout (1955), the Humphrey Bogart comedy We're No Angels (1955), Lucy Gallant (1955), and All That Heaven Allows (1955). In that same year, Talbott appeared in TV Reader's Digest episode America's First Great Lady as Pocahontas.  She later became known as a 'scream queen' after appearing in a number of horror films including The Daughter of Dr. Jekyll (1957), The Cyclops (1957), and I Married a Monster from Outer Space (1958).  Her final film role was as Bri Quince in the 1966 Western film An Eye for an Eye, playing the love interest of Robert Lansing's character, Talion.
On November 27, 1956, she starred (as Maureen) in a science fiction episode of the television anthology series Conflict entitled "Man From 1997" opposite Jacques Sernas (as Johnny Vlakos), Charlie Ruggles (as Mr. B.O. Boyne, the librarian from 1997) and James Garner (as her brother Red the gambler), about a 1997 Almanac that was mistakenly left in the past by a time-traveling librarian and found by Johnny in a bookstore. On October 1, 1957, she appeared as Linda Brazwell in the episode "Reluctant Hero" of the ABC/Warner Brothers western television series Sugarfoot. In the story line, Sugarfoot, played by Will Hutchins, an aspiring lawyer, takes a ranch job from the aging Charlie Cade, played by Will Wright. He soon finds that Cade is involved in a range war with Linda and her brother, Ken Brazwell, played by Michael Dante.  Talbott's multiple television credits include the syndicated Adventures of Superman, The Range Rider and The Cisco Kid, the NBC western anthology series Frontier, and the syndicated western-themed crime drama, Sheriff of Cochise with John Bromfield. She appeared with John Smith and Dick Foran in the 1956 episode "The Singing Preacher" of the religion anthology series, Crossroads, and in the fourth episode of the first season of Gunsmoke that same year, entitled "Home Surgery," in which Marshall Matt Dillon (James Arness) amputates her father's leg.
Talbott was cast in the syndicated American Civil War drama Gray Ghost, the 1958 episode "Fatal Memory" on CBS's Wanted: Dead or Alive with Steve McQueen, the 1959 episode "Have Sword, Will Duel" of the NBC western Cimarron City, and in the 1961 NBC western Whispering Smith in the role of Cora Gates, with Robert Redford cast as her brother, Johnny Gates. She guest starred as Jenny in the 1958 episode "A Cup of Black Coffee" of the CBS crime drama, Richard Diamond, Private Detective, starring David Janssen. She also guest starred in several episodes of ABC's Zorro.
In 1960, Talbott made guest-starring appearances as Nora Lanyard and Lucinda Jennings in the episodes "Landlubbers" and "Devil in Skirts" of the NBC western series, Riverboat, with Darren McGavin. On CBS, the same year, she guest starred on Steve McQueen's Wanted: Dead or Alive on an episode titled, "Tolliver Bender". She was cast as Sandy in "The Velvet Frame" of the ABC/WB drama, The Roaring 20s. She also appeared in the ABC western series, The Rebel, starring Nick Adams. In 1961, she portrayed Maria Mosner in the episode "The Twenty-Six Paper" of the ABC adventure series, The Islanders. That same year she guest starred in the episode "Buddy's Wife" in the CBS sitcom, Bringing Up Buddy, starring Frank Aletter.  She appeared on CBS's Rawhide in the episodes, "The Incident of the Calico Gun" (1959) and "Prairie Elephant" (1961). She was cast with Robert Harland in the 1961 episode "Terror in the Afternoon" of the syndicated crime drama The Brothers Brannagan. She guest starred in three episodes of Gunsmoke: "Home Surgery", "Cody's Code", and "The Cousin" as well as an episode of the Adventures of Superman, in which she played an heiress who works as a Daily Planet copy assistant. Talbott made four guest appearances on the CBS courtroom drama series Perry Mason: defendant Eve Nesbitt in "The Case of the Angry Dead Man," Ann Gilrain in "The Case of the Crying Comedian" (both in 1961), co-defendant Bonnie Lloyd in the 1963 episode, "The Case of the Elusive Element," and Minna Rohan in the 1966 episode, "The Case of the Unwelcomed Well."
Born
February, 07, 1931
USA
Glendale, California
Died
September, 19, 2000
USA
Glendale, California
Cause of Death
Cemetery
San Fernando Mission Cemetery
Mission Hills, California
USA
16984 profile views