Gerda Lerner
(Gerda Lerner)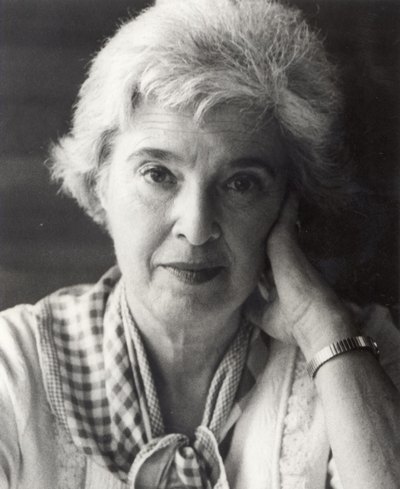 Lerner was born Gerda Hedwig Kronstein in Vienna, Austria, on April 30, 1920, the first child of Ilona (née Neumann) and Robert Kronstein, an affluent Jewish couple. Her father was a pharmacist, her mother an artist. Following the Anschluss, Kronstein joined the anti-Nazi resistance, and spent six weeks, including her eighteenth birthday, in an Austrian jail, occupying a cell with two gentile women arrested for political work who shared their food with the Jewish teenager because jailers restricted rations for Jews. Her family was able to escape from Austria; Kronstein, with the help of a young socialist lover, Bobby Jensen, immigrated to the United States in 1939.
When Lerner first moved to New York, she worked as a waitress, salesperson, office clerk, and x-ray technician, all the while writing fiction and poetry; she published two short stories providing a first-person account of the Nazi occupation. After her divorce from Jensen, she met and married Carl Lerner, a young theater director who was active with the Communist Party USA (CPUSA). In the 1940s she was active in the Congress of American Women (CAW, a women's group concerned with economic and social issues), helping to found the Los Angeles chapter in 1946. In 1951, she collaborated with poet Eve Merriam on a musical, The Singing of Women. Her novel, No Farewell, appeared in 1955; with her husband, she wrote the script for Black Like Me. Committed Communists, the Lerners were involved in numerous grassroots activities involving trade unionism, civil rights, and anti-militarism; they struggled against McCarthyism, especially the Hollywood blacklist.
Lerner returned to school in the late 1950s, in her 40s, earning an A.B. from the New School for Social Research in 1963, and an M.A. and Ph.D. from Columbia University in 1965 and 1966 respectively; her dissertation became her first publication, The Grimke Sisters from South Carolina: Rebels Against Slavery (1967). In 1966, Lerner became a founding member of the National Organization for Women; she was a local and national leader in the organization for a short period. In 1968 she became a professor at Sarah Lawrence College. In 1972 she started there the first program to offer a graduate degree in women's history (a master's degree program.) She also taught at Long Island University in Brooklyn. Throughout the 1960s and 1970s, Lerner published numerous books and articles to help further the recognition of women's history as a field of study. Her article "The Lady and the Mill Girl" (1969) was an early and influential example of class analysis in women's history. In 1979, she chaired The Women's History Institute at Sarah Lawrence College, a fifteen-day conference (July 13-29), co-sponsored by Sarah Lawrence, the Women's Action Alliance and the Smithsonian Institution, which was attended by the national leaders of organizations for women and girls. When the participants learned about the success of the Sonoma County's Women's History Week celebration, they decided to initiate similar celebrations within their own organizations, communities, and school districts. They also agreed to support an effort to secure a "National Women's History Week." This all helped lead to the later celebration of Women's History Month.
In 1980, Lerner created the nation's first Ph.D. program in women's history, at the University of Wisconsin at Madison, where she later became professor emerita. From 1981 to 1982 she served as president of the Organization of American Historians. As an educational director for the organization, she helped make women's history accessible to leaders of women's organizations and high school teachers. She was elected a Fellow of the American Academy of Arts and Sciences in 1998. The Organization of American Historians named the Gerda Lerner-Ann Scott Prize for the best women's history dissertation in her honor. In 1986 Lerner won the American Historical Association's Joan Kelly Prize in recognition of her work on the roots of women's oppression.
Lerner was among the first to bring a consciously feminist lens to the study of history, producing influential essays and books. Among her most important works are the documentary anthologies, Black Women in White America (1972) and The Female Experience (1976), the essay collections, The Majority Finds Its Past (1979) and Why History Matters (1997), The Creation of Patriarchy (1986), and The Creation of Feminist Consciousness (1993). She published Fireweed: A Political Autobiography in 2002.
Black Women in White America: A Documentary History was published in 1972. It chronicles 350 years of black women being treated as property and describes the long range effects of the slave past. It was one of the first books to detail the contributions of black women in women's history. The Creation of Feminist Consciousness was published in 1993. The book traces the roots of patriarchal dominance back to two millennia.
In The Creation of Patriarchy (1986), volume one of Women and History, Lerner ventures into prehistory, attempting to trace the roots of patriarchal dominance. Lerner provides historical, archeological, literary, and artistic evidence for the idea that patriarchy is a cultural construct. The Creation of Feminist Consciousness: From the Middle Ages to 1870 (1994) is the second volume of Women and History. In this book, she reviews European culture from the seventh century through the nineteenth century, showing the limitations imposed by a male-dominated culture and the sporadic attempt to resist that domination. She examines in detail the educational deprivation of women, their isolation from many of the traditions of their societies, and the expressive outlet many women have found through writing.
Fireweed: A Political Autobiography (2003) is her detailed documentation of her years from childhood to 1958 when she first began her studies at the New School for Social Research in New York. She writes about her time in Vienna where she suffered anti-Semitism, imprisonment, deportation, immigration, and McCarthyism along with her strained relationship with her mother. She recalls in Beginnings starvation and imprisonment in Austria and her family's survival, due in part to the fact that her father had opened a branch of the family business in Liechtenstein, where he stayed. Her mother moved to France, and Lerner's sister relocated to Israel. She came to the United States at the age of eighteen under the sponsorship of the family of the young man she would marry. The marriage failed, and she survived as a typical immigrant, working for minimum wage. She met Carl, and they both obtained divorces in Reno so that they could marry each other, then moved from New York to Hollywood, where Carl's career in film blossomed. For her works Lerner has received many awards including the Bruce Catton Prize for Lifetime Achievement in Historical Writing of the Society of American Historians, and the Berkshire Conference of Women Historians Special Book Award. Lerner died on January 2, 2013, in Madison, Wisconsin at age 92.
Born
April, 30, 1920
Vienna, Austria
Died
January, 02, 2013
USA
Madison, Wisconsin
16907 profile views