Georgy Timofeyevich Beregovoy
(Georgy Timofeyevich Beregovoy)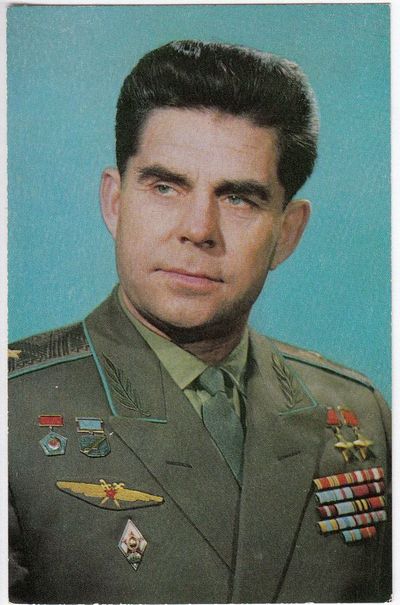 Beregovoy was born on April 15, 1921, in Fedorivka, Poltava Oblast, Soviet Union (now Ukraine). He graduated from a school in 1938 at Yenakieve, Donetsk Oblast, Ukraine. He joined the Soviet Air Forces (VVS) in 1941, and was soon assigned to a ground-attack unit flying the Ilyushin Il-2 "Shturmovik". He flew some 185 combat sorties during the course of World War II and rose quickly through the ranks, finishing the war as a captain and squadron commander.  Following the war, he became a test pilot, and over the next sixteen years test-flew some sixty different aircraft, rising to the rank of colonel and the position of deputy chief of the air force's flight-testing department. In 1962, he applied and was accepted for cosmonaut training.  In 1956 graduated from the Air Force Academy.
In 1965, Colonel Beregovoy was scheduled to fly the following year in Voskhod 3, but the mission was never launched.  On October 25, 1968, Beregovoy took the Soyuz 3 into outer space: he orbited the Earth for almost four days at altitude up to 252 km. As part of his mission, Beregovoy twice maneuvered his craft into rendezvous positions with the unmanned Soyuz 2 satellite but was unable to establish a direct physical link to the craft  before returning on October 30, 1968.  Nonetheless, Beregovoy's flight was in some ways an encouraging success for the Soviet manned space program, and the colonel was celebrated as a hero upon his return. Soyuz 3 was Beregovoy's only spaceflight and soon after it he retired from active duty, having been promoted to Major General.  At a public ceremony in honor of the Soviet cosmonaut team, Beregovoy was lightly wounded during the 1969 assassination attempt upon Leonid Brezhnev.
In October 1969, Konstantin Feoktistov and Georgi Beregovoi traveled as guests of NASA throughout the US, visiting any city they chose and the Disneyland amusement park in California – they were joined on the trip by US astronauts as hosts, to include Eugene Cernan, Neil Armstrong and others. Kirk Douglas and others hosted receptions for them in Hollywood – they were protected by Special Agents of the US State Department on request of NASA. Almost every place they went when accompanied by Eugene Cernan, if a band was present the song "Fly Me To The moon" was played – when they visited Disney Park they enjoyed the ride Trip To The Moon, then joked with the US Astronauts that they went to Disneyland and not the moon. It was a trip that all enjoyed and international friendships were made.  Beregovoy took up a position at the Centre for Cosmonaut Training, and in 1972 was made Director of that facility.
After retirement, Beregovoy became a Soviet parliament member representing the Donbas region of the Ukrainian SSR. In this capacity, he reportedly helped Viktor Yanukovych to start a new life, getting his two criminal convictions expunged from the court records. Many years later, Yanukovych became prime minister and then president of modern independent Ukraine.  Georgy Beregovoy died during heart surgery on June 30, 1995, and is buried in the Novodevichy Cemetery in Moscow.
Born
April, 15, 1921
Poltava Oblast, Soviet Union
Died
Cemetery
Novodevichy Cemetery
Moscow, Russia
15877 profile views