George Steele
(William James Myers)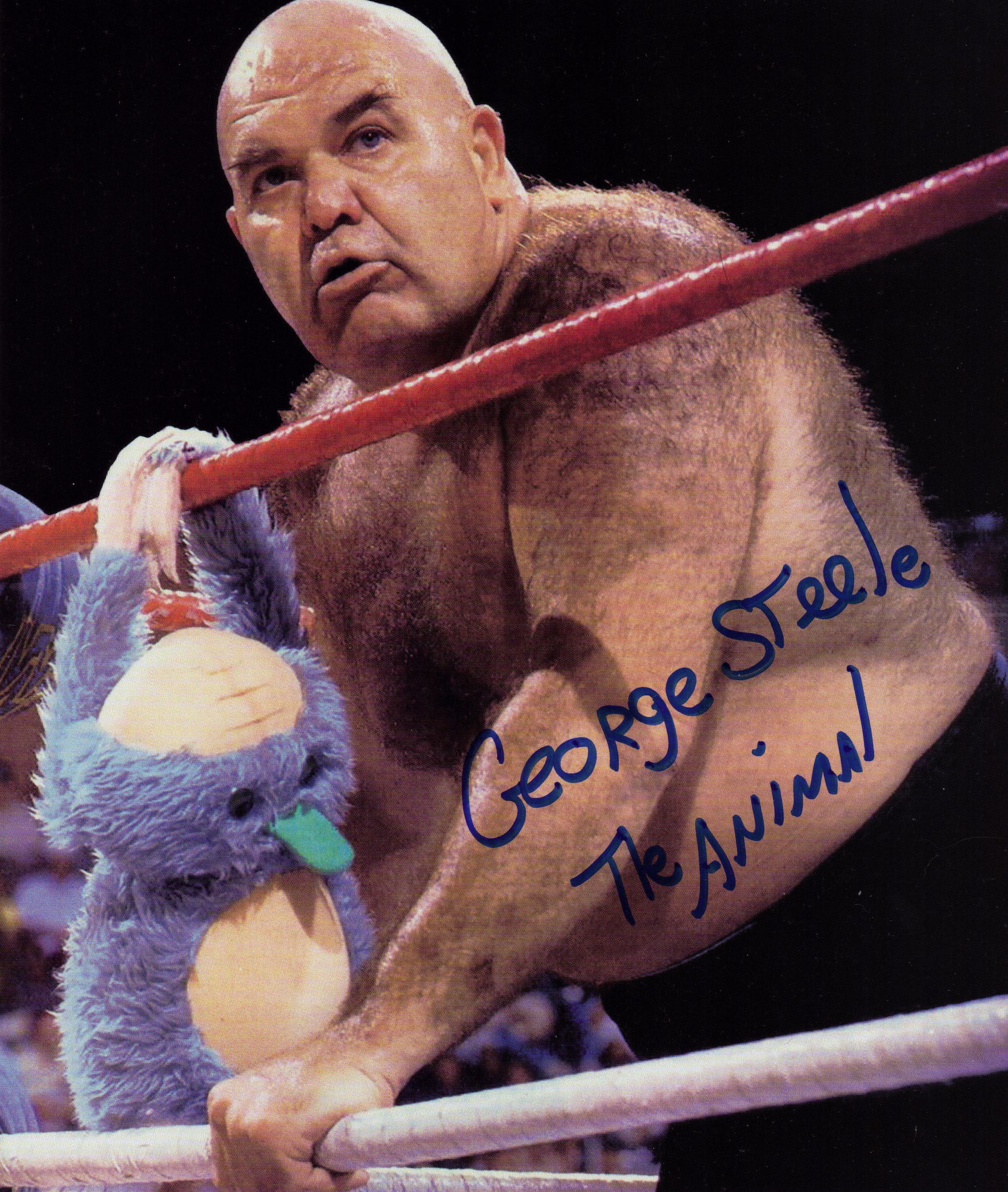 George Steele
George Steele, Born William James Myers in 1937, the future WWE Hall of Fame member started out with a football career in mind like so many other wrestlers, but saw his career cut short due to knee problems. That led him to the wrestling rings of Detroit, where he started his career as a masked man known as "The Student." His unique talent eventually caught the eye of wrestler Bruno Sammartino, who convinced Steele to drop the mask and take on a unhinged, wild man persona that would define his career for decades.
Wrestling alongside strongmen with statuesque bodies and dandies with bleached hair, the hirsute Steele was hard to miss. Bald, hunched slightly over and with that tongue sticking out (stained green thanks to a handful of breath mints), there was no wrestler in any of the territories that resembled him. And by the early-1980s, with Vince McMahon's WWE (previously known as the WWF) redefining wrestling and calling it "sports entertainment," characters like Steele, who were perfect for nationwide television audiences, were in demand. Crowds would wait in anticipation for Steele to undo the turnbuckle and send the stuffing flying out everywhere as if he was actually eating it.
Steele didn't look like Hulk Hogan, Paul Orndorff or Big John Studd, but he didn't need to. His mic skills were mostly grunts and made up words, and he wasn't the most skilled wrestler you've ever seen. Yet Steele still made every match memorable, especially the ones during his feud with "Macho Man" Randy Savage leading up to WrestleMania 2. 
Steele initially retired in 1988 due to a battle with Crohn's disease, but came out of retirement during the WWE's "Attitude Era" for a short time in 1998, before his career finally wound down. He'd make appearances from time to time for promotions like WCW and TNA. To movie fans he might be best-known for his appearance as the wrestler Tor Johnson in Tim Burton's 1994 film Ed Wood.
While a cause of death has yet to be revealed, Steele endured medical problems brought on by Crohn's, including having his colon removed in 2002.
The WWE and wrestling quickly took to Twitter to offer condolences and pay tribute. John Bradshaw Layfield tweeted "Got the privilege of traveling the world with George 'The Animal' Steele and enjoyed every minute of it. RIP my friend" while Ted DiBiase tweeted out, "The wrestling world lost one of the best today and I lost a good friend. RIP George"the animal" Steele. My prayers are with his family."
Born
April, 16, 1937
Detroit, Michigan
Died
February, 16, 2017
Cocoa Beach, Florida
Cause of Death
1293 profile views