George P. Mitchell
(George Phydias Mitchell)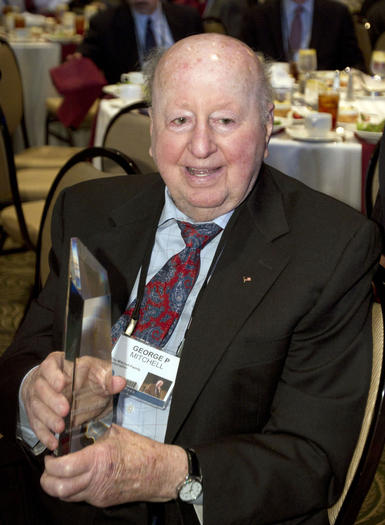 George P. Mitchell
Mitchell was born to Greek immigrant parents in the port city of Galveston, Texas in 1919. Mitchell's roots reached back to Greece, where his father Savvas Paraskevopoulos from the village of Nestani in Arcadia, tended goats before immigrating to the United States in 1901, arriving at Ellis Island at the age of 20. He worked for railroads, and gradually moved west. When a paymaster got tired of writing his long name and threatened to fire him, Mr. Paraskevopoulos took the paymaster's name, Mike Mitchell. Mike Mitchell settled in Galveston, where he ran a succession of shoe-shining and pressing shops. When he saw the picture of a beautiful woman in a local Greek newspaper, he headed for Florida, where she had settled, according to family lore. He persuaded her to abandon her fiancé and marry him. They lived above the shoeshine shop.  George P. Mitchell earned a degree from Texas A&M University, graduating first in his class in petroleum engineering.
George P. Mitchell started an independent oil and gas company, Mitchell Energy & Development Corp. and built it into a Fortune 500 company. He participated in the development of about 10,000 wells, including more than 1000 wildcat wells.  In the 1980s and 1990s, the company experimented with application of different techniques of hydraulic fracturing of the Barnett Shale of Texas, eventually finding the right technique to economically extract the natural gas in the formation. The new approach has been widely adopted by the gas industry and spawned a new gas boom in North America. The Potential Gas Committee estimates that U.S. recoverable reserves will last 118 years at current production levels. but production is expected to more than triple by 2020. Extracting natural gas from shale rock is rapidly spreading to countries outside the United States. Some consider his innovation important in the context of energy security, making the United States less dependent on foreign sources of energy. Because of the technological progress in industry fracking, George Mitchell is now known as the "pioneer of shale." For this reason, it is proposed that the date of his birth -21 May 1919 – will be considered as the "Shale Day". Mitchell Energy & Development Corp. was later acquired by Devon Energy.
He was the developer of The Woodlands, an unincorporated yet governmentally structured township in Montgomery County, Texas, which he developed from timberland located 32 miles north of downtown Houston. He brought on landscape architect Ian McHarg to consult on the project. The master plan for the community called for preserving trees, protecting the environment, minimizing flooding and creating a "pleasant" urban environment. In 2010, The Woodlands was home to 97,000 people. When fully developed the population will have reached 130,000. He and his wife Cynthia have played a major role in the revitalization of his hometown of Galveston. Mitchell had a lifelong passion for tennis, and the tennis center at Texas A&M University, where he was captain of the tennis team, was named in his honor. Built for an estimated $4.2 million, the official ribbon cutting ceremony was held on October 23, 1998. In 1984, he was the recipient of an honorary doctoral degree from the University of Houston.
Cynthia Woods Mitchell and the George P. Mitchell, and the Cynthia and George Mitchell Foundation, have distributed or pledged more than $400 million in grants to causes, programs, and institutions. The vast majority of this amount is related to science, environmental sustainability, and sustainability science-related fields, including the foundation's current grant-making programs which focus on sustainability science, clean energy, water, and natural gas sustainability.
On December 7, 2010, he joined the Giving Pledge sponsored by Warren Buffet and Bill and Melinda Gates, making public his and Cynthia's long-held private intent that the majority of their wealth would be donated to charitable causes.  According to the National Academies of Science, "In the 1970s [Mitchell] helped sponsor the work of Dennis Meadows, whose Club of Rome study The Limits to Growth was a global wake-up call on the pressing need for sustainable energy technologies and food sources worldwide."
Working with Meadows and other national leaders Mitchell created The Woodlands Conference series and the International George and Cynthia Mitchell Prize, both dedicated to sustainable development. He was particularly interested in the role of the business community in creating sustainable societies and he himself is "a model of linking entrepreneurial success to the sustainability movement". The Mitchells also underwrote the National Academies' Our Common Journey: A Transition Toward Sustainability, the 1999 report that defined the role of science and technology in moving toward sustainability. As a follow-up to Our Common Journey, Mitchell donated $20 million to create the George and Cynthia Mitchell Endowment for Sustainability Science at the National Academy of Sciences committed to advancing science and technology in support of sustainable development. Mitchell also founded the Houston Advanced Research Center that explores strategies for sustainable development at the regional level. He donated $25 million to the Endowment for Regional Sustainability Science to support HARC's work in sustainability science. Mitchell donated part of his wealth to the Cynthia and George Mitchell Foundation, which supports programs for the efficient and wise use of Earth's resources.
Enabled by Mitchell's donation of $35 million, the Texas A&M University Physics department relocated to two new buildings in late 2009: The George P. and Cynthia W. Mitchell Fundamental Physics and Astronomy Building and the George P. Mitchell Physics Building. In 2012, he committed an additional $20 million to the Mitchell Institute for Fundamental Physics and Astronomy. This donation is the latest in a series supporting science and the physics department in particular. With previous gifts supporting academic chairs, professorships and the Giant Magellan Telescope project, the Mitchells are Texas A&M's most generous modern benefactors, with donations totaling nearly $100 million; by 2011, his total contributions to universities and research organizations had reached $159 million.
In 2004, Forbes magazine estimated his net worth as $1.6 billion, placing him among the 500 richest people worldwide.  He was the father of ten children.  Mitchell died July 26, 2013, at his home in Galveston, Texas aged 94 of unknown causes, while surrounded by relatives.
Born
May, 21, 1919
Galveston, Texas
Died
July, 26, 2013
Galveston, Texas
Cause of Death
15624 profile views