George Nader
(George Nader)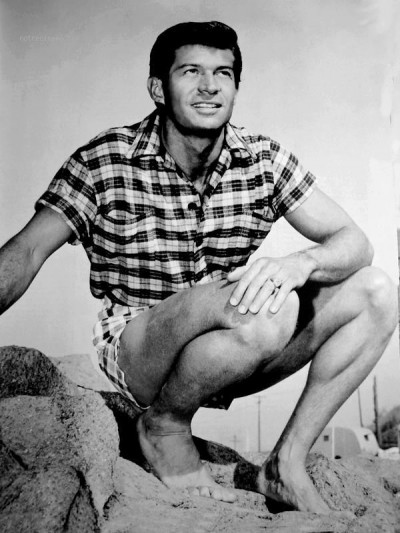 Nader was born in Pasadena, California, the son of Alice (née Scott), who was from Kansas, and George G. Nader, who was from Illinois. During World War II he served in the US Navy as a communications officer in the Pacific Theatre of Operations  He began his film career in 1950, after having earned his Bachelor of Arts in theatre arts at Occidental College. Nader appeared in several productions at the Pasadena Playhouse. That work led to a number of bit parts in 1951 and '52. His big break was his first starring role, which came in Robot Monster (1953), a 3-D feature film directed by Phil Tucker. This role and his rugged good looks won him a Universal Studios contract in the 1950s, and he made a number of films for Universal. In 1955, he won a Golden Globe Award for "Most Promising Newcomer."
Despite this accolade, Nader often found himself struggling in the shadow of more famous leading men, such as Rock Hudson, Tony Curtis, and Jeff Chandler. His films of that period included 1954's Carnival Story and Sins of Jezebel and 1956's Away All Boats. He also was Esther Williams' leading man in her first straight dramatic film, The Unguarded Moment which also starred a young John Saxon, released by Universal in 1956. He moved into television in the late 1950s, appearing in several short-lived series including The Further Adventures of Ellery Queen and The Man and the Challenge. In the 1961–1962 season, he appeared as insurance investigator Joe Shannon in the syndicated crime drama Shannon; his co-star was Regis Toomey. Nader also appeared frequently on The Loretta Young Show, a dramatic anthology series on NBC.
In the mid-1950s, rumors about Nader's homosexuality began to surface. Nader's life partner was Mark Miller, who later worked as Rock Hudson's personal secretary for 13 years. When Nader's career in Hollywood ended, he and Miller moved to Europe, where he found steady work in films. His most notable role during this period was as FBI agent "Jerry Cotton" in a German film series where he became the number two most popular film star in Germany behind Lex Barker.  In the mid-1970s, Nader suffered an eye injury which made him particularly sensitive to the bright lights of movie sets. According to an interview with the German fanzine Splatting Image his eye injury was the result of an accident during the production of the never released movie Zigzag, when a blank pistol round exploded too early next to his eyes. Filming took place in the Philippines, and no adequate treatment was taken in time, resulting in the partial loss of his eyesight.  He inherited the interest from Rock Hudson's estate after Hudson's death from AIDS complications in 1985. Hudson biographer Sara Davidson, described Nader, Miller, and another person as "Rock's family for most of his adult life". Nader publicly acknowledged his sexual orientation shortly afterward.
After damage to his eye made it difficult to endure an acting career, Nader began a career as a writer of science fiction, including his 1978 novel Chrome, which centered around a love affair between two men.  According to Variety Magazine's Army Archerd, Nader had completed a book called The Perils of Paul, about the gay community in Hollywood, which he did not want published until after his death.  In 2002, a Golden Palm Star on the Palm Springs, California, Walk of Stars was dedicated to him.  Nader and Miller eventually returned to the U.S. and settled in Palm Springs. Stricken by multiple medical problems, Nader entered the hospital in September 2001. He died at Woodland Hills, California of cardiac-pulmonary failure, pneumonia, and multiple cerebral infarctions. Nader was survived by Miller (with whom he had spent 55 years), his cousins Sally Kubly and Roberta Cavell, and his nephew, actor Michael Nader.  His ashes were scattered at sea; a cenotaph in his honor exists in Cathedral City's Forest Lawn Cemetery.
Born
October, 19, 1921
USA
Pasadena, California
Died
February, 04, 2002
USA
Woodland Hills, California
Cause of Death
cardiac-pulmonary failure, pneumonia, and multiple cerebral infarctions
Cemetery
Forest Lawn Memorial Park (Cathedral City)
Riverside County, California
USA
17396 profile views