Gene Anderson
(Eugene Avon Anderson)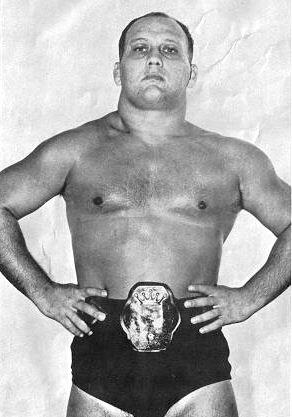 Gene Anderson
Anderson was born in Saint Paul, Minnesota and started wrestling in 1961 after being trained by Verne Gagne. In late 1965, he formed the Minnesota Wrecking Crew with fellow collegian Lars Anderson as his "brother". They wrestled in the Florida territories and won some tag team titles together.
Gene then reformed the tag team with his "brother" (another fellow collegian) Ole Anderson in 1969 after Lars left. They became one of the most successful heel tag teams in the history of professional wrestling. They dominated the Southeastern tag team scene until Gene retired to become a manager in 1981.
Gene and Ole would hold tryouts for prospective wrestlers during the late 1970s and early 1980s. Al Snow is one who trained under them, being subjected to an exhaustive exercise routine followed by being stretched in the ring by Ole.
When Gene quit wrestling, he became a heel manager for a few years, before retiring from wrestling in 1984. During his career, he managed Ivan Koloff, Ray Stevens and Jimmy Snuka.
After retiring, Gene became a Deputy Sheriff in North Carolina but died of a sudden heart attack on October 31, 1991.
Gene's son, Brad Anderson, is also a professional wrestler and still competes on the independent circuit.
Born
October, 04, 1939
Saint Paul, Minnesota
Died
October, 31, 1991
North Carolina
Cause of Death
Cemetery
17441 profile views