Gail Kobe
(Gabriella Gail Kobe)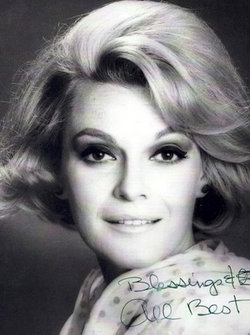 Gail Kobe was born Gabriella Joyce Kobe in Hamtramck in Wayne County in southeastern Michigan to Benjamin and Theresa Kobe. She had one sister, Beatrice Kobe Adamski, who predeceased her. Kobe graduated from UCLA earning a fine arts degree in theatre and dance. During the 1950s and 1960s, Kobe made guest appearances on Richard Diamond, Private Detective, Bourbon Street Beat, Maverick, M Squad (four episodes), Whirlybirds, The Californians, The Rebel, Mackenzie's Raiders, Blue Light, Felony Squad, Ironside, The Outer Limits, Hogan's Heroes, The Twilight Zone ("In His Image", "The Self-Improvement of Salvadore Ross", "A World of Difference"), Dr. Kildare, Empire, Gunsmoke, Cheyenne, Daniel Boone, Mission: Impossible, The Untouchables, Have Gun – Will Travel, The Mod Squad, and Mannix. In 1962, she portrayed Dr. Louise Amadon in the episode "A Woman's Place" on CBS's Rawhide, about a woman doctor's struggles against stereotype in the Old West. On February 17, 1959, Kobe was cast in the episode "Disaster Town" of the syndicated series, Rescue 8, in the role of Ellen Mason, a mother looking for her son, Jimmy, in a western ghost town. Actor Jay North played Kobe's missing son. Rescuers Wes Cameron (Jim Davis and Skip Johnson (Lang Jeffries) are called when Ellen is trapped after she slips through the floor of an abandoned building.
On the NBC western series, Laramie, Kobe played a saloon girl, Lottie Harris, in the episode "Gun Duel" (aired December 25, 1962). The story line revolves around Jess Harper, played by Robert Fuller, is the weekend deputy while Sheriff Mort Corey (Stuart Randall) is away on business. Corey's newly married nephew, Johnny Hartley, wants to become a deputy also, but finds he is unsuited for the work after nearly getting killed by a gunshot from two bank robbers. Lottie had hoped to marry the third bank robber, [clarification needed] who falsely promised to take her to California. In a dramatic scene, Harper advises Lottie to stop gazing out the hotel window at the street and look in the mirror to overcome her own weaknesses. Gail Kobe had a six-month role as Doris Schuster in ABC's Peyton Place. Kobe was cast as Penny Adams in four episodes of the 1957–1959 CBS western series, Trackdown, with Robert Culp as Texas Ranger Hoby Gilman, in whom her character had a romantic interest. She also appeared in two other Trackdown episodes as other characters. Other Trackdown regulars included Ellen Corby, Peter Leeds, Addison Richards, and James Griffith, who played Kobe's brother, Aaron Adams, the town barber. In the story line, Gilman is based in Porter, Texas, but travels across the state to capture an assortment of outlaws. on the run.
Gail Kobe also appeared on daytime television in the NBC serial Bright Promise as Ann Boyd Jones (1970–1972). Kobe began to work behind the camera as supervising producer and associate producer on such daytime programs as CBS's The Edge of Night and NBC's Return to Peyton Place. From 1981–82, its final year on the air, Kobe became executive producer of the NBC soap opera, Texas. From 1983 to 1986, she was the executive producer of CBS's Guiding Light (for which she was nominated for a Daytime Emmy Award) and then served as a producer on CBS's The Bold and the Beautiful from its debut in 1987 through the early 1990s. Kobe was a member of St. Louis church. She volunteered many hours to Eisenhower Medical Center and the Palm Springs Art Museum while she lived in Palm Springs. While she resided at the Motion Picture Television Fund Home in Woodland Hills, California, she organized the program, We've Got Mail, which airs on cable Channel 22. For the last two years of her life, the twice-married Gail Kobe resided at the Motion Picture & Television Country House and Hospital in Woodland Hills, where she died on August 1, 2013, aged 81, from undisclosed causes.
Born
March, 19, 1932
USA
Hamtramck, Michigan
Died
August, 01, 2013
USA
Woodland Hills, California
Cemetery
Riverlawn Cemetery
Marysville, Michigan
USA
5495 profile views