Fred Phelps
(Fred Phelps)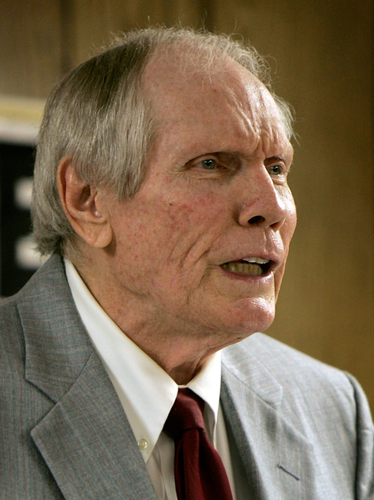 Phelps was born in Meridian, Mississippi, the elder of two children to Catherine Idalette Johnston and Fred Wade Phelps. His father was a railroad policeman for the Columbus and Greenville Railway and his mother was a homemaker.  On September 3, 1935, when Phelps was five years old, his mother died of esophageal cancer at the age of 28. After the death of their mother, Phelps and his younger sister were raised by their great-aunt Irene Jordan in Meridian. Jordan died in a car accident in 1950. On December 25, 1944, Phelps' father married Olive Briggs, and Phelps and his sister were raised by their father and stepmother in Meridian. By the mid-1950s, Phelps was estranged from his parents, never spoke to them, and returned all their letters unopened.
Phelps was a member of the Boy Scouts of America, receiving the Eagle Scout Award. In May 1946, at the age of 16, Phelps graduated from high school and was admitted to United States Military Academy in West Point, New York. Phelps however claims that after attending a Methodist revival meeting decided to become a minister and chose not to attend West Point. Phelps attended Bob Jones University, for two years (1946-1948) before dropping out. He cited racial issues as the reason for his departure; in 1994 former college employees told the Topeka Capital Journal that Phelps left after being given an ultimatum that he either seek psychiatric counselling or be expelled. He then attended the Prairie Bible Institute for the remaining two semesters of his freshman year. In 1951, he earned a two-year degree from John Muir College. While at John Muir, Phelps was profiled in Time magazine for preaching against "sins committed on campus by students and teachers … promiscuous petting … evil language … profanity … cheating … teachers' filthy jokes in classrooms … [and] pandering to the lusts of the flesh". In October 1951, while attending the Arizona Bible Institute, Phelps met Margie M. Simms and married her in May 1952.  In 1954, the East Side Baptist Church in Topeka hired Phelps as an associate pastor, and then promoted him to be the pastor of their new church, Westboro Baptist, which opened in 1955. Soon after Westboro was established, Phelps broke all ties with East Side Baptist.
Phelps earned a law degree from Washburn University in 1964, and founded the Phelps Chartered law firm. The first notable cases were related to civil rights. "I systematically brought down the Jim Crow laws of this town," he claims. Phelps' daughter was quoted as saying, "We took on the Jim Crow establishment, and Kansas did not take that sitting down. They used to shoot our car windows out, screaming we were nigger lovers," and that the Phelps law firm made up one-third of the state's federal docket of civil rights cases.
Phelps took cases on behalf of African-American clients alleging racial discrimination by school systems, and a predominantly black American Legion post which had been raided by police, alleging racially based police abuse. Phelps' law firm obtained settlements for some clients. Phelps also sued President Ronald Reagan over Reagan's appointment of a U.S. ambassador to the Vatican, alleging this violated separation of church and state. The case was dismissed by the U.S. district court. Phelps' law firm, staffed by himself and family members also represented non-white Kansans in discrimination actions against Kansas City Power and Light, Southwestern Bell, and the Topeka City Attorney, and represented two female professors alleging discrimination in Kansas universities.  In the 1980s, Phelps received awards from the Greater Kansas City Chapter of Blacks in Government and the Bonner Springs branch of the NAACP, for his work on behalf of black clients.
A formal complaint was filed against Phelps on November 8, 1977, by the Kansas State Board of Law Examiners for his conduct during a lawsuit against a court reporter named Carolene Brady. Brady had failed to have a court transcript ready for Phelps on the day he asked for it; though it did not affect the outcome of the case for which Phelps had requested the transcript, Phelps still requested $22,000 in damages from her. In the ensuing trial, Phelps called Brady to the stand, declared her a hostile witness, and then cross-examined her for nearly a week, during which he accused her of being a "slut", tried to introduce testimony from former boyfriends whom Phelps wanted to subpoena, and accused her of a variety of perverse sexual acts, ultimately reducing her to tears on the stand. Phelps lost the case.
In an appeal, Phelps prepared affidavits swearing to the court that he had eight witnesses whose testimony would convince the court to rule in his favor. Brady, in turn, obtained sworn, signed affidavits from the eight people in question, all of whom said that Phelps had never contacted them and that they had no reason to testify against Brady. Phelps was found to have made "false statements in violation of DR 7–102".On July 20, 1979, Phelps was permanently disbarred from practicing law in the state of Kansas, though he continued to practice in Federal courts.  In 1985, nine Federal judges filed a disciplinary complaint against Phelps and five of his children, alleging false accusations against the judges. In 1989, the complaint was settled; Phelps agreed to stop practicing law in Federal court permanently, and two of his children were suspended for periods of six months, and one year, respectively.
Phelps married Margie M. Simms in May 1952, a year after the couple met at the Arizona Bible Institute. They had 13 children, 54 grandchildren, and 7 great-grandchildren.  Nathan Phelps, Fred Phelps' estranged son, claims he never had a relationship with his abusive father when he was growing up, and that the Westboro Baptist Church is an organization for his father to "vent his rage and anger." He alleges that, in addition to hurting others, his father used to physically abuse his wife and children by beating them with his fists and with the handle of a mattock to the point of bleeding. Phelps' brother Mark has supported and repeated Nathan's claims of physical abuse by their father. Since 2004, over 20 members of the church, mostly family members, have left the church and his family.
Phelps described himself as an Old School Baptist, and stated that he held to all of the Five Points of Calvinism. Phelps particularly highlights John Calvin's doctrine of unconditional election, the belief that God has elected certain people for salvation before birth, and limited atonement, the belief that Christ only died for the elect, and condemns those who believe otherwise. Despite Phelps' claims of being a Primitive Baptist, he was ordained by a Southern Baptist church, and was rejected and generally condemned by Primitive Baptists.
Phelps viewed Arminianism (particularly the views of the Methodist theologian William Munsey) as a "worse blasphemy and heresy than that heard in all filthy Saturday night fag bars in the aggregate in the world". In addition to John Calvin, Phelps admired Martin Luther and Bob Jones, Sr., and approvingly quoted a statement by Jones that "what this country needs is 50 Jonathan Edwardses turned loose in it." Phelps particularly held to equal ultimacy, believing that "God Almighty makes some willing and he leads others into sin", a view he said is Calvinist. However, many theologians would identify him as a Hyper-Calvinist ("hyper" meaning "beyond" or "above" not "extreme").
Phelps opposed common Baptist practices like Sunday school meetings, Bible colleges and seminaries, and multi-denominational crusades, although he attended Bob Jones University and worked with Billy Graham in his Los Angeles Crusade before Graham changed his views on a literal Hell and salvation. Phelps considered Graham the greatest false prophet since Balaam, and also condemned large church leaders such as Robert Schuller and Jerry Falwell, in addition to all current Catholics.
On March 15, 2014, Nathan Phelps, Phelps' estranged son, reported that Phelps was in very poor health and was receiving hospice care. He said that Phelps had been excommunicated from the church in August 2013, and then moved into a house where he "basically stopped eating and drinking". His statements were supported by his brother, Mark. Church spokesman Steve Drain declined to answer questions about Phelps' excommunication, and denied that the church had a singular leader. Drain said that "the church of Jesus Christ doesn't have a head" and "the Lord Jesus Christ is our head". Referring to the church having a defined leader, he said that "for a very long time, we haven't been organized in the way you think".
The church's official website said that membership status is private and did not confirm or deny the excommunication. Phelps died of natural causes shortly before midnight on March 19, 2014. His daughter, Shirley, stated that a funeral for her father would not be held because the church does not "worship the dead". The Recovering From Religion organization released a statement on behalf of Nathan, who is on their board of directors, about his father's death.
Born
November, 13, 1929
USA
Meridian, Mississippi
Died
March, 19, 2014
USA
Topeka, Kansas
16842 profile views