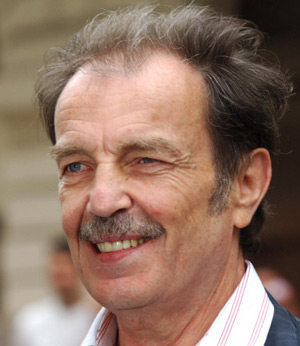 West was born on 16 February 1947. His father was a coal dealer, his mother a dentist who took her son with her on art-viewing trips to Italy. West did not begin to study art seriously until he was 26, when, between 1977 and 1983, he studied at the Academy of Fine Arts Vienna with Bruno Gironcoli.  West began making drawings around 1970 before moving on to painted collages incorporating magazine images that showed the influence of Pop Art.  His art practice started as a reaction to the Viennese Actionism movement has been exhibited in museums and galleries for more than three decades. Over the last 20 years he had a regular presence in big expositions like Documenta and the Venice Biennale.
West's artwork is typically made out of plaster, papier-mâché, wire, polyester, aluminium and other, ordinary materials. He started to produce paintings, but then turned to collages, sculptures, portable sculptures called "Adaptives" or "Fitting Pieces", environments and furniture – "welded metal chairs and divans, some minimally padded and upholstered in raw linen." For his early sculptures, West often covered ordinary objects—bottles, machine parts, pieces of furniture and other, unidentifiable things—with gauze and plaster, producing "lumpy, grungy, dirty-white objects".  In the late 1990s, West turned to large-scale lacquered aluminum pieces, the first (and several after) inspired by the forms of Viennese sausages, as well as the shapes of the Adaptives. With their monochrome colors and irregular patchwork surfaces, these works were also meant for sitting and lying.
The Baltimore Museum of Art with help from former Senior Curator of Contemporary Art, Darsie Alexander, hosted the very first "comprehensive survey" to ever been done in the U.S. of Franz West's artwork which contained his latest artwork designed specifically for the Baltimore Museum of Art, The Igo and the Id. – which "consists of two configurations of rumpled, ribbon-like loops rising some 20 feet high. One is bright pink, the other neatly painted in blocks of green, yellow, blue and orange. Both have round stools projecting from the lower ends of the loops."
For the season 2009/2010 in the Vienna State Opera Franz West designed a large scale picture (176 sqm) as part of the exhibition series "Safety Curtain", conceived by museum in progress.  Throughout his career, West engaged in collaborations with other artists, such as conceptual Artist Bernhard Cella, conceptual artist Douglas Gordon, musician Fred Jellinek, furniture maker Mathis Esterhazy, and ceramist Tamuna Sirbiladze (West's widow). For another exhibition in 2012, West collaborated with fellow artist Anselm Reyle on a series of furniture sculptures.
Around 1980 West started to create "plaster objects, usually a few feet long, meant to be placed over the face, worn around the waist or held in the crook of the neck. Although they suggest masks and props for the commedia dell'arte, their shapes are usually ambiguous: no matter how figurative and sexual Mr. West's objects may be, they remain abstract. The pieces can be worn on the street or carried like a partner in an enraptured solipsistic dance. They leave the wearer looking both protected and trapped." His friend Reinhard Priessnitz called these "Passstücke", which was rendered into English as "Fitting pieces"; but West came to prefer another translation, "Adaptives".
Born
February, 16, 1947
Vienna, Austria
Died
July, 26, 2012
Vienna, Austria
17419 profile views