Fran Warren
(Frances Wolfe)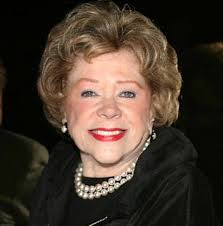 Fran Warren
Frances Wolfe (March 4, 1926 – March 4, 2013), known by her stage name, Fran Warren, was an American popular singer.
Life and career
She was born into a Jewish family in the New York City borough of the Bronx. After some time on a chorus line at New York's Roxy Theater, she auditioned with the big band of Duke Ellington at age 16; though she never made it into Ellington's band, she soon became a singer with bands led by Woody Herman, Randy Brooks, Art Mooney, Billy Eckstine, Charlie Barnet, and Claude Thornhill. It was Eckstine who gave her the stage name of Fran Warren. With Charlie Barnet, she replaced Kay Starr as featured vocalist. In 1947, she made the charts for the first time, with the Thornhill band's recording of "A Sunday Kind Of Love" on Columbia Records. She made a number of other records with Thornhill that year. In 1948 she went solo, signing with RCA Records. On RCA she made a number of recordings, but her biggest hit was a duet with Tony Martin, "I Said My Pajamas (and Put On My Pray'rs)" which reached No. 3 on the charts. Other recordings which she made include more duets with Tony Martin and with Lisa Kirk.
In the early 1950s, after a number of her RCA records failed to chart, she moved to MGM Records. She had a number of records for MGM, making her last chart hit in 1953 with "It's Anybody's Heart". Her long-playing albums included Hey There! Here's Fran Warren, arranged by Marty Paich (Tops, 1957) and Something's Coming, arranged by Ralph Burns and Al Cohn (Warwick, 1960).
Warren appeared as a guest on several television variety programs in the late 1940s and early 1950s, and she had a supporting role in the 1952 comedy film Abbott and Costello Meet Captain Kidd. In the 1950s, she began appearing in musical comedies, such as The Pajama Game and Finian's Rainbow and later playing the title role in Mame. She did not neglect her band singing, touring with Harry James in the 1960s. In the late 1970s, she reconnected with musical director and trumpet player Joe Cabot, with whom she had worked extensively during the 1950s and 1960s. From 1979–1982, they toured together with the musical review The Big Broadcast of 1944, and enjoyed two sold-out engagements at New York City's acclaimed jazz club, Michael's Pub.
She resided in Connecticut until her death on March 4, 2013, her 87th birthday.
Fran Warren's husband, Woody Witt, predeceased her, as did one of her two daughters.
Born
March, 04, 1926
United States
New York
Died
16553 profile views