Fran Allison
(Fran Allison)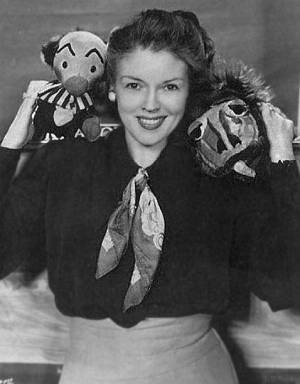 Frances Helen was born to Jesse Louis (1871-1941) and Anna M "Nan" (née Halpin 1876-1957) Allison in La Porte City, Iowa. She was a 1927 graduate of Coe College, where she was a member of Alpha Gamma Delta. She was a teacher before beginning her broadcasting career at WMT in Cedar Rapids, Iowa. She moved to Chicago, Illinois in 1937, where she was hired as a staff singer and personality on NBC Radio. Beginning in 1937, she was a regular performer on The Breakfast Club, a popular Chicago (and NBC) radio show, and was a fixture for 25 years as "Aunt Fanny," a gossipy small-town spinster. Her Aunt Fanny character also appeared on the ABC-TV series, Ozark Jubilee, during the late 1950s.
In 1947, the director of WBKB-TV in Chicago asked Burr Tillstrom if he could put together a puppet show for children, and he asked Allison, whom he had met during World War II war bond tour, to join the show. She was the only human to appear on the live series, filling the role of big sister and cheery voice of reason as the puppets, known as the Kuklapolitan Players, engaged each other.
Her television career continued after the initial run of Kukla, Fran and Ollie: in the late 1950s, she hosted The Fran Allison Show, a panel discussion TV program in Chicago; and appeared in television musical specials including Many Moons (1954), Pinocchio with Mickey Rooney (1957), Damn Yankees (1967) and Miss Pickerell (1972). In the 1980s, Allison hosted Prime Time, a show for senior citizens, on KHJ-TV in Los Angeles.
For contributions to the television industry, Allison was honored with a star on the Hollywood Walk of Fame at 6763 Hollywood Boulevard. She was inducted into the Chicago Television Academy's Silver Circle in 2002.  She appeared with puppets Kukla and Ollie on a 44¢ US commemorative postage stamp in the "Early TV Memories" series, issued on August 11, 2009.  In later life, Allison lived in Van Nuys, California. She died from myelodysplasia at the age of 81 in Sherman Oaks, California, and was buried in Mount Calvary Cemetery in Cedar Rapids, Iowa.
Born
November, 20, 1907
USA
La Porte City, Iowa
Died
June, 13, 1989
USA
Sherman Oaks, California
Cemetery
Mount Calvary Cemetery
Cedar Rapids, Iowa
USA
17229 profile views