Foster Brooks
(Foster Brooks)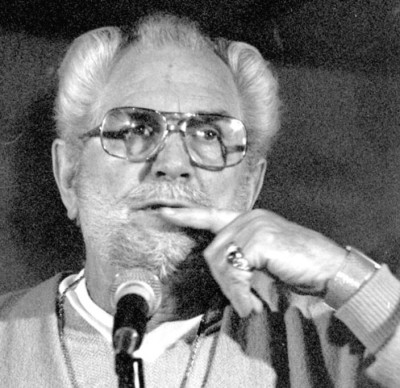 Foster Brooks
Brooks regularly appeared on The Dean Martin Show television program in the 1970s (for which he garnered an Emmy Award nomination in 1974) as well as many situation comedies, talk shows, and a few films. Although he had only one basic signature character, he exhibited such extraordinary timing and subtlety that he was instantly recognized as one of the great comic performers of the time. His signature routine was the basis of a hit comedy album titled Foster Brooks, The Lovable Lush, released in the early 1970s. As his "Lovable Lush" character, Brooks usually portrayed a conventioneer who had had a few too many drinks — not falling-down drunk, but inebriated enough that he would mix up his words and burp to comedic delight. Brooks is most affectionately remembered for his appearances on The Dean Martin Celebrity Roast shows.
Brooks drew upon his own battles with alcohol for his act. However, during his period of greatest fame, Brooks rarely drank. Of giving up drinking to win a bet in 1964, Brooks said, "A fellow made me a $10 bet I couldn't quit, and I haven't had a drink since. At the time I needed the $10." He would occasionally make cameo appearances in which his character was perfectly sober, such as his appearance in a 1968 episode of Adam-12 playing a strait-laced citizen who tries to get out of a parking ticket by dropping the name of an officer senior to the main characters. He also played the character Harry Sachs in a 1969 episode of Adam-12 in which he performed as a highly intoxicated man standing in the middle of a street, waving his suit jacket at oncoming traffic, as if he were a bullfighter. In a later Adam-12 episode, he plays a stoned man, stopped for erratic driving, who tries to hide the burning joint in his suit's front pocket. On the comedy series Green Acres in 1969, in the episode "Economy Flight to Washington", Brooks' boozy, bobble-headed character meets and befriends the pig Arnold Ziffel in a hotel bar. In the scene, ostensibly through the haze of alcohol, he mistakes the anthropomorphic pig for an air force lieutenant, since the animal is sitting on a barstool and is wearing a white leather aviator's cap, goggles, and a red scarf. Brooks acted again on Green Acres in 1969, this time giving a completely "sober" performance as Charlie Williams, a chemist, in the episode "The Milk Maker." The following year he returned to his whiskey-soaked persona on the television western The High Chaparral. In the series' episode "The Reluctant Deputy", he gives a wonderfully entertaining portrayal of a befuddled, toothless, drunk miner who is paid a few dollars to deliver a fraudulent telegram to the local marshal's office.
In character, Brooks asked Dean Martin to join his group "Alcoholics Unanimous", a play on Alcoholics Anonymous. He boasted he and Martin were charter members of the DUI (Driving Under the Influence) Hall of Fame. During the Dean Martin Celebrity Roast of Frank Sinatra, he claimed to be related to Brooks of Justerini & Brooks.
Brooks slurs to Martin, "his close friends are members of the CHP (California Highway Patrol) and LAPD" (Los Angeles Police Department) for his large number of DUI tickets. He continues, "Dean, I am a record holder, the most 502's in the history of the California Department of Motor Vehicles." (502 is the section of the vehicle code for drunk driving.)
Brooks appeared in the 1977 Johnny Cash television special, A Concert: Behind Prison Walls, where he portrayed himself as a drunken man and also sang the song "Half as Much".
Public sensibilities had changed regarding alcoholics and public drunkenness by the 1980s, so Brooks moved away from his drunk character. He had a recurring role as Mr. Sternhagen, Mindy's boss on Mork & Mindy. For many years, his name was a moniker on a Louisville celebrity golf tournament benefiting Kosair Charities. Foster Brooks was a Shriner and member of the Al Malaikah Shriners, Los Angeles. He also made occasional guest appearances on television shows in which he would demonstrate his lesser-known talent: a beautiful singing voice.
Brooks died on December 20, 2001, at his home in Encino, California from heart failure. He was 89.
Born
May, 11, 1912
Louisville, Kentucky
Died
December, 20, 2001
Encino, California
Cause of Death
Cemetery
Other
Cremated, Ashes given to family or friend
18228 profile views