Floyd Patterson
(Floyd Patterson)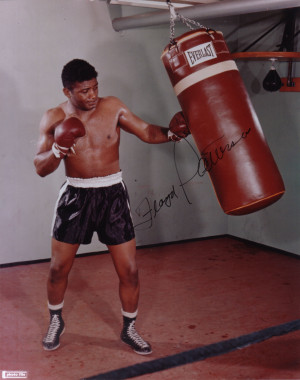 Floyd Patterson
He was a good guy in the bad world of boxing. He was mild, sweet, retiring, reclusive, impassive and ascetic. He spoke softly and never lost his boyhood shyness. Constantine (Cus) D'Amato, who died in 1985, trained Patterson throughout his professional career and called him "a kind of a stranger." Red Smith, The New York Times sports columnist, called him "the man of peace who loves to fight."
Patterson acknowledged his sensitivity.
"You can hit me and I won't think much of it," he once said, "but you can say something and hurt me very much."
W. C. Heinz, the boxing columnist, found a fundamental difference between Patterson the fighter and Patterson the person.
"In expressing himself as a fighter," Heinz wrote, "Patterson knows almost complete security. Outside the ring, he knows no such security. A shy, sensitive soul-searcher, he volunteers little. He might be called a conversational counterpuncher. When he does speak out, however, it is with a purity reminiscent of Joe Louis."
Floyd Patterson was born Jan. 4, 1935, in a cabin in Waco, N.C., the third eldest of 11 children. His father, Thomas, was a manual laborer and his mother, Annabelle, was a domestic who later worked in a bottling plant until the family moved to the Bedford-Stuyvesant section of Brooklyn.
Above the youngster's bed was a picture of him with two older brothers and an uncle, all boxers. He often told his mother, "I don't like that boy," and once he scratched three large X's over his face in the picture.
He became a frequent truant who fell behind in school. At age 11, he could not read or write. He would not talk, and when someone talked to him he refused to look the person in the face.
His mother had him committed to Wiltwyck School, a school in upstate New York for emotionally disturbed boys. His new teachers helped him learn to read and encouraged him to take up boxing there, which he did.
A year and a half later, Patterson returned home. He attended Public School 614 for maladjusted children and then spent one term at Alexander Hamilton Vocational High School before quitting to help support his family.
At 14, he started working out at the Gramercy Gym on the Lower East Side of Manhattan, a battered gym owned and run by the iconoclastic D'Amato. In 1950, he also started boxing as an amateur. In 1951, he won the New York Golden Gloves open middleweight title. In 1952, after his Olympic success, he turned professional.
His first pro bout earned him only $300, but by 1956 he had become a leading heavyweight. When Rocky Marciano retired that year as the undefeated champion, Patterson was matched against Moore, the light-heavyweight champion, for the heavyweight title.
For the fight on Nov. 30 in Chicago Stadium, Patterson rode to the stadium with Sam Taub, the veteran broadcaster and reporter. As Taub recalled, "He sat there gazing out of the window like he was going to the movies."
When they arrived, Patterson put on his trunks, socks, boxing shoes and robe, stretched out on a rubbing table and went to sleep. A few hours later, he stopped Moore in five rounds and at 21 became the youngest heavyweight champion to that point.
Patterson defended the title willingly but uncomfortably. In 1957, he knocked out Pete Rademacher in six rounds in Seattle and in 1958 he stopped Roy (Cut 'n' Shoot) Harris in 12 rounds in Los Angeles after both had knocked him down.
Born
January, 04, 1935
Waco, North Carolina
Died
May, 11, 2006
New Paltz, New York
Cause of Death
Cemetery
New Paltz Rural Cemetery
New Paltz, New York
16952 profile views