Florence Harding
(Florence Harding)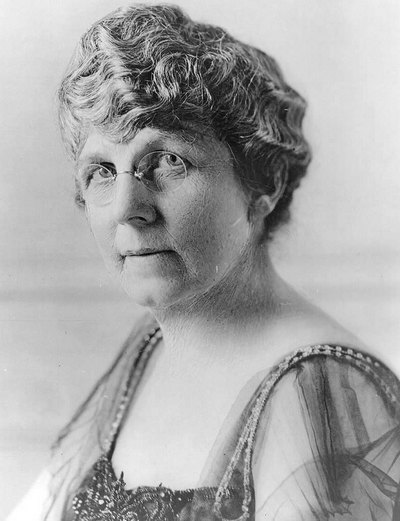 She was born Florence Kling in Marion, Ohio, the eldest of three children of Amos Kling, a prominent Marion banker of German descent, and Louisa Bouton Kling, whose French Huguenot ancestors had fled religious persecution.  Aiming to become a concert pianist, Florence began studies at the Cincinnati Conservatory of Music, but at 19 she eloped with Henry Athenton DeWolfe and they were married in Columbus on January 22, 1880. (No original copy of the marriage license has been found, but a record of the issuance of the license was printed in a local newspaper.) On September 22, 1880, Florence gave birth to her only child, Marshall Eugene. The couple separated not long afterwards, and were divorced in 1886.
In 1890, Florence became engaged to Warren Gamaliel Harding, owner of the Marion Star, and at twenty-five, her junior by five years. They married on July 8, 1891, opposed by her father, who thought Warren was social climbing. They had no children of their own, but Florence's son Marshall lived with them intermittently, and received encouragement from Warren to work in journalism.
During her husband's illness, Florence became Business Manager of the Marion Star, immediately demonstrating both the talent and the character to run a newspaper. She organised a circulation department, improved distribution, trained the newsboys, purchased equipment at keen prices, and installed the first local news-wire service. One of the newsboys, Norman Thomas, later the Socialist presidential candidate, declared that Warren was the front-man, but Florence was the real driving power of the Marion Star.  In 1905, Florence needed emergency surgery for nephritis ('floating kidney'), and was treated by homeopathic doctor Charles E. Sawyer. His close links with the Harding family, and Florence's total trust and dependence on him, would later prove controversial. During her convalescence, Warren began an affair with a close friend of hers, Carrie Phillips. It was one of a number of dalliances, which led her to consider divorce, though she never pursued it.
By 1914, Warren's political career had taken him to the US Senate, greatly helped by Florence's management of his finances, social life and public image. By 1920, he was a contender for the Republican presidential nomination, though not a front-runner. Florence gave him keen support, apparently influenced by a Washington clairvoyant 'Madame Marcia' Champrey, who correctly forecast that Warren would become President, but added that he would die in office. The election was overshadowed further by attempted extortion by Carrie Phillips, threatening to reveal Warren's adultery. However, Florence's newspaper experience gave her an advantage over other candidates' wives, and she skilfully deflected press enquiries about her first marriage by implying that she had been widowed. She also earned the approval of ex-President Taft.
On March 4, 1921, Florence Harding became First Lady, immediately taking an active role in national politics, at times even appearing to dominate the President. She had a strong influence on the selection of government ministers, and at the inauguration, observers believed that she was prompting her husband with a speech written by her.
Florence made her views known on everything from the League of Nations to vivisection, racism and women's suffrage. When Madame Curie visited the White House, Florence praised her as an example of a professional achiever who was also a supportive wife. Florence's own special agenda was the welfare of war veterans, whose cause she championed wholeheartedly. In all of this, her timing was fortunate, as women's activism in public affairs was an important theme in 1920's America.  As a White House hostess, Florence presided over elegant parties, where her husband would refer to her as The Duchess. But she also moved with the times, flying in planes, launching new fashions like the silk neckband, showing after-dinner movies, and discreetly serving alcohol to guests during Prohibition.
By 1923, both Florence and her husband were suffering from dangerous illnesses, but still undertook a coast-to-coast rail tour, which they called the Voyage of Understanding. Florence proved highly popular at their many scheduled stops, but Warren was visibly ailing. After a bad reaction to seafood, he was rushed to San Francisco's Palace Hotel, where he died.  On this tour, Warren had been under the care of Charles E. Sawyer, who is believed to have misdiagnosed the President's condition, and administered stimulants that brought on his fatal heart attack. As Florence did not request an autopsy, and also destroyed many of his papers, a conspiracy theory was put forward in a semi-fictional book The Strange Death of President Harding, sensationally claiming that Florence had poisoned her husband. This is now seen as a code for Florence placing excessive trust in the incompetent Sawyer, resulting in Warren's death.
Florence had intended to make a new life in Washington, and was planning a tour of Europe. But when her kidney ailment returned, she followed Sawyer's advice, and took a cottage in the grounds of his sanitarium in Marion. Her last public appearance was at the local Remembrance Day parade, where she stood to salute the veterans. A few days later, she died of renal failure.  Until the completion of the Harding Tomb, her body lay with that of her husband in the common receiving vault at Marion's city cemetery.
Born
August, 15, 1860
USA
Marion, Ohio
Died
November, 21, 1924
USA
Marion, Ohio
Cemetery
Harding Memorial Park
Marion, Ohio
USA
16846 profile views