Fanny Brice
(Fania Borach)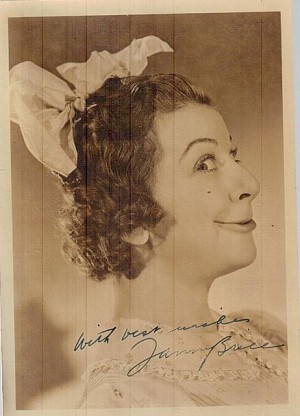 Fanny Brice
She was really Fannie Borach, daughter of a saloon-keeper on Forsythe Street in the crowded Lower East Side, where she was born in 1892. Her first appearance on any stage took place when she was 13 at Keeney's Theatre in Brooklyn, where she won an amateur night contest singing, "When You Know You're Not Forgotten by the Girl You Can't Forget." The prize was $5 and numerous coins hurled by the audience, and from that night on Miss Brice gave up school for the stage.
Then followed a job as jack-of-all-trades in a movie house, playing the piano, singing and helping out in the projection room. When she was 16 she applied for the chorus of the George M. Cohan-Sam Harris review, "Talk of New York." She remained in the chorus until Mr. Cohan found out she could not dance and fired her.
She then sang in various burlesque houses in New York. One night Florenz Ziegfeld "caught" her act and offered her a job at $75 a week. When she left the stage after introducing "My Man," Ziegfeld gave her a check for $2,500 and said, "You've earned it." Her weekly salary soon reached $3,000.
Only once did she try straight drama. In 1925 she was starred in the Belasco production, "Fanny." It was unsuccessful. The critics called for Fanny the comedienne, not the dramatic actress.
She first went to Hollywood to appear in the silent film, "My Man." She returned to Broadway only to find herself in Hollywood again when talkies came in, playing herself in "The Great Ziegfeld" and appearing in "Everybody Sing" and "Be Yourself."
She was married three times. Her first husband was Frank White, a barber, whom she met in 1911 in Springfield, Mass., when she was touring in "College Girl." The marriage lasted only a few days and she brought suit for divorce. In 1918 she was married to Jules W. (Nicky) Arnstein, only to divorce him in Chicago in 1927, after she had stood by him during his two years' imprisonment, starting in 1924, in Leavenworth, in connection with the mysterious disappearance of $5,000,000 worth of securities.
Two years after her divorce she was married to Billy Rose, the showman, by Mayor James Walker in New York. In 1937 she sued Mr. Rose for divorce, and shortly after it was granted he married Mrs. Eleanor Holm Jarrett, swimming champion.
Born
October, 29, 1891
New York City, New York
Died
May, 29, 1951
Hollywood, California
Cause of Death
Cemetery
Westwood Memorial Park
Los Angeles, California
17124 profile views