Fahd bin Abdulaziz Al Saud
(Fahd bin Abdulaziz Al Saud )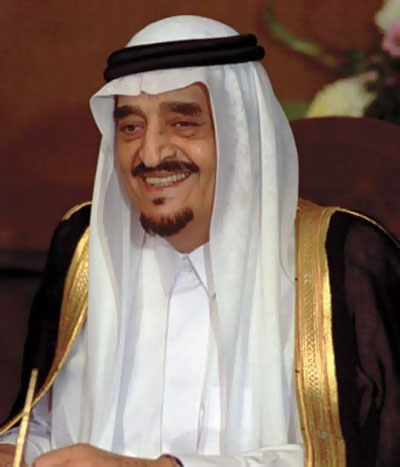 Fahd bin Abdulaziz was born in Riyadh in 1921. He is the eighth son of Ibn Saud. His mother was Hassa Al Sudairi and he was the eldest member of the Sudairi Seven.  Fahd's education took place at the Princes' School in Riyadh, a school established by Ibn Saud specifically for the education of members of the House of Saud. He received education for four years as a result of his mother's urging. While at the Princes' School, Fahd studied under tutors including Sheikh Abdul-Ghani Khayat. Then he went on to receive education at the Religious Knowledge Institute in Mecca.
Prince Fahd was made a member of the royal advisory board at his mother's urging. In 1945, Prince Fahd traveled on his first state visit to San Francisco for the signing of the UN charter. On this trip he served under his brother, Prince Faisal, who was at the time Saudi Arabia's foreign minister. In 1953, Fahd led his first official state visit, attending the coronation of Queen Elizabeth II on behalf of the House of Saud. On 24 December 1953, Prince Fahd was appointed education minister, being the first person holding this post in the country.
Prince Fahd led the Saudi delegation to the League of Arab States in 1959, signifying his increasing prominence in the House of Saud—and that he was being groomed for a more significant role. In 1962, Fahd was given the important post of interior minister. As interior minister he headed the Saudi delegation at a meeting of Arab Head of States in Egypt in 1965. He was named second deputy prime minister in 1967, which was created for the first time by King Faisal.
After the death of King Faisal in 1975, Fahd was named first deputy prime minister and concurrently crown prince in 1975. Although Prince Fahd had two elder brothers, Prince Nasser and Prince Saad, who had prior claims to the throne, but both were considered unsuitable candidates. By contrast, Prince Fahd had served as minister of education from 1954 to 1960 and minister of interior from 1962 to 1975.  Appointment of Prince Fahd as both crown prince and first deputy prime minister made him a much more powerful figure in contrast to the status of King Khalid when he had been crown prince during King Faisal's reign.
When King Khalid died on 13 June 1982, Fahd succeeded to the throne. He was the fifth king of Saudi Arabia. However, the most active period of his life was not his reign, but when he was Crown Prince. He adopted the title "Custodian of the Two Holy Mosques" in 1986, replacing "His Majesty", to signify an Islamic rather than secular authority.  King Fahd was a heavy smoker, overweight for much of his adult life, and in his sixties began to suffer from arthritis and severe diabetes. He suffered a debilitating stroke on 29 November 1995 and became noticeably frail, and decided to delegate the running of the Kingdom to Crown Prince Abdullah on 2 January 1996. On 21 February, King Fahd resumed official duties.
After his stroke King Fahd was partly inactive and had to use a cane and then wheelchair, though he still attended meetings and received selected visitors. In November 2003, according to government media, King Fahd was quoted as saying to "strike with an iron fist" at terrorists after deadly bombings in Saudi Arabia, although he could hardly utter a word because of his debilitating stroke and deteriorating health. However, it was Crown Prince Abdullah who took official trips; when King Fahd traveled it was for vacations, and he was sometimes absent from Saudi Arabia for months at a time. When his oldest son and International Olympic Committee member Prince Faisal bin Fahd died in 1999, the King was in Spain and did not return for the funeral.  In a speech to an Islamic conference on 30 August 2003, King Fahd condemned terrorism and exhorted Muslim clerics to emphasize peace, security, cooperation, justice, and tolerance in their sermons.
King Fahd was admitted to the King Faisal Specialist Hospital in Riyadh on 27 May 2005 for unspecified medical tests. An official (who insisted on anonymity) told the Associated Press unofficially that the king had died at 7:30 EDT on 1 August 2005. King Fahd was 84. Official statement was announced on state television at 10:00 am by then information minister Iyad Madani.
Born
March, 16, 1921
Riyadh, Saudi Arabia
Died
August, 01, 2005
Riyadh, Saudi Arabia
Cemetery
al-Oud Cemetery
Riyadh, Saudi Arabia
16656 profile views