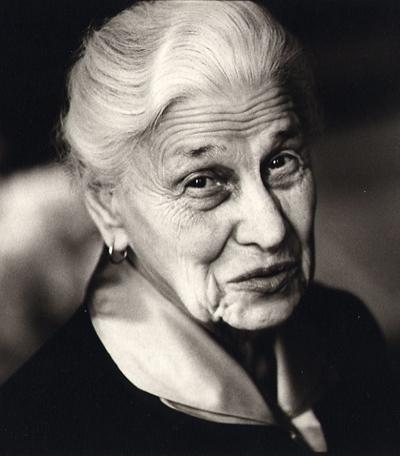 Eve Arnold was born Eve Cohen in Philadelphia, Pennsylvania, the middle of nine children born to immigrant Russian-Jewish parents, William Cohen (born Velvel Sklarski), a rabbi, and his wife, Bessie (Bosya Laschiner). Her interest in photography began in 1946 while working in a New York City photo-finishing plant. Over six weeks in 1948, she learned photographic skills from Harper's Bazaar art director Alexey Brodovitch at the New School for Social Research in Manhattan. This was also the year when she married industrial designer Arnold Arnold and gave birth to son Frank.
Eve Arnold photographed many of the iconic figures who shaped the second half of the twentieth century, yet she was equally comfortable documenting the lives of the poor and dispossessed, "migrant workers, civil-rights protestors of apartheid in South Africa, disabled Vietnam war veterans and Mongolian herdsmen."  For Arnold, there was no dichotomy: ""I don't see anybody as either ordinary or extraordinary," she said in a 1990 BBC interview, "I see them simply as people in front of my lens."  Arnold was particularly noted for her work using available light, concentrating on the image in the lens and eschewing extensive use of photographic lighting and flash. Of this she said "By the time you set up lights the image is gone" in a Guardian interview in 2000.
Arnold's images of Marilyn Monroe on the set of The Misfits (1961) were perhaps her most memorable, but she had taken many photos of Monroe from 1951 onwards. Her previously unseen photos of Monroe were shown at an Halcyon Gallery exhibition in London during May 2005. She also photographed Queen Elizabeth II, Malcolm X, and Joan Crawford, and traveled around the world, photographing in China, Russia, South Africa and Afghanistan. Arnold left the United States and moved permanently to England in the early 1960s with her son, Frank Arnold. While working for the London Sunday Times, she began to make serious use of colour photography.
In 1980, she had her first solo exhibition, which featured her photographic work done in China at the Brooklyn Museum in New York City. In the same year, she received the Lifetime Achievement Award from the American Society of Magazine Photographers. In 1993, she was made an Honorary Fellow of the Royal Photographic Society, and elected Master Photographer by New York's International Center of Photography.
She did a series of portraits of American First Ladies. In 1997, she was appointed a member of the Advisory Committee of the National Media Museum (formerly the Museum of Photography, Film & Television) in Bradford, West Yorkshire. She received an OBE in 2003.  She lived in Mayfair for many years until her last illness, when she moved to a nursing home in St George's Square, Pimlico. When Anjelica Huston asked if she was still doing photography, Arnold replied: "That's over. I can't hold a camera any more." She said she spent most of her time reading such writers as Dostoevsky, Thomas Mann and Tolstoy.  Arnold died in London on January 4, 2012, aged 99.
Born
April, 21, 1912
USA
Philadelphia, Pennsylvania
Died
January, 04, 2012
London, England
17112 profile views