Enid Bennett
(Enid Eulalie Bennett)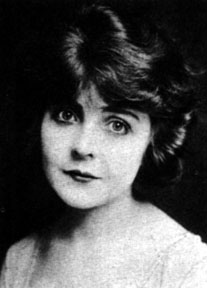 Enid Bennett
One of the pioneer actresses of the silent screen, Enid Bennett was born in York, Australia on July 15th, 1893. She was educated in her native land and went on the stage in Sydney. While on a tour of Australia with his production company, director Fred Niblo advertised for someone to play a minor part in a movie he was casting. Miss Bennett applied and was accepted. Later she was also accepted as Fred Niblo's wife, and gave him three children: Louis, Peter and Judith. After her divorce from Fred, she married yet another excellent director of silent and sound films, Sidney Franklin.
Enid's beauty, combined with her acting abilities, soon won success for her on the screen. She began to play lead roles very quickly while under contract to the Famous Players-Lasky Corporation. Many of Enid's silent films do not survive, unfortunately, but the several that are still available for viewing show a sparkling screen presence, such as her portrayal of Lady Marian in 1922's "Robin Hood" opposite Douglas Fairbanks and her compelling performance as the waif in The Red Lily (1924, photos) with Ramon Novarro.
Enid made several films when sound arrived, including the Mae Clark version of "Waterloo Bridge" (1931), "Intermezzo" (1939) with Ingrid Bergman, and "Strike Up The Band" (1940), with Judy Garland and Mickey Rooney. After that film she retired from the movies in order to devote more time to her family. Enid Bennett died in Malibu, California, from a heart attack on May 14th, 1969.
Born
July, 15, 1893
York, Australia
Died
May, 14, 1969
Los Angeles County, California
Cause of Death
Cemetery
Forest Lawn Memorial Park (Glendale)
Los Angeles County, California
16394 profile views