Emile Griffith
(Emile Griffith)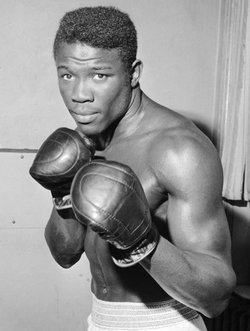 Emile Griffith
Griffith retired from boxing in 1977 with a record of 85-24-2 with 23 knockouts. He fought in 23 matches at Madison Square Garden and was inducted into the Hall of Fame in 1990. He is perhaps best known for his victory against Bennie Paret on March 24, 1962 that put Paret into a coma and resulted in his death 10 days later.
Griffith was a prodigy of Gil Clancy, a Hall of Fame trainer who ran a gym in Queens. He was best known for his irrepressible speed and fluid style. He won championship belts in the welterweight and middleweight divisions.
Upon his retirement from fighting, he went on to train several champion boxers, including Wilfred Benitez and Juan Laporte. Outside of the ring he was described as humorous and charming while he often visited the Hall of Fame facility in Canastota, N.Y.
Griffith suffered from pugilistic dementia during the later stages of his life and passed at an extended care facility in Hempstead, N.Y.
Born
February, 03, 1938
USA
St. Thomas, U.S. Virgin Islands
Died
January, 01, 1970
USA
Hempstead, N.Y.
Cemetery
Saint Michaels Cemetery
East Elmhurst, New York
USA
17140 profile views