Eliza Johnson
(Eliza Johnson)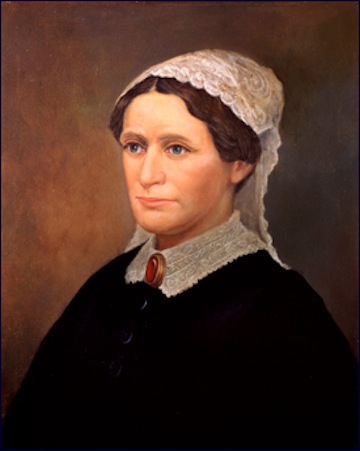 Born at Telford, Tennessee, the only child of John McCardle, a shoemaker, and Sarah Phillips-McCardle, Eliza lost her father when she was still a small child. She was raised by her widowed mother in Greeneville, Tennessee. One day in September 1826, Eliza was chatting with classmates from Rhea Academy when she spotted Andrew Johnson and his family pull into town with all their belongings. They instantly took a liking to each other. Andrew Johnson, aged 18, married Eliza McCardle, aged 16, on May 17, 1827, at the home of the bride's mother in Greeneville. Mordecai Lincoln, a distant relative of Abraham Lincoln, presided over the nuptials.
At 16, Eliza Johnson married at a younger age than any other First Lady. She was rather tall and had hazel eyes, brown hair and a good figure. She was better educated than Johnson, who by this time had barely taught himself to read and spell a little. Johnson credited his wife for teaching him to do arithmetic and to write, as he had never attended school. She tutored him patiently, while he labored in his tailor shop. She often read aloud to him.
he supported her husband in his political career, but had tried to avoid public appearances. During the American Civil War, Confederate authorities ordered her to evacuate her home in Greeneville; she took refuge in Nashville, Tennessee.  A few months later after her husband became president, she joined him in the White House, but she was not able to serve as First Lady due to her poor health. She remained confined to a room on the second floor, leaving the social chores to her daughter (Martha Johnson Patterson). Mrs. Johnson appeared publicly as First Lady on only two occasions – at a reception for Queen Emma of the Kingdom of Hawaii in 1866 and at the president's birthday party in 1867.
After episodes of "consumption" (tuberculosis), Eliza died on January 15, 1876, at the of age 65 in Greeneville, Tennessee. She survived her husband by five and a half months.
Born
October, 04, 1810
USA
Telford, Tennessee
Died
January, 15, 1876
USA
Greeneville, Tennessee
Cemetery
Andrew Johnson National Cemetery
Greeneville, Tennessee
USA
17593 profile views