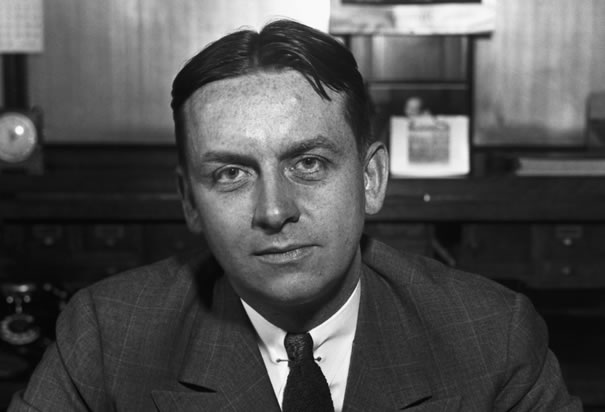 Eliot Ness
Ness remarried in 1939, to illustrator Evaline Michelow. The Nesses moved to Washington, D.C. in 1942 where he worked for the federal government, directing the battle against prostitution in communities surrounding military bases, where venereal disease was a serious problem. Later he made a number of forays into the corporate world, all of which failed from his lack of business acumen. In 1944, he left to become chairman of the Diebold Corporation, a security safe company based in Ohio.[11]
After his second divorce and third marriage, he ran unsuccessfully for mayor of Cleveland in 1947,[9][12] after which he was expelled from Diebold in 1951.[11] In the aftermath, Ness began drinking more heavily and spending his free time in bars telling (often exaggerated) stories of his law enforcement career. He also spent himself into debt. Ness was forced into taking various odd jobs to earn a living, including as an electronics parts wholesaler, a clerk in a bookstore, and selling frozen hamburger patties to restaurants. By 1953, he came to work for an upstart company called Guaranty Paper Corporation, which specialized in watermarking legal and official documents to prevent counterfeiting. Ness was offered a job because of his expertise in law enforcement. The company soon moved from Cleveland to the quiet rural town of Coudersport, Pennsylvania, where operating costs were lower. He made a decent income from GPC and moved with his wife and adopted son into a modest rental house. Once again, he enjoyed going to local bars and regaling amazed audiences with his tales of crime fighting.
He collapsed and died at his home in Coudersport, Pennsylvania of a massive heart attack on May 16, 1957, at the age of 54. Collaborating with Oscar Fraley in his last years, he co-wrote the book The Untouchables, which was published a month after his death. This book, among others about the Untouchables by Oscar Fraley, was heavily spiced with fiction including fictional characters and events to make the books more appealing to a general audience. The 21-page manuscript that Ness himself wrote for the book was a more trustworthy source and only included the real events that Ness experienced during his career. His manuscript is housed in the archives of the Western Reserve Historical Society in Cleveland, Ohio. The Western Reserve Historical Society houses additional Ness papers, including a scrapbook (1928-1936), copies of newspaper clippings (1935-1950), a typewritten manuscript detailing Ness' career in Chicago, and miscellaneous papers, including a report on the Fidelity Check Corporation and Guaranty Paper, of which Ness was president.
Ness was married to Edna Staley (1900–1988) from 1929 to 1938, illustrator Evaline Ness (1911–1986) from 1939 to 1945, and artist Elisabeth Andersen Seaver (1906–1977) from 1946 until his death in 1957. He also had an adopted son Robert (1946–1976). Ness' ashes were scattered in one of the small ponds on the grounds of Lake View Cemetery, in Cleveland.
Born
April, 19, 1903
Chicago, Illinois
Died
May, 16, 1957
Coudersport, Pennsylvania
Cemetery
Lake View Cemetery
Cleveland, Ohio
17223 profile views