Elaine Stritch
(Elaine Stritch)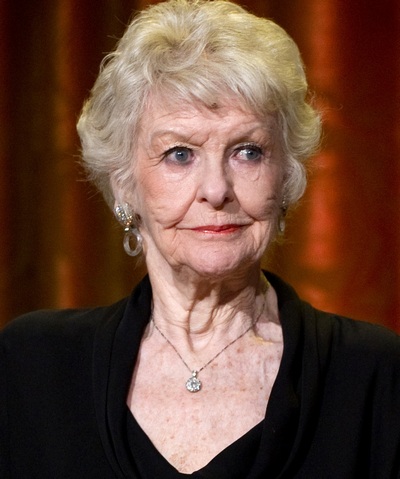 Elaine Stritch was born on February 2, 1925, in Detroit, Michigan, the youngest daughter of Mildred (née Jobe; 1893–1987), a homemaker, and George Joseph Stritch (1892–1987), an executive with B.F. Goodrich. Her Roman Catholic family was well-off. Stritch's father was of Irish descent, her mother of Welsh. Samuel Cardinal Stritch, Archbishop of Chicago from 1940 to 1958, was one of her uncles. She trained at the Dramatic Workshop of The New School in New York City under Erwin Piscator; other students at the Dramatic Workshop at this time included Marlon Brando and Bea Arthur.
Stritch made her stage debut in 1944. However, her Broadway debut was in Loco in 1946, directed by Jed Harris, followed soon after by Made in Heaven (as a replacement)  and then Angel in the Wings (1947), a revue in which she performed comedy sketches and the song "Civilization".  Stritch understudied Ethel Merman for Call Me Madam, and, at the same time, appeared in the 1952 revival of Pal Joey, singing "Zip". Stritch later starred in the national tour of Call Me Madam, and appeared in a supporting role in the original Broadway production of William Inge's play Bus Stop. She was the lead in the musical Goldilocks.
She starred in Noël Coward's Sail Away on Broadway in 1961. Stritch started in the show in a "relatively minor role and was only promoted over the title and given virtually all the best songs when it was reckoned that the leading lady…although excellent, was rather too operatic for a musical comedy". During out-of-town tryouts in Boston, Coward was "unsure about the dramatic talents" of one of the leads, opera singer Jean Fenn.  They were, after all, engaged for their voices and…it is madness to expect two singers to play subtle 'Noël Coward' love scenes with the right values and sing at the same time.
Joe Layton suggested "What would happen if…we just eliminated [Fenn's] role and gave everything to Stritch? … The show was very old-fashioned, and the thing that was working was Elaine Stritch…every time she went on stage [she] was a sensation. The reconstructed 'Sail Away'…opened in New York on 3 October". In 1966, she played Ruth Sherwood in the musical Wonderful Town at New York's City Center, and appeared in an Off Broadway revival of Private Lives in 1968.  Stritch became known as a singer with a brassy, powerful voice. She was the original performer cast in the role of Joanne in Stephen Sondheim's Company (1970) on Broadway. After over a decade of successful runs in shows in New York, Stritch moved in 1972 to London, where she starred in the West End production of Company. On tour and in stock, Stritch appeared in such musicals as No, No, Nanette, The King and I, I Married an Angel, and both as Vera Charles (opposite Janet Blair) and Mame Dennis in Mame.
Strich's earliest television appearances were in The Growing Paynes (1949) and the Goodyear Television Playhouse (1953–55). She also appeared on episodes of The Ed Sullivan Show in 1954. She was the first and original Trixie Norton in a Honeymooners sketch with Jackie Gleason, Art Carney and Pert Kelton. The character was originally a burlesque dancer, but the role was rewritten and recast after just one episode with the more wholesome looking Joyce Randolph playing the character as an ordinary housewife.  Stritch's other television credits included a number of dramatic programs in the 1950s and 1960s, including Studio One. In the 1960 television season, Stritch appeared in the role of writer Ruth Sherwood in the CBS sitcom My Sister Eileen, opposite Shirley Bonne as her younger sister, Eileen Sherwood, an aspiring actress. The sisters, natives of Ohio, live in a brownstone apartment in Greenwich Village. The one-season series aired opposite Hawaiian Eye on ABC and Perry Como's Kraft Music Hall on NBC.
In 1975, Stritch starred in the British LWT comedy series Two's Company opposite Donald Sinden. She played Dorothy McNab, an American writer living in London who was known for her lurid and sensationalist thriller novels. Sinden played Robert, her English butler, who disapproved of practically everything Dorothy did and the series derived its comedy from the inevitable culture clash between Robert's very British stiff-upper-lip attitude and Dorothy's devil-may-care New York view of life. Two's Company was exceptionally well received in Britain and ran for four series until 1979. In 1979, both Stritch and Sinden were nominated for a BAFTA TV Award for Two's Company, in the category "Best Light Entertainment Performance", losing out to Ronnie Barker.
Other British television appearances by Strich included Roald Dahl's Tales of the Unexpected. Although she appeared several times in different roles, perhaps her most memorable appearance was in the story "William and Mary", in which she played the wife of a man who has cheated death by having his brain preserved. She appeared on BBC 1's children's series, Jackanory, reading, among other stories, Charlie and the Chocolate Factory by Roald Dahl.
After returning to the United States, she appeared on The Edge of Night as vinegary nanny Mrs. DeGroot, then was cast as a regular on the short-lived The Ellen Burstyn Show in 1986. She appeared as the stern schoolteacher Mrs. McGee on three episodes of The Cosby Show (1989–1990). She had recurring roles in Law & Order (1992, 1997) as Lanie Stieglitz and 3rd Rock from the Sun (1997, 2001). On April 26, 2007, she began guest appearances on the NBC sitcom 30 Rock as Colleen, the fearsome mother of Alec Baldwin's lead character, Jack Donaghy. Her later roles included ; as Judge Grace Lema on Oz (1998); and as Martha Albright (mother of Jane Curtin's character) on two episodes of 3rd Rock From the Sun (1997, 2001), alongside her Broadway co-star George Grizzard, who played George Albright.  Stritch was reportedly considered for the role of Dorothy Zbornak on The Golden Girls but, as she related in her show Elaine Stritch at Liberty, she "blew her audition". The role was cast with Bea Arthur. She was seen on One Life to Live (1993), replacing fellow stage legend Eileen Heckart as Wilma Bern.
Stritch appeared in more films in her later years than the early part of her career. In an interview in 1988, it was noted that "Making movies is challenging to Stritch since she considers herself a novice." She said: "I'm fascinated with it. And I want to do more of them." She was asked why she waited so long to make movies since she apparently enjoys it so much. "You do a movie for, like, three months and then you're finished. You do a part in a play and it's like going into a roomful of audiences for a year."
Early in her career, she appeared in Three Violent People (1956) starring Charlton Heston, as the hotel proprietor pal of Anne Baxter, and then co-starred opposite Rock Hudson and Jennifer Jones in the David O. Selznick remake of A Farewell to Arms (1957) as Hudson's nurse. In The Perfect Furlough, she co-starred opposite Tony Curtis and Janet Leigh. She had a showy role as the lesbian proprietor of a bar in the cult film Who Killed Teddy Bear? (1965), which starred Sal Mineo. She played a "tough-as-nails" nurse in the remake of The Spiral Staircase (1975) and was praised for her performance in Providence (1977).
When she returned to the United States in the mid-1980s from London, Woody Allen cast her as the former movie star mother in his drama September (1987). People magazine called her performance "acclaimed" and wrote "Though the movie has received mixed reviews, Stritch's roaring presence, like Godzilla in a stalled elevator, can't be ignored." Allen later cast her in his comedy Small Time Crooks (2000) in which she played a "snobby socialite". Rex Reed wrote of her performance: "Elaine Stritch can still stop you in your tracks with a meaningless, drop-dead one-liner (which is all she gets here)."
She joined the ensemble of Cocoon: The Return (1988) as an Apartment Manager who helps widowed Jack Gilford get over his wife's death. Among her co-stars were former Goldilocks co-star Don Ameche and Gwen Verdon. She appeared in Out to Sea (1997) as Dyan Cannon's wise-cracking mother and "danced up a storm" with the other characters. She played Winona Ryder's loving grandmother in the film Autumn in New York (2000). Stritch had a rare co-starring role in the comedy Screwed (2000), playing Miss Crock who becomes the intended victim of a kidnapping by her disgruntled butler (Norm Macdonald). She appeared in the comedy Monster in Law (2005) starring Jennifer Lopez and Jane Fonda, playing Fonda's mother-in-law.
Strich was married to the actor John Bay from 1973 until his death in 1982. He was part of the family that owns the Bay's English Muffins company, and Stritch sent English muffins as gifts to friends. Said John Kenley: "Every Christmas, she still sends me English muffins." When she was based in London, Stritch and her husband lived at the Savoy Hotel.  She was good friends with gossip columnist Liz Smith, with whom she shared a birthday (February 2). In March 2013, Stritch announced she was leaving New York and relocating to Birmingham, Michigan.  Stritch was candid about her struggles with alcohol. She took her first drink at 14 and began using it as a crutch before performances to vanquish her stage fright and insecurities. Her drinking worsened after Bay's death, and she sought help after experiencing issues with effects of alcoholism, as well as the onset of diabetes. Elaine Stritch at Liberty discusses the topic at length.
Stritch died in her sleep at her home in Birmingham, Michigan, on July 17, 2014. She was 89 years old. Stritch suffered from diabetes and had been in declining health for years.
Born
February, 02, 1925
USA
Detroit, Michigan
Died
July, 17, 2014
USA
Birmingham, Michigan
Cemetery
Memorial Park Cemetery and Crematorium
Skokie, Illinois
USA
17503 profile views