Edward Koch
(Edward Koch)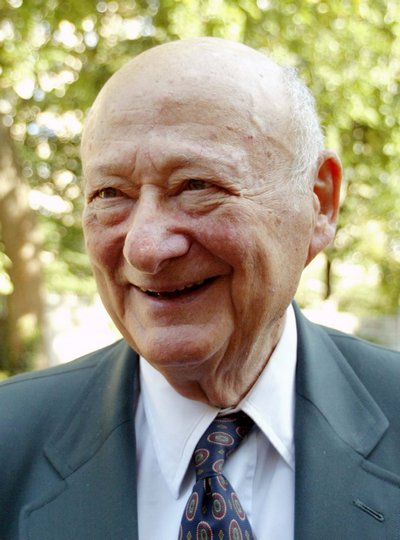 Koch was born in The Bronx borough of New York City, the son of Yetta (or Joyce, née Silpe) and Louis (Leib) Koch, immigrants from Uscieczko in Eastern Galicia. He came from a family of Conservative Jews who resided in Newark, New Jersey, where his father worked at a theater. As a child, he worked as a hatcheck boy in a Newark dance hall. He graduated from South Side High School in Newark in 1941.
He was drafted into the United States Army in 1943, where he served as an infantryman with the 104th Infantry Division, landing in Cherbourg, France, in September 1944. He earned a European-African-Middle Eastern Campaign Medal with two campaign stars, a World War II Victory Medal, and the Combat Infantryman Badge for service in the European Theater of Operations. After V-E Day, because he could speak German, Koch was sent to Bavaria to help remove Nazi public officials from their jobs and find non-Nazis to take their place. He was honorably discharged with the rank of Sergeant in 1946. Koch returned to New York City to attend City College of New York, graduating in 1945, and New York University School of Law, receiving his law degree in 1948. Koch was a sole practitioner from 1949 to 1964, and a partner with Koch, Lankenau, Schwartz & Kovner from 1965 to 1968. A Democrat, he became active in New York City politics as a reformer and opponent of Carmine DeSapio and Tammany Hall. In 1962 Koch ran for office for the first time, unsuccessfully opposing incumbent William Passannante, a DeSapio ally, for the Democratic nomination for the State Assembly.
In 1963, Koch defeated DeSapio for the position of Democratic Party leader for the district which included Greenwich Village, and Koch won again in a 1965 rematch. Koch served on the New York City Council from 1967 to 1969.  Koch was the Democratic US Representative from New York's 17th congressional district from January 3, 1969, until January 3, 1973, when, after a redistricting, he represented New York's 18th congressional district until December 31, 1977, when he resigned to become Mayor of New York City.
Koch said he began his political career as "just a plain liberal", with positions including opposing the Vietnam War and marching in the South for civil rights. In April 1973, Koch coined the term "Watergate Seven" when, in response to U.S. Senator Lowell P. Weicker, Jr.'s indicating that one of the men in Watergate scandal had been ordered in the spring of 1972 to keep certain senators and representatives under surveillance, posted a sign on the door of his United States Congress office saying, 'These premises were surveilled by the Watergate Seven. Watch yourself'. At about this same time, Koch began his rightward shift towards being a "liberal with sanity" after reviewing the 1973 controversy around then-New York City Mayor John Lindsay's attempt to place a 3,000-person housing project in the middle of a middle-class community in Forest Hills, Queens. Congressman Koch met with residents of the community, most of whom were against the proposal. He was convinced by their arguments, and spoke out against the plan; this decision, he has said, shocked many of his political associates.
Koch was active in advocating for a greater US role in advancing human rights, within the context of fighting a perceived threat of communism. He had particular influence in the foreign aid budget, as he sat on the House Appropriations Subcommittee on Foreign Operations. In 1976, Koch proposed that the US cut off military aid and supplies to the government of Uruguay which was under a dictatorship. In mid-July 1976, the CIA learned that two high-level Uruguayan intelligence officers had discussed a possible assassination attempt on Koch by Dirección de Inteligencia Nacional (DINA), the Chilean secret police. The CIA did not regard these threats as credible until after the September 1976 assassination of Orlando Letelier in Washington, D.C., by Dirección de Inteligencia Nacional (DINA) agents coordinated by Operation Condor. After this assassination, then-Director of Central Intelligence George H. W. Bush informed Koch by phone of the threat. Koch subsequently asked both the CIA and the FBI for protection, but none was extended.
In 1977, Koch ran in the Democratic primary of the New York City mayoral election against incumbent Abe Beame, Bella Abzug and Mario Cuomo, among others. Koch ran to the right of the other candidates, on a "law and order" platform. According to historian Jonathan Mahler, the New York City blackout of 1977 that happened in July, and the subsequent rioting, helped catapult Koch and his message of restoring public safety to front-runner status.
In 1981, he ran for re-election as mayor, running on both the Democratic and Republican Party lines; in November he won, defeating his main opponent, Unity Party candidate Frank J. Barbaro, with 75 percent of the vote.  In 1982, Koch ran unsuccessfully for Governor of New York, losing the Democratic primary to Mario Cuomo, who was then lieutenant governor. Many say the deciding factor in Koch's loss was an interview with Playboy magazine in which he described the lifestyle of both suburbia and upstate New York as "sterile" and lamented the thought of having to live in "the small town" of Albany as Governor. Koch's remarks are thought to have alienated many voters from outside New York City.
Koch often deviated from the conventional liberal line, strongly supporting the death penalty and taking a hard line on "quality of life" issues, such as giving police broader powers in dealing with the homeless and favoring (and signing) legislation banning the playing of radios on subways and buses. These positions prompted harsh criticism of him from the local chapter of the American Civil Liberties Union and many African-American leaders, particularly the Reverend Al Sharpton.  In 1984, Koch published his first memoir, Mayor, which became a best-seller and was later turned into an Off Broadway and later Broadway musical, Mayor.
In 1985, Koch again ran for re-election, this time on the Democratic and Independent tickets; he defeated Liberal Party candidate Carol Bellamy and Republican candidate Diane McGrath with 78 percent of the vote. During the campaign, Koch came to visit the late Lubavitcher Rebbe, Rabbi Menachem Mendel Schneerson, seeking his blessing and endorsement.
In 1986, Mayor Koch signed a lesbian and gay rights ordinance for the city after the City Council passed the measure (on March 20), following several failed attempts by that body to approve such legislation. Despite his overall pro-lesbian and pro-gay-rights stance, he nonetheless backed up the New York City Health Department's decision to shut down the city's gay bathhouses in 1985 in response to concerns over the spread of AIDS. The enactment of the measure the following year placed the city in a dilemma, as it apparently meant that the bathhouses would have to be re-opened because many heterosexual "sex clubs" – most notably Plato's Retreat – were in operation in the city at the time, and allowing them to remain open while keeping the bathhouses shuttered would have been a violation of the newly adopted anti-discrimination law. The Health Department, with Koch's approval, reacted by ordering the heterosexual clubs, including Plato's Retreat, to close as well.
Koch consistently demonstrated a fierce love for New York City, which some observers felt he carried to extremes on occasion: In 1984 he had gone on record as opposing the creation of a second telephone area code for the city, claiming that this would divide the city's population; and when the National Football League's New York Giants won Super Bowl XXI in January 1987, he refused to grant a permit for the team to hold their traditional victory parade in the city, quipping famously, "If they want a parade, let them parade in front of the oil drums in Moonachie" (the latter being a town in New Jersey adjacent to East Rutherford, site of the Meadowlands Sports Complex, where the Giants play their home games).
In his third term, Koch's popularity was shaken after a series of corruption scandals, touched off by the Donald Manes suicide and the PVB scandal, which revealed that he had acceded to the requests of corrupt political allies, most notably Queens Borough President Manes, Bronx Democratic party official Stanley Friedman, and Brooklyn Democratic boss Meade Esposito, to stack city agencies with patronage appointments. These patronage appointments, such as Department of Transportation Commissioner Tony Ameruso and Parking Violations Bureau official Geoffrey Lindenauer, had subsequently engaged in many varieties of graft, extortion and bribery. Another high-profile Koch official and ally, Cultural Affairs commissioner Bess Myerson, was accused and eventually indicted for improperly conspiring with a judge in order to fix a divorce case in favor of Myerson's mob-linked lover. Though there were no allegations that Koch obtained any financial benefit from the corruption, the wave of scandals undermined Koch's prior claims that he would run a patronage-free city government.  Shortly afterward Koch suffered a stroke in 1987 while in office, but was able to continue with his duties.
It has been said that race relations in Mayor Koch's last years were not good. For one, he became a controversial figure in the 1988 presidential campaign with his public criticism of Democratic candidate Jesse Jackson, who had surprised many political observers by winning key primaries in March and running even with the front runner, Massachusetts Governor Michael Dukakis. As the April New York primary approached, Koch reminded voters of Jackson's alleged anti-semitism and said that Jews would be "crazy" to vote for Jackson. Koch endorsed Tennessee Senator Al Gore, who had run well in his native south, but hadn't won 20 percent in a northern state. As Koch's anti-Jackson rhetoric intensified, Gore seemed to shy away from Koch. On primary day, Gore finished a weak third place with 10 percent of the vote and dropped out of the race. Jackson ran ten points behind Dukakis, whose nomination became assured after his New York win.
In 1989, Koch ran for a fourth term as Mayor but lost the Democratic primary to David Dinkins, who went on to defeat Rudolph Giuliani in the general election. Koch's criticism of Jesse Jackson during the 1988 presidential race had angered many black voters and was cited as a major reason for his defeat.
In the years following his mayoralty, Koch became a partner in the law firm of Robinson, Silverman, Pearce, Aronsohn, and Berman LLP, (now Bryan Cave LLP) and became a commentator on politics, as well reviewing movies and restaurants, for newspapers, radio and television. He also became an adjunct professor at New York University (NYU) and was the judge on The People's Court for two years (1997–1999), following the retirement of Judge Joseph Wapner. In 1999, he was a visiting professor at Brandeis University. Koch regularly appeared on the lecture circuit, and had a highly rated local talk show on WABC radio. He also hosted his own movie review video show on the web called The Mayor at the Movies.
In 2004, together with his sister Pat (also Pauline) Koch Thaler, Koch wrote a children's book, Eddie, Harold's Little Brother; the book told the story of Koch's own childhood, when he tried unsuccessfully to emulate his older brother Harold's baseball talents, before realizing that he should instead focus on what he was already good at, which was telling stories and speaking in public.
On March 23, 2011, the New York City Council voted to rename the Queensboro Bridge as the "Ed Koch Queensboro Bridge" in honor of the former mayor. Later, city councilman Peter Vallone (D-Queens) introduced legislation banning the naming of New York City property after people who are still alive. The legislation subsequently failed. In May 2011 Koch sat for a portrait by Dmitry Borshch which has been exhibited at the Institute of Oriental Studies of the Russian Academy of Sciences, DePaul University, Brecht Forum, CUNY Graduate Center and is included in the Catalog of American Portraits, maintained by the Smithsonian's National Portrait Gallery.
On January 19, 2013, Koch was admitted to the hospital suffering lethargy and swollen ankles. He was released on January 26. It was the third time in the previous six months he had been hospitalized. Two days after his release, he was readmitted into NewYork–Presbyterian Hospital after complaining of shortness of breath and fluid on his lungs. He was moved to the Intensive-care unit (ICU) on January 31. He died at approximately 2:00 a.m. EST on February 1, 2013, of heart failure.
Born
December, 12, 1924
USA
The Bronx, New York City, New York
Died
February, 01, 2013
USA
Manhattan, New York City, New York
Cemetery
Trinity Church Cemetery and Mausoleum
Manhattan, New York City, New York
USA
16868 profile views