Edith White Wilson
(Edith White Wilson)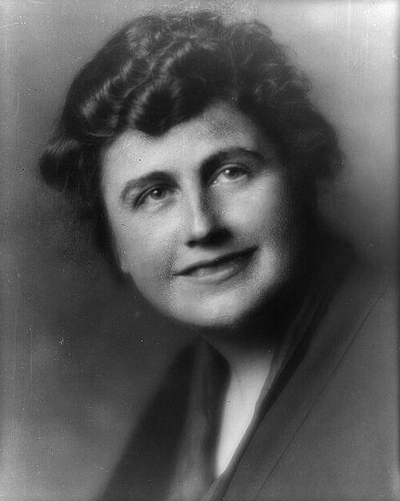 Edith Bolling was born October 15, 1872 in Wytheville, Virginia to circuit court judge William Holcombe Bolling and his wife Sarah "Sallie" Spears née White. Her birthplace is a contributing building in the Wytheville Historic District. Edith was a descendant of settlers who came to Virginia early in the British colonization of the Americas. Through her father, she was a direct descendant of Pocahontas, the daughter of the chief of the Powhatan tribe of Native Americans and her husband John Rolfe, one of the earliest English settlers of Virginia and the first man to cultivate tobacco as an export crop. Rolfe's granddaughter, Jane, married Robert Bolling, a wealthy planter and merchant.  Edith was the seventh of 11 children, two of whom died in infancy. The Bollings claimed to have been quite wealthy prior to the American Civil War, but were forced to give up their plantation home after being unable to pay taxes on the land following the end of the war. William Bolling settled on his father's property in Wytheville, where most of his children were born.
The Bollings were staunch supporters of the Confederate States of America, and Edith was very proud of her Southern heritage. As was often the case with slaves freed after the war, the Bollings believed their former slaves were content with life on Rose Cottage Plantation and had little desire for freedom. It was only after the Civil War that William Bolling turned to the practice of law.  The Bolling household was a large one. In addition to the 9 surviving children, Edith's two grandmothers, several aunts, and some cousins also lived with the Bollings. Most of these female relatives had lost their husbands during the war.
Edith had little formal education. Her sisters were enrolled in local schools, but she was not. Her paternal grandmother, Anne Wiggington Bolling, played a large role in educating her. Crippled by a spinal cord injury, she was confined to bed and had Edith wash her clothing, turn her in bed at night, and look after her 27 pet canaries. She also taught her granddaughter to read, write, speak a hybrid language of French and English, make dresses, crochet, knit, and embroider; Furthermore she encouraged an appreciation for poetry and music in the young girl and instilled in her a tendency to make quick judgments and hold strong opinions, personality traits Edith would exhibit her entire life. William Bolling read classic English literature aloud to his family at night, hired a tutor to teach Edith, and sometimes took her on his travels.
During her childhood, Edith was particularly impressed by the songs and folktales she heard. Every day, the family gathered in Grandmother Bolling's bedroom and listen to her sing songs and tell romantic stories of people who found true love; these songs and stories also left a deep impression on Edith. The Bollings attended church regularly; Edith would be a lifelong devout Episcopalian.
When Edith was 15, her father enrolled her at Martha Washington College (a precursor of Emory and Henry College), a finishing school for girls in Abingdon, Virginia; he chose it for its excellent music program. She was miserable there, largely due to poor food, cold rooms, and the rigorous, strictly-regimented routine. She returned home after a single semester. When she was 17, her father enrolled her in Powell's School for Girls in Richmond, Virginia; this, she later said, was the happiest time of her life. Powell's School closed at the end of the year after the headmaster suffered an accident that cost him his leg. Concerned about the cost of Edith's education, William Bolling refused to pay for any additional schooling for her, choosing to send her three brothers to school instead, a practical decision as a young 19th-century man would use a formal education to pursue a career, but a young woman would not. By this time, Edith had read very few books and her handwriting was nearly illegible.
In March 1915, the widow Galt was introduced to U.S. President Woodrow Wilson at the White House by Helen Bones, the president's cousin and official White House hostess since the death of Ellen Wilson, the president's first wife. Wilson took an instant liking to Mrs. Galt and his admiration grew swiftly into love. In proposing to her, he made the poignant statement that "In this place, time is not measured by weeks, or months, or years, but by deep human experiences…"
Complicating matters were rumors that Wilson had been cheating on his first wife, or that he and Mrs. Galt had actually murdered the First Lady. Distressed at the effect all this might be having on his fiancée, Wilson offered Mrs. Galt the opportunity to back out of their engagement. She replied that she would stand by him not for duty, pity or honor, but for love. Edith also insisted on postponing the wedding until the end of the official year of mourning for Mrs. Wilson.
Wilson married Edith Bolling Galt on December 18, 1915 at her home in Washington, D.C. Attended by 40 guests, the wedding was performed jointly by the groom's pastor, Reverend Dr. James H. Taylor of Central Presbyterian Church, and the bride's, Reverend Dr. Herbert Scott Smith of St. Margaret's Episcopal Church. The couple honeymooned two weeks in Hot Springs, Virginia and at The Greenbrier in White Sulphur Springs, West Virginia.  In 1916, the Swiss-born American artist Adolfo Müller-Ury (1862–1947) was commissioned by Colonel Edward M. House to paint a portrait of Mrs. Wilson, which he did in the White House. The painting always hung in the President's bedroom, but when Mrs. Wilson died she left it to the White House, and a copy was made to hang in the Woodrow Wilson House Museum.
As First Lady during World War I, Mrs. Wilson observed gasless Sundays, meatless Mondays, and wheatless Wednesdays to set an example for the federal rationing effort. Similarly, she set sheep to graze on the White House lawn rather than waste manpower in mowing it and auctioned off their wool for the benefit of the American Red Cross.  Though the new First Lady had sound qualifications for the role of hostess, the social aspect of the administration was overshadowed by war in Europe and abandoned after the United States formally entered the conflict in 1917, and she became the first person besides the President to receive permanent full-time Secret Service protection.  Edith Wilson submerged her own life in her husband's, trying to keep him fit under tremendous strain. She accompanied him to Europe when the Allies conferred on terms of peace, the first such trip for a U.S. President while in office.
While visiting her married sister in Washington, D.C., Edith met Norman Galt, a prosperous jeweler; they married in 1896 and lived in the capital for the next 12 years. In 1903 she bore a son who only lived for a few days, and the difficult birth left her unable to have more. In 1908 her husband died unexpectedly. Edith hired a manager to run the business and lived sparsely until she managed to pay off its debts.  Following his attendance at the Paris Peace Conference, Wilson returned to campaign for Senate approval of the peace treaty and the League of Nations Covenant. However, his health failed in October, when a stroke left him partly paralyzed. The United States never did ratify the Treaty of Versailles nor join the League of Nations, which had initially been Wilson's concept. At the time, isolationist sentiment was strong.
Edith Wilson took over many routine duties and details of the Executive branch of the government. She decided which matters of state were important enough to bring to the bedridden president. "I studied every paper sent from the different Secretaries or Senators," she wrote later of her role, "and tried to digest and present in tabloid form the things that, despite my vigilance, had to go to the President. I, myself, never made a single decision regarding the disposition of public affairs. The only decision that was mine was what was important and what was not, and the very important decision of when to present matters to my husband." One Republican senator labeled her "the Presidentress who had fulfilled the dream of the suffragettes by changing her title from First Lady to Acting First Man." In My Memoir, published in 1939, she called her role a "stewardship" and insisted that her actions had been taken only because the president's doctors told her to do so for her husband's mental health. Most historians disagree with her version of events. Historian Phyllis Levin wrote that Edith Wilson was "a woman of narrow views and formidable determination".
In 1921, Edith Wilson retired with the former president to their home on S Street NW in Washington, D.C., nursing him until his death three years later. She later served as director of the Woodrow Wilson Foundation. Her memoir appeared in 1939.  When Franklin D. Roosevelt went to Congress on December 8, 1941 to ask for a Declaration of War after the attack on Pearl Harbor, he took pains to draw a symbolic link with the April 1917 declaration of war. Mrs. Wilson accompanied him.  In 1961, she attended the inauguration of President John F. Kennedy.
She died of congestive heart failure at age 89, on December 28, 1961, on which she was to have been the guest of honor at the dedication ceremony for the Woodrow Wilson Bridge across the Potomac River between Maryland and Virginia, on what would have been her husband's 105th birthday. She was buried next to the president at the Washington Cathedral, but has since been re-interred elsewhere in the cathedral's crypt.  Mrs. Wilson left her home to the National Trust for Historic Preservation to be made into a museum honoring her husband. The Woodrow Wilson House opened as a museum in 1964.
Born
October, 15, 1872
USA
Wytheville, Virginia
Died
December, 28, 1961
USA
Washington D.C.
Cemetery
Washington National Cathedral
Washington D.C.
USA
17662 profile views