Édith Piaf
(Édith Giovanna Gassion)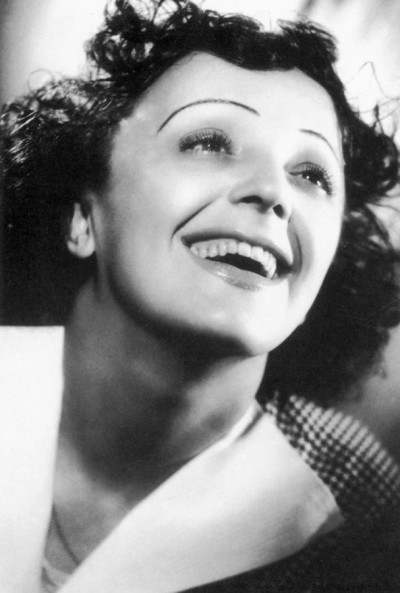 Piaf's mother abandoned her at birth, and she lived for a short time with her maternal grandmother, Emma (Aïcha). When her father enlisted with the French Army in 1916 to fight in World War I, he took her to his mother, who ran a brothel in Normandy. There, prostitutes helped look after Piaf. The bordello had two floors and seven rooms, and the prostitutes were not very numerous, "about ten poor girls" as she later described, in fact five or six were permanent and a dozen for market and any busy days. The sub-mistress of the whorehouse, "Madam Gaby" could be considered a little like family since she became godmother of Denise Gassion, the half-sister born in 1931. Edith believed her weakness for men came from mixing with prostitutes in her grandmother's brothel. "I thought that when a boy called a girl, the girl would never refuse" she would say later.   From the age of three to seven, Piaf was allegedly blind as a result of keratitis. According to one of her biographers, she recovered her sight after her grandmother's prostitutes pooled money to accompany her on a pilgrimage honouring Saint Thérèse of Lisieux. Piaf claimed this was the result of a miraculous healing.  In 1929, at age 14, she joined her father in his acrobatic street performances all over France, where she first sang in public. At the age of 15, Piaf met Simone "Mômone" Berteaut, who may have been her half-sister, definitely a companion for most of her life, and together they toured the streets for the first time singing and earning money for themselves. With the additional money Piaf earned as part of an acrobatic trio, Piaf and Mômone were able to rent their own place. She separated from her father and took a room at Grand Hôtel de Clermont (18 rue Veron, Paris 18ème), working with Mômone as a street singer in Pigalle, Ménilmontant, and the Paris suburbs (cf. the song "Elle fréquentait la Rue Pigalle").
In 1932, she met and fell in love with Louis Dupont. Within a very short time, he moved into their small room, where the three lived despite Louis' and Mômone's dislike for each other. Louis was never happy with the idea of Piaf's roaming the streets, and continually persuaded her to take jobs he found for her. She resisted his suggestions, until she became pregnant and worked for a short while making wreaths in a factory.  In February 1933, when Piaf was 17 years old, her daughter, Marcelle, known as Cécelle, was born in the Hôpital Tenon. Like her mother, Piaf found it difficult to care for a child while living a life of the streets, as she had little maternal instinct, parenting knowledge, or domestic skills. She rapidly returned to street singing, until the summer of 1933, when she opened at Juan-les-Pins, Rue Pigalle. Marcelle's father, Louis, whom Piaf never married, was incensed. They quarrelled and Piaf left, taking Mômone and Marcelle. The three of them stayed at the Hôtel Au Clair de Lune, Rue André-Antoine. Marcelle was often left alone in the room while Piaf and Mômone were out on the streets or at the club singing. The father eventually came and took Marcelle away, saying that if Édith wanted the child, she must come home. Like her own mother, Piaf decided not to come home, though she did pay for childcare. Marcelle died of meningitis at age two. It is rumoured that Piaf slept with a man to pay for Marcelle's funeral.
In 1935, Piaf was discovered in the Pigalle area of Paris by nightclub owner Louis Leplée, whose club Le Gerny off the Champs-Élysées was frequented by the upper and lower classes alike. He persuaded her to sing despite her extreme nervousness, which, combined with her height of only 142 centimetres (4 ft 8 in), inspired him to give her the nickname that would stay with her for the rest of her life and serve as her stage name, La Môme Piaf (Paris slang meaning "The Waif Sparrow" or "The Little Sparrow"). Leplée taught her the basics of stage presence and told her to wear a black dress, which became her trademark apparel. Later, she would always appear in black. Leplée ran an intense publicity campaign leading up to her opening night, attracting the presence of many celebrities, including actor Maurice Chevalier. Her nightclub gigs led to her first two records produced that same year, with one of them penned by Marguerite Monnot, a collaborator throughout Piaf's life and one of her favourite composers.
On 6 April 1936, Leplée was murdered. Piaf was questioned and accused as an accessory, but acquitted. Leplée had been killed by mobsters with previous ties to Piaf. A barrage of negative media attention now threatened her career. To rehabilitate her image, she recruited Raymond Asso, with whom she would become romantically involved. He changed her stage name to "Édith Piaf", barred undesirable acquaintances from seeing her, and commissioned Monnot to write songs that reflected or alluded to Piaf's previous life on the streets.  In 1940, Piaf co-starred in Jean Cocteau's successful one-act play Le Bel Indifférent. The German occupation of Paris didn't stop her career, to the contrary. She began forming friendships with prominent people, including Chevalier and poet Jacques Borgeat. She wrote the lyrics of many of her songs and collaborated with composers on the tunes. Spring 1944 saw the first cooperation and a love affair with Yves Montand in the Moulin Rouge. In 1947, she wrote the lyrics to the song Mais qu'est-ce que j'ai ! (music : Henri Betti) for Montand. Within a year, he became one of the most famous singers in France. She broke off their relationship when he had become almost as popular as she was.
During this time, she was in great demand and very successful in Paris as France's most popular entertainer. After the war, she became known internationally, touring Europe, the United States, and South America. In Paris, she gave Atahualpa Yupanqui (Héctor Roberto Chavero) – the most important Argentine musician of folklore – the opportunity to share the scene, making his debut in July 1950. She helped launch the career of Charles Aznavour in the early 1950s, taking him on tour with her in France and the United States and recording some of his songs. At first she met with little success with U.S. audiences, who regarded her as downcast. After a glowing review by a prominent New York critic, however, her popularity grew, to the point where she eventually appeared on The Ed Sullivan Show eight times and at Carnegie Hall twice (1956 and 1957).  Piaf's signature song, "La vie en rose", was written in 1945 and was voted a Grammy Hall of Fame Award in 1998.  Bruno Coquatrix's famous Paris Olympia music hall is where Piaf achieved lasting fame, giving several series of concerts at the hall, the most famous venue in Paris, between January 1955 and October 1962. Excerpts from five of these concerts (1955, 1956, 1958, 1961, 1962) were issued on record and CD and have never been out of print. The 1961 concerts, promised by Piaf in an effort to save the venue from bankruptcy, debuted her song "Non, je ne regrette rien". In April 1963, Piaf recorded her last song, "L'Homme de Berlin".
Except for the daughter she had with her boyfriend, Louis Dupont, at age 17 – who died at age two of meningitis and neglect – Piaf never wanted nor had any more children.  The love of Piaf's life, the married boxer Marcel Cerdan, died in a plane crash in October 1949, while flying from Paris to New York City to meet her. Cerdan's Air France flight, flown on a Lockheed Constellation, crashed in the Azores, killing everyone on board, including noted violinist Ginette Neveu. Piaf and Cerdan's affair made international headlines, as Cerdan was the former middleweight world champion and a legend in France in his own right.  In 1951, Piaf was seriously injured in a car crash along with Charles Aznavour, breaking her arm and two ribs, and thereafter had serious difficulties arising from morphine and alcohol addictions. Two more near-fatal car crashes exacerbated the situation. Jacques Pills, a singer, took her into rehabilitation on three different occasions to no avail.  Piaf married Jacques Pills, her first husband, in 1952 (her matron of honour was Marlene Dietrich) and divorced him in 1957. In 1962, she wed Théo Sarapo (Theophanis Lamboukas), a Greek hairdresser-turned-singer and actor who was 20 years her junior. The couple sang together in some of her last engagements.  Piaf lived in Belleville, Paris, with her parents from 1915 to 1934. From 1934 to 1941, she lived at 45 rue de Chézy in Neuilly-sur-Seine, France. Alone from 1941 to 1952 and with Jacques Pills from 1953 to 1956. She continued to live there alone from 1956–1959. In her final years she lived at 23 rue Édouard Nortier in Neuilly-sur-Seine, France – alone from 1959 to 1962 and with Théo Sarapo from 1962 to 1963 until her death.
Piaf died of liver cancer at age 47 at her villa in Plascassier (Grasse), on the French Riviera, on 10 October 1963, the day before filmmaker and friend Jean Cocteau died. She had been drifting in and out of consciousness for several months. Her last words were "Every damn thing you do in this life, you have to pay for." It is said that Sarapo drove her body back to Paris secretly so that fans would think she had died in her hometown. She is buried in Père Lachaise Cemetery in Paris next to her daughter Marcelle, where her grave is among the most visited. Buried in the same grave are her father, Louis-Alphonse Gassion, and Théo (Lamboukas) Sarapo. The name inscribed at the foot of the tombstone is 'Famille Gassion-Piaf'. Her name is engraved on the side as 'Madame Lamboukas dite Edith Piaf'.  Although she was denied a funeral mass by the Roman Catholic archbishop of Paris because of her lifestyle, her funeral procession drew tens of thousands of mourners onto the streets of Paris and the ceremony at the cemetery was attended by more than 100,000 fans. Charles Aznavour recalled that Piaf's funeral procession was the only time since the end of World War II that he saw Parisian traffic come to a complete stop.  In Paris, a two-room museum is dedicated to her, the Musée Édith Piaf (5, Rue Crespin du Gast).  On October 10, 2013, fifty years after her death, the Roman Catholic Church gave her a memorial mass in the St. Jean-Baptiste Church in Belleville, Paris, the parish into which she was born.
Born
December, 19, 1915
France
Belleville, Paris
Died
October, 10, 1963
France
Plascassier, Grasse
Cause of Death
Cemetery
Cimetière du Père Lachaise
Paris, France
11253 profile views