Edith Nesbit
(Edith Bland)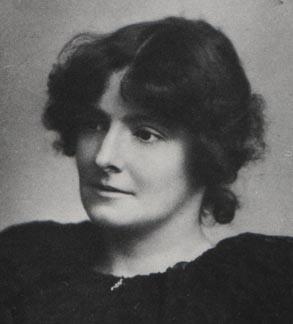 Edith Nesbit was born in 1858 at 38 Lower Kennington Lane in Kennington, Surrey (now part of Greater London), the daughter of an agricultural chemist, John Collis Nesbit, who died in March 1862, before her fourth birthday. Her sister Mary's ill health meant that the family travelled around for some years, living variously in Brighton, Buckinghamshire, France (Dieppe, Rouen, Paris, Tours, Poitiers, Angoulême, Bordeaux, Arcachon, Pau, Bagnères-de-Bigorre, and Dinan in Brittany), Spain and Germany, before settling for three years at Halstead Hall in Halstead in north-west Kent, a location which later inspired The Railway Children (this distinction has also been claimed by the Derbyshire town of New Mills). When Edith Nesbit was seventeen, the family moved back to London, living in South East London at Eltham, Elswick Road in Lewisham, Grove Park and Lee. At eighteen, Nesbit met the bank clerk Hubert Bland in 1877. Seven months pregnant, she married Bland on 22 April 1880, though she did not immediately live with him, as Bland initially continued to live with his mother. Their marriage was a stormy one. Early on Nesbit discovered that another woman believed she was Hubert's fiancee and had also borne him a child. A more serious blow came later when she discovered that her good friend, Alice Hoatson, was pregnant with Hubert's child. She had previously agreed to adopt Hoatson's child and allow Hoatson to live with her as their housekeeper. After she discovered the truth, they quarrelled violently and she suggested that Hoatson and the baby should leave; her husband threatened to leave Edith if she disowned the baby and its mother. Hoatson remained with them as a housekeeper and secretary and became pregnant by Bland again 13 years later. Edith again adopted Hoatson's child.
Edith Nesbit's children were Paul Bland (1880–1940), to whom The Railway Children was dedicated; Iris Bland (1881-1950s); Fabian Bland (1885–1900); Rosamund Bland (1886–1950), to whom The Book of Dragons was dedicated; and John Bland (1898–1971) to whom The House of Arden and Five Children and It were dedicated. Her son Fabian died aged 15 after a tonsil operation; Nesbit dedicated a number of books to him such as The Story of the Treasure Seekers and its sequels as well as many others. Nesbit's adopted daughter Rosamund collaborated with her on the book Cat Tales. Edith Nesbit was a follower of the Marxist socialist William Morris and she and her husband Hubert Bland were among the founders of the Fabian Society in 1884. Their son Fabian was named after the society. They also jointly edited the Society's journal Today; Hoatson was the Society's assistant secretary. Nesbit and Bland also dallied briefly with the Social Democratic Federation, but rejected it as too radical. Nesbit was an active lecturer and prolific writer on socialism during the 1880s. Nesbit also wrote with her husband under the name "Fabian Bland", though this activity dwindled as her success as a children's author grew.
Edith Nesbit lived from 1899 to 1920 in Well Hall, Eltham, Kent (now in south-east Greater London), which appears in fictional guise in several of her books, especially The Red House. She and her husband entertained a large circle of friends, colleagues and admirers at their Well Hall house. On 20 February 1917, some three years after Bland died, Nesbit married Thomas "the Skipper" Tucker. They were married in Woolwich, where he was the captain of the Woolwich Ferry. She was a guest speaker at the London School of Economics, which had been founded by other Fabian Society members. Towards the end of her life she moved to a house called "Crowlink" in Friston, East Sussex, and later to "The Long Boat" at Jesson, St Mary's Bay, New Romney, East Kent where, probably suffering from lung cancer, she died in 1924 and was buried in the churchyard of St Mary in the Marsh. Her husband Thomas died at the same address on 17 May 1935. Edith's son, Paul Bland, was one of the executors of Thomas Tucker's will.
Born
August, 15, 1858
United Kingdom
Kennington, Surrey
Died
May, 04, 1924
United Kingdom
New Romney, Kent, England
Cemetery
St Mary the Virgin Churchyard
Kent, England
United Kingdom
808 profile views