Edgar Kennedy
(Edgar Livingston Kennedy)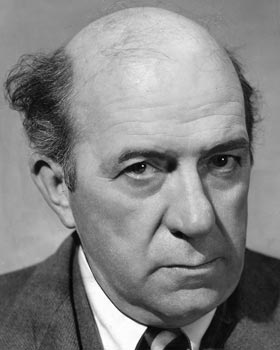 Edgar Kennedy was born on April 26, 1890 in Monterey County, California to Canadian-born Neil Kennedy and Annie Quinn. He attended San Rafael High School before taking up boxing. He was a light-heavyweight and once went 14 rounds with Jack Dempsey. After boxing, he worked as a singer in vaudeville, musical comedy and light opera. Making his debut in 1911, Kennedy appeared in about 500 films, working with some of the biggest film comedians in the United States, including Roscoe Arbuckle, Charlie Chaplin, Laurel and Hardy, the Marx Brothers, Charley Chase, and the Our Gang series. He was also one of the original Keystone Kops. Edgar Kennedy's burly frame originally suited him for villainous or threatening roles in silent pictures. By the 1920s Kennedy was working for producer Hal Roach, who kept the actor busy playing supporting roles in short comedies. Kennedy starred in one short, A Pair of Tights (1928), in which he plays a tightwad determined to spend as little as possible on a date. His antics with comedian Stuart Erwin are reminiscent of Roach's Laurel and Hardy comedies, produced concurrently. Roach also used Kennedy as a director on half a dozen two-reeler comedies.
In 1930, Edgar Kennedy was featured by RKO-Pathe in a pair of short-subject comedies, Next Door Neighbors and Help Wanted, Female. Kennedy's characterization of a short-tempered householder was so effective that RKO built a series around it. The "Average Man" comedies starred Kennedy as a blustery, stubborn guy determined to accomplish a household project or get ahead professionally, despite the meddling of his featherbrained wife (usually Florence Lake), her freeloading brother (originally William Eugene, then Jack Rice) and his dubious mother-in-law (Dot Farley). Kennedy pioneered the kind of domestic situation comedy that later became familiar on television. Each installment would end with Edgar embarrassed, humbled or defeated, looking at the camera and doing his patented slow burn. The Edgar Kennedy Series, with its theme song "Chopsticks", became a standard part of the movie-going experience: Kennedy made six "Average Man" shorts a year for 17 years.
Edgar Kennedy became so identified with frustration that practically every studio hired him to play hotheads. He often played dumb cops, detectives, and even a prison warden; sometimes he was a grouchy moving man, truck driver, or blue-collar workman. His character usually lost his temper at least once. In Diplomaniacs, Kennedy presides over an international tribunal, where Wheeler & Woolsey want to do something about world peace. "Well, ya can't do anything about it here", yells Kennedy, "this is a peace conference!" Kennedy, established as the poster boy for frustration, even starred in an instructional film titled The Other Fellow, in which loudmouthed roadhog Edgar always vents his anger on other drivers (each one played by Kennedy as well), little realizing that, to them, he is "the other fellow." Perhaps his most unusual roles were as a puppeteer in the detective mystery The Falcon Strikes Back and as a philosophical bartender inspired to create exotic cocktails in Harold Lloyd's last film, The Sin of Harold Diddlebock (1947). He also played comical detectives opposite two titans of acting: John Barrymore in Twentieth Century (1934) and Rex Harrison in Unfaithfully Yours (1948); in the latter, he tells conductor Harrison that "Nobody handles Handel like you handle Handel." Edgar Kennedy died of throat cancer at the Motion Picture Hospital, San Fernando Valley on 9 November 1948. He was interred at the Holy Cross Cemetery, Culver City, Los Angeles County, California.
Born
April, 26, 1890
USA
Monterey County, California
Died
November, 09, 1948
USA
Woodland Hills, Los Angeles, California
Cause of Death
Cemetery
Holy Cross Cemetery
Culver City, California
USA
1278 profile views