Eddie Albert
(Eddie Albert Heimberger)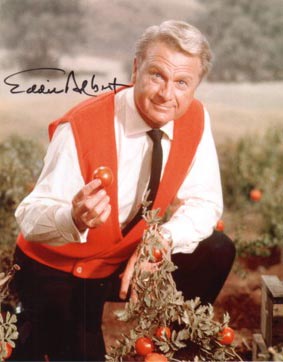 Born Edward Albert Heimberger, he is best remembered for his role of
lawyer-turned-farmer 'Oliver Wendell Douglas' on the classic television
comedy series "Green Acres". His career began on radio, and appeared on
the earliest test for television in 1936. He made his motion picture
debut in the military academy comedy "Brother Rat" in 1938, and went on
to co-star in "Brother Rat and a Baby" and "Four Wives" in 1939.
Enlisting in the USA Coast Guard during World War II, he was
an active participant in the Battle of Tarawa in november, 1943, one of
most savage battles in the Pacific Theater. He is credited with braving
enemy fire during 26 rescue missions saving wounded USA
Marines, and was awarded the Bronze Star with a combat 'V.' After his
discharge from the service he married actress Margo in December 1945, with whom he had two children (one being actor Edward Albert Jr.). In the 1950s his motion picture career revived with successful roles in films such as "Carrie" (1952), "Oklahoma!" (1955), "Teahouse of the August Moon" (1956), "Attack!" (1956) and "The Sun Also Rises" (1957), and h received an Academy Award nomination for Best Supporting Actor for his role in William Wyler's "Roman Holiday" in 1953. In the 1960s he appeared in the films "The Longest Day (1962) and "Captain Newman, M.D." (1963) before landing "Green Acres" role that he would come to most associated with. Co-starring with Eva Gabor, the series ran from 1965 until 1971. After it ended, Eddie Albert returned to the screen, garnering a second Academy Award nomination for best Supporting Actor for his role in the 1972 film "The Heartbreak Kid", and enjoying success in motion pictures such as "The Longest Yard" (1974) and "Escape to Witch Mountain" (1975). He retired from show business in the mid 1990s.
Born
April, 22, 1906
Rock Island, Illinois
Died
May, 26, 2005
Pacific Palisades, California
Cause of Death
Cemetery
Westwood Memorial Park
California
USA
Other
16491 profile views