Dulcie Gray
(Dulcie Winifred Catherine Bailey)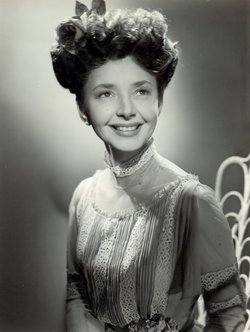 Dulcie Gray was born in Kuala Lumpur, British Malaya (now Malaysia) in 1915, although she would later shave four years off her age, and attended school in Wallingford, Oxfordshire, later returning to Malaya to teach. After her father's death, she came back to England. Following a brief period at art school, she enrolled at the Webber Douglas Academy of Dramatic Art, where she met fellow actor Michael Denison, whom she married in 1939. The couple were together for 59 years before his death from cancer in 1998. They had no children. The couple's professional careers were intertwined and they frequently appeared on stage together. Between them they starred in more than 100 West End plays and in the 1940s and 1950s, were familiar figures in British films. Onscreen they co-starred in My Brother Jonathan and The Glass Mountain in 1948, The Franchise Affair in 1950 and the Battle of Britain movie Angels One Five in 1952. Her performance as the luckless waitress Rose in the original stage production of Brighton Rock at the Garrick Theatre in 1944 led to Gray being offered a contract with Gainsborough Pictures. However, she was passed over for the role of Rose in the 1947 film version of Brighton Rock, in favour of Carol Marsh.
During the 1940s, Dulcie Gray appeared in Gainsborough melodramas such as They Were Sisters. She was known to television viewers as Kate Harvey in the 1980s BBC drama series Howards' Way (1985–90). Gray and Denison made their joint Broadway debut in the first New York production of Oscar Wilde's An Ideal Husband, appearing as Lady Markby and the Earl of Caversham from 1 May 1996 until 26 January 1997. Their wedding anniversary was feted by cast and crew at Tavern on the Green. She was the subject of This Is Your Life on two occasions, in March 1973 when she was surprised by Eamonn Andrews at the Richmond Theatre; and in April 1995, when Michael Aspel surprised her and her husband Michael Denison, on board the Sir Tomas More motorboat at Teddington Lock, for a joint tribute. In 1997, Dulcie Gray gave an impromptu public performance of her song "You Tickle Me Spitless, Baby" as part of an interview with her and her husband on UK Channel 5's Five's Company. Before singing it on this daytime show, Gray had only sung this legendary ditty to friends at dinner parties. It was never officially released as a record.
In 1999, the year after her husband's death, she played Mrs Wilberforce in an 18-city tour of UK theatres in a stage adaptation of the 1955 Ealing classic film, The Ladykillers. She last appeared on screen in 2000 in an episode of the BBC drama series Doctors. Dulcie Gray wrote some two dozen murder mysteries, which found wide popularity, including seventeen detective stories featuring "Inspector Cardiff", a character she created, eight radio plays, several volumes of short stories (one of these included "A Feast of Blood", which was turned into a Night Gallery episode) and an autobiography, Looking Forward, Looking Back. With her husband, she wrote some thoughts on her craft for young children, An Actor and His World. She also published Butterflies on My Mind, a work on the conservation and life of butterflies in Great Britain. She was also a patron of the Chiltern Shakespeare Company. Dulcie Gray died from bronchial pneumonia in the actors' residential care home, Denville Hall, Northwood, Middlesex, on 15 November 2011, five days before her 96th birthday.
Born
November, 20, 1915
Kuala Lumpur, Malaya
Died
November, 15, 2011
United Kingdom
Denville Hall, Northwood, Middlesex, England
Cause of Death
Cemetery
Breakspear Crematorium
Ruislip, London, England
United Kingdom
5559 profile views