Dr. Virginia Apgar
(Virginia Apgar)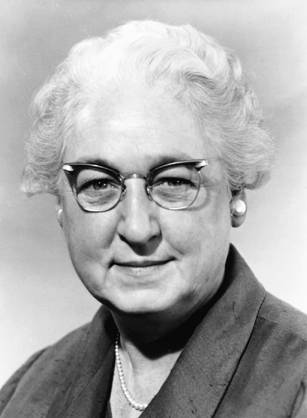 The youngest of three children, Apgar was born and raised in Westfield, New Jersey, graduating from Westfield High School in 1925. She graduated from Mount Holyoke College in 1929, where she studied zoology with minors in physiology and chemistry, and from the Columbia University College of Physicians and Surgeons (CUCPS) in 1933. She completed a residency in surgery at CUCPS in 1937. Although her work kept her busy, Apgar found time to pursue her many outside interests. She traveled with her violin, often playing in amateur chamber quartets wherever she happened to be. During the 1950s a friend introduced her to instrument-making, and together they made two violins, a viola, and a cello. She was an enthusiastic gardener, and enjoyed fly-fishing, golfing, and stamp collecting. In her fifties, Apgar started taking flying lessons, stating that her goal was to someday fly under New York's George Washington Bridge.  However, she was discouraged from practicing surgery by Allen Whipple, the chairman of surgery at CUCPS. She further trained in anesthesia, receiving certification as an anesthesiologist in 1937, and returned to CUCPS in 1938 as director of the newly formed division of anesthesia.
In 1949, Apgar became the first woman to become a full professor at CUCPS, where she remained until 1959. During this time, she also did clinical and research work at the affiliated Sloane Hospital for Women. In 1953, she introduced the first test, called the Apgar score, to assess the health of newborn babies. The Apgar score is calculated based on an infant's condition at one minute and five minutes after birth. If the five-minute Apgar score is low, additional scores may be assigned every five minutes.
In 1959, Apgar left Columbia and earned a Master of Public Health degree from the Johns Hopkins School of Hygiene and Public Health. Also starting in 1959 until her death in 1974, Apgar worked for the March of Dimes Foundation, serving as vice president for Medical Affairs and directing its research program to prevent and treat birth defects. Because gestational age is directly related to an infant's Apgar score, Apgar was one of the first at the March of Dimes to bring attention to the problem of premature birth, now one of the March of Dimes top priorities. During this time, she wrote and lectured extensively, authoring articles in popular magazines as well as research work. In 1967, Apgar became vice president and director of basic research at The National Foundation-March of Dimes.
During the rubella pandemic of 1964-65, Apgar became an outspoken advocate for universal vaccination to prevent mother-to-child transmission of rubella. Rubella can cause serious congenital disorders if a woman becomes infected while pregnant. Between 1964-65, the United States had an estimated 12.5 million rubella cases, which led to 11,000 miscarriages or therapeutic abortions and 20,000 cases of congenital rubella syndrome (CRS). Of these, 2,100 died in infancy, 12,000 were deaf, 3,580 suffered blindness due to cataracts and/or microphthalmia, and 1,800 were mentally retarded. In New York City alone, CRS affected 1% of all births at that time. Apgar also promoted effective use of Rh testing, which can identify women who are at risk for transmission of maternal antibodies across the placenta where they may subsequently bind with and destroy fetal red blood cells, resulting in fetal hydrops or even miscarriage.
Apgar brought her legendary energy and "people skills" to the new job. She traveled thousands of miles each year to speak to widely varied audiences about the importance of early detection of birth defects and the need for more research in this area. She proved an excellent ambassador for the NF, and the annual income of that organization more than doubled during her tenure there. She also served the National Foundation as Director of Basic Medical Research (1967-1968) and Vice-President for Medical Affairs (1971-1974). Her concerns for the welfare of children and families were combined with her talent for teaching in the 1972 book, "Is My Baby All Right?", written with Joan Beck. Apgar was also a lecturer (1965-1971) and then clinical professor (1971-1974) of pediatrics at Cornell University School of Medicine, where she taught teratology (the study of birth defects). She was the first to hold a faculty position in this new area of pediatrics. In 1973, she was appointed lecturer in medical genetics at the Johns Hopkins School of Public Health.
Apgar published over sixty scientific articles and numerous shorter essays for newspapers and magazines during her career, along with her book, Is My Baby All Right? She received many awards, including honorary doctorates from the Woman's Medical College of Pennsylvania (1964) and Mount Holyoke College (1965), the Elizabeth Blackwell Award from the American Medical Women's Association (1966), the Distinguished Service Award from the American Society of Anesthesiologists (1966), the Alumni Gold Medal for Distinguished Achievement from Columbia University College of Physicians and Surgeons (1973), and the Ralph M. Waters Award from the American Society of Anesthesiologists (1973). In 1973 she was also elected Woman of the Year in Science by the Ladies Home Journal.
Throughout her career, Apgar maintained, with her characteristic optimism, that "women are liberated from the time they leave the womb," and that being female had not imposed significant limitations on her medical career. She avoided women's organizations and causes, for the most part. Though she sometimes privately expressed her frustration with gender inequalities (especially in the matter of salaries), she worked around these by consistently pushing into new fields where there was room to exercise her considerable energy and abilities.  While Apgar was frequently the first or only woman in a department to serve in a position or win an accolade, she avoided the organized women's movement, proclaiming that "women are liberated from the time they leave the womb". Apgar was equally at home speaking to teens as she was to the movers and shakers of society. She spoke at March of Dimes Youth Conferences about teen pregnancy and congenital disorders at a time when these topics were considered taboo. Apgar never married, and died on August 7, 1974 at Columbia-Presbyterian Medical Center. She is buried at Fairview Cemetery in Westfield.
Born
June, 07, 1909
USA
Westfield, New Jersey
Died
August, 07, 1974
USA
New York City, New York
Cemetery
Fairview Cemetery
Westfield, New Jersey
USA
17754 profile views