Douglas Fairbanks Jr.
(Douglas Elton Fairbanks)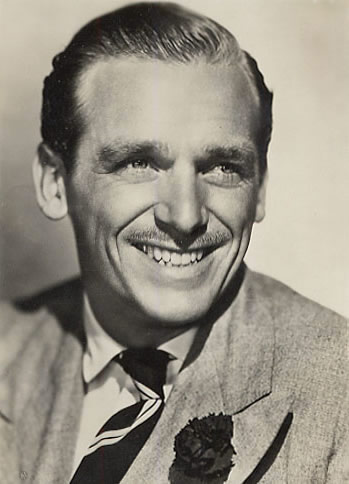 Douglas Fairbanks Jr
Actor. Movie star of the 1930s and 1940s. He was the son of silent film star Douglas Fairbanks Sr., and the first husband of actress Joan Crawford. He began his career during the silent era in bit parts until 1923 when he starred in the film Stephen Steps Out which quickly went out of circulation. He continued working and had parts in the films Broken Hearts of Hollywood (1926), Modern Mothers (1928), Dead Man's Curve (1928), A Woman of Affairs (1928) which starred Greta Garbo and John Gilbert, The Jazz Age (1929), and Our Modern Maidens (1929) which starred his future wife Joan Crawford. He and Joan were considered a fixture of the Hollywood social circle, but Doug Jr. was soon to reveal more dimensions than anyone could have ever imagined. He appeared in a 1927 stage play that proved to his detractors that he was indeed a talented actor and not just the son of Douglas Fairbanks. Doug Jr. had a pleasant voice which further helped his success with the advent of talking pictures. During the 1930's acted in popular films like The Dawn Patrol (1930), Little Caesar (1931), Morning Glory (1933) and Mimi (1935). His biggest films of the 1930's were The Prisoner of Zenda (1937), The Rage of Paris (1938) and Gunga Din (1939) which also starred Cary Grant, Victor McLaglen and featured Joan Fontaine. In 1935 he proved to be a very savvy businessman and started up his own production company, Criterion Films which was the first of six companies created by Fairbanks. After his father Douglas Fairbanks Sr. passed away in 1939, Doug Jr. extended his activities into politics and served his country. He helped organize the Hollywood branch of a committee designed to give aid to the allied cause during World War 2. In 1940 he was appointed by President Roosevelt as an envoy for the Special Mission to South America. In 1941 he was commissioned as a Navy Lieutenant. In 1942 he was chief officer of operations, in 1943 he was involved in the allied invasion of Sicily and Elba and eventually worked his way up to commander then in 1954 he became a commander. Doug Jr. also was the head of Douglas Voluntary Hospitals in England which took care of war refugees. After the war he spent five years as a chairman for CARE, which sent food to war torn countries. His activities during World War 2 took up virtually every moment of his time and he didn't make any films during that period, but began his career once again in 1947 when he starred in Sinbad the Sailor opposite Maureen O'Hara. He also starred in The Exile (1947), The Fighting O'Flynn (1949), State Secret (1950) and Mister Drake's Duck (1951). In 1949 He was made an honorary Knight Commander of the Most Excellent Order of the British Empire. His movie career began to slow down during the 1950's but Doug Jr. found success in television and hosted a high quality television series called "Douglas Fairbanks, Jr., Presents" which ran from 1952-1955. He also made numerous appearances on Ed Sullivan's "Toast of the Town". His success continued through the 1960's where he appeared on "Rowan & Martin's Laugh-In", "The United States Steel Hour", "Dr. Kildare" and on the game shows "Password" and "I've Got a Secret". During the final phase of his career he appeared on "The Love Boat" and in the film Ghost Story (1981) where he co-starred with film veterans Fred Astaire, Melvyn Douglas and Patricia Neal. He published two autobiographies "The Salad Days" in 1988 and "A Hell of a War" in 1993. During his lifetime Douglas Fairbanks Jr. acquired numerous accolades and military and humanitarian awards and is still held in high esteem and considered one of Hollywood's most beloved stars. He held the Silver Star and the Legion of Merit with V for valor in combat device from the U.S. government for his combat service in PT boats and gunboats. He was also awarded the British Distinguished Service Cross, the French Legion of Honor and Croix de Guerre with Palm for his services during World War II. He was married three times. First to Joan Crawford from 1929-1933. Then to Mary Lee Eppling from 1939 until her death in 1988. He had three daughters from this marriage: Daphne, Victoria, and Melissa. His last marriage was to Vera Shelton. They wed in May 1991 and were married until his passing. In 2000, his death was reported on the front page of the Times in London and Buckingham Palace expressed its condolences on his passing.
Born
December, 09, 1909
New York, New York
Died
May, 07, 2000
New York, New York
Cause of Death
Cemetery
Hollywood Forever Cemetery
Hollywood, California
19179 profile views