Douglas Edwards
(Douglas Edwards)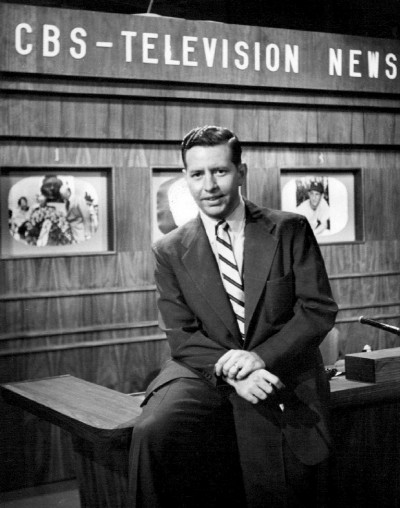 A native of Oklahoma, Edwards grew up in Birmingham, Alabama. Edwards joined CBS Radio in 1942, eventually becoming anchor for the regular evening newscast The World Today as well as World News Today on Sunday afternoons. Edwards came to CBS after stints as a newscaster and announcer at WSB in Atlanta, Georgia and WXYZ in Detroit, Michigan.  In 1948, as CBS's top correspondents and commentators shunned the fledgling medium of television, Edwards was chosen to present regular CBS television news programs and to host CBS's television coverage of the 1948 Democratic and Republican conventions. The term "anchor" would not be used until 1952, when CBS News chief Sig Mikelson would use it to describe Walter Cronkite's role in the network's political convention coverage.
At first, Edwards would be eclipsed by John Cameron Swayze of NBC News's Camel News Caravan, but he would eventually regain his ratings lead. By the mid-1950s, the nightly 15-minute newscast Douglas Edwards with the News was watched by nearly 30 million viewers.  Among the events Edwards covered as a reporter in those years were the Miss America Pageant (five times), the attempted assassination of Harry S. Truman in November 1950, and the coronation of Elizabeth II in June 1953. He also received wide praise for his coverage, on both camera and radio, of the sinking of the SS Andrea Doria in July 1956. But by the end of the decade, viewership levels for the Edwards broadcast weakened severely as the Huntley-Brinkley Report began to attract a larger audience.  By 1962, Edwards was replaced by Walter Cronkite, and the newscast's name was eventually changed to CBS Evening News.  For several years after leaving the anchor chair on CBS, Edwards headed the evening news on WCBS-TV, CBS's flagship television station.
Edwards subsequently moved back to CBS Radio, where he delivered the network's flagship evening newscasts The World Tonight for many years. Until his retirement on April 1, 1988, he maintained at least a small role within CBS television news, anchoring a five-minute newsbreak known successively as CBS Afternoon News with Douglas Edwards (April 1962-Feb. 1968), The CBS Midday News with Douglas Edwards (Feb. 1968-April 20, 1979) at 11:55am Eastern time and The CBS Mid-Morning News with Douglas Edwards (April 23, 1979 – May 30, 1980) at 10:55am Eastern. He also served for a time as a co-anchor of the CBS Morning News. His last radio newscast included a report of the death of singer Andy Gibb.  Beginning June 2, 1980, Douglas Edwards anchored a daily one minute fourteen second edition of Newsbreak at 11:57am Eastern time.
Edwards died of cancer at the age of 73. Many of his early CBS radio newscasts, including his World War II anchoring of World News Today, memorable broadcasts on D-Day and his Andrea Doria coverage, remain favorites of old-time radio collectors. Edwards was posthumously elected to the Radio Hall of Fame in 2006. In a 4 1/2 hour interview for the Archive of American Television, Walter Cronkite described Edwards as "a true gentleman . . . one of the gentlest men I've ever known".
Born
July, 14, 1917
USA
Ada, Oklahoma
Died
October, 13, 1990
USA
Sarasota, Florida
Cause of Death
Other
15519 profile views