Donna Summer
(Donna Summer)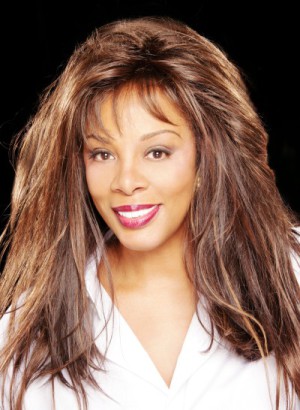 LaDonna Adrian Gaines (December 31, 1948 – May 17, 2012), known by her stage name, Donna Summer, was an American singer, songwriter, and painter. She gained prominence during the disco era of the late 1970s. A five-time Grammy Award winner, she was the first artist to have three consecutive double albums reach No. 1 on the United States Billboard album chart and charted four number-one singles in the United States within a 12-month period. Summer has reportedly sold over 130 million records, making her one of the world's best-selling artists of all time.
Born into a devoutly Christian middle-class family in Boston, Massachusetts, Summer first became involved with singing through church choir groups before joining a number of bands influenced by the Motown Sound. While influenced by the counterculture of the 1960s, she became the front singer of a psychedelic rock band named Crow and moved to New York City. Joining a touring version of the musical Hair, she left New York and spent several years living, acting, and singing in West Germany, where she met music producers, Giorgio Moroder and Pete Bellotte, and married Helmut Sommer. After their divorce, she kept his surname for her stage name.
After returning to the United States, Summer co-wrote the song "Love to Love You Baby" with Pete Bellotte. The song was released in 1975 to mass commercial success. Over the following years Summer followed this success with a string of other hits, such as "I Feel Love", "Last Dance", "MacArthur Park", "Heaven Knows", "Hot Stuff", "Bad Girls", "Dim All the Lights", "No More Tears (Enough Is Enough)", and "On the Radio". She became known as the "Queen of Disco" and regularly appeared at the Studio 54 nightclub in New York City, while her music gained a global following. She struggled with depression and addiction, and subsequently she became a born-again Christian in 1980.
Diagnosed with lung cancer, Summer died on May 17, 2012, at her home in Naples, Florida. In her obituary in The Times, Summer was described as the "undisputed queen of the Seventies disco boom" who reached the status of "one of the world's leading female singers." Moroder described Summer's work with him on the song "I Feel Love" as "really the start of electronic dance" music. In 2013, Summer was inducted into the Rock and Roll Hall of Fame.
Born
December, 31, 1948
Boston, Massachusetts
Died
May, 17, 2012
Naples, Florida
Cause of Death
Cemetery
Harpeth Hills Memory Gardens
Nashville, Tennessee
17814 profile views