Don Cornelius
(Donald Cortez Cornelius)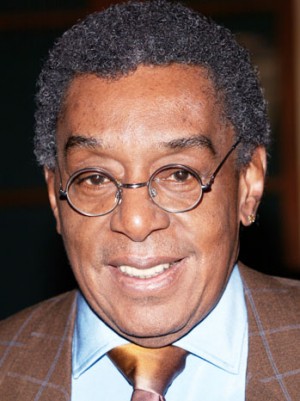 Don Cornelius
Cornelius was born on Chicago's South Side on September 27, 1936, and raised in the Bronzeville neighborhood. Following his graduation from DuSable High School in 1954, he joined the United States Marine Corps and served 18 months in Korea. He worked at various jobs following his stint in the military, including selling tires, automobiles, and insurance, and as an officer with the Chicago Police Department. He quit his day job to take a three-month broadcasting course in 1966, despite being married with two sons and having only $400 in his bank account. In 1966, he landed a job as an announcer, news reporter and disc jockey on Chicago radio station WVON. He stood roughly 6 ft 2 in (188 cm) tall.
Cornelius joined Chicago television station WCIU-TV in 1967 and hosted a news program called A Black's View of the News. In 1970, he launched Soul Train on WCIU-TV as a daily local show. The program entered national syndication and moved to Los Angeles the following year. Eddie Kendricks, Gladys Knight & the Pips, Bobby Hutton and The Honey Comb were featured on the national debut episode.  Originally a journalist and inspired by the civil rights movement, Cornelius recognized that in the late 1960s there was no television venue in the United States for soul music. He introduced many African-American musicians to a larger audience as a result of their appearances on Soul Train, a program that was both influential among African-Americans and popular with a wider audience. As writer, producer, and host of Soul Train, Cornelius was instrumental in offering wider exposure to black musicians such as James Brown, Aretha Franklin, and Michael Jackson, as well as creating opportunities for talented dancers, setting a precedent for popular television dance programs. Cornelius said, "We had a show that kids gravitated to," and Spike Lee described the program as an "urban music time capsule".
With the creation of Soul Train Don was able to keep the movement going well past Martin Luther King's death. He kept the momentum going well on through the 70's and 80's. He gave African Americans their own show, the first of its kind. In this show he was able to show African Americans in a new light, creating a Black is Beautiful Campaign. Before he did this, African Americans were seldom seen on television. Soul Train showcased their culture and brought African American musicians and dancers to television. This show even appealed to white audiences and it got huge attention. It was one of the most groundbreaking television shows ever.
Besides his smooth and deep voice and afro (which slowly shrunk over the years as hairstyle tastes changed), Cornelius was best known for the catchphrase that he used to close the show: "… and you can bet your last money, it's all gonna be a stone gas, honey! I'm Don Cornelius, and as always in parting, we wish you love, peace and soul!" After Cornelius's departure, it was shortened to "…and as always, we wish you love, peace and soul!" and was used through the most recent new episodes in 2006. Another introductory phrase he often used was: "We got another sound comin' out of Philly that's a sho 'nough dilly".  He had a small number of film roles, most notably as record producer Moe Fuzz in 1988's Tapeheads.
The 2008 Soul Train Music Awards ceremony was not held due to the WGA strike and the end of Tribune Entertainment's complicating the process of finding a new distributor to air the ceremony and line up the stations to air it. The awards show was moved in 2009 to Viacom's Centric cable channel (formerly BET J), which now airs Soul Train in reruns.  Cornelius last appeared on the episode of the TV series Unsung featuring Full Force, which was aired two days before his death.
In the early morning hours of February 1, 2012, officers responded to a report of a shooting at 12685 Mulholland Drive and found Cornelius with an apparent self-inflicted gunshot wound to the head. He was taken to Cedars-Sinai Medical Center, where he was pronounced dead by the Los Angeles County Assistant Chief Coroner. According to former Soul Train host Shemar Moore, Cornelius may have been suffering from early onset of dementia or Alzheimer's disease and his health had been in decline.
An autopsy found that Cornelius had been suffering from seizures during the last 15 years of his life, a complication of a 21-hour brain operation he underwent in 1982 to correct a congenital deformity in his cerebral arteries. He admitted that he was never quite the same after that surgery and it was a factor in his decision to retire from hosting Soul Train in 1993. According to his son, he was in "extreme pain" by the end and said shortly before his death, "I don't know how much longer I can take this."
Born
September, 27, 1936
Chicago, Illinois
Died
February, 01, 2012
Los Angeles, California
Cause of Death
Cemetery
Other
Cremated, Ashes given to family
18136 profile views