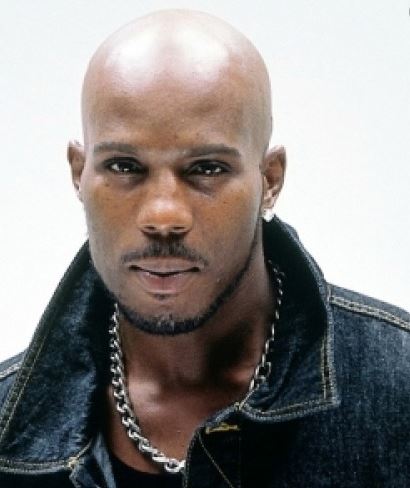 Dark Man X, considered the next coming of the slain Tupac Shakur, though asking him to comment on this will bring this angry response "I say they don't know what the f**k they are talking about. And when people say I'm the second Pac, I'm not, I'm the first X." That being said, Earl Simmons (DMX's real name) has said of Tupac "I think Tupac was a strong-minded black man, and that's what America fears." Nevertheless, perhaps the real reason people flock to DMX is because the man is real, not a multi-million dollar record executive dressed like a rapper (listening Puffy?) to which he apparently agrees, saying "I'm real. And people like real. I haven't crossed them yet, I haven't been on no fake sh*t yet, no bullsh*t yet. And they feel my sh*t. People like a real person."
Following the deaths of Tupac Shakur and the Notorious B.I.G., DMX took over as the reigning, undisputed king of hardcore rap. He was that rare commodity: a commercial powerhouse with artistic and street credibility to spare. His rapid ascent to stardom was actually almost a decade in the making, which gave him a chance to develop the theatrical image that made him one of rap's most distinctive personalities during his heyday.
The early days for Simmons were definitely real, born December 18, 1970 in Baltimore Maryland's projects, his family quickly moved to Yonkers with his aunt, with a father that left him at a young age. He also endured an abusive mother, which in combination helped mold Simmons into a life of crime, where he spent years in group homes and jail. This also led to other troubled behavior such as alcoholism and drug abuse, a response to his manic depressed state.
Everything about DMX was unremittingly intense, from his muscular, tattooed physique to his gruff, barking delivery, which made a perfect match for his trademark lyrical obsession with dogs. Plus, there was substance behind the style; much of his work was tied together by a fascination with the split between the sacred and the profane. He could move from spiritual anguish one minute to a narrative about the sins of the streets the next, yet keep it all part of the same complex character; sort of like a hip-hop Johnny Cash. The results were compelling enough to make DMX the first artist ever to have his first four albums enter the charts at number one.
What turned Simmons life around was rap music. In the early days, he paid his dues rapping on street corners, playing in clubs, and distributing his tapes, all this created a buzz for the performer in the New York scene. 1997 brought Ruff Ryders Entertainment and DMX was quickly signed by the Def Jam label. He appeared as a guest of sorts for the likes of LL Cool J, Lox, and Mase before releasing his first single in 1998, Get at Me Dog. With this created the artists affection for 'the dog'. In fact, DMX has a tattoo dedicated to his late pit bull and what he calls his "best friend" which says "One Love Boomer". His first full album, It's Dark and Hell Is Hot, went on to sell 3.6 million copies (and counting). DMX also branched out into film, starring in Belly, a Hype Williams directed crime saga which featured other rappers such as T-Boz and Method Man.
The cash strapped Def Jam was eager to get another album out and released the 2nd DMX project of the year with Flesh of My Flesh, Blood of My Blood. The controversial cover had DMX in a bathtub full of blood. The album featured a duet called Omen with Marilyn Manson (though the two never met, it was the product of a recording studio match). This and the success of Jay-Z helped catapult Def Jam from near extinction in the prior year to the leader of the hip-hop pack, as the downward spiraling Bad Boy Records (Puff Daddy) and the post Tupac Death Row Records were headed in the opposite direction. His latest album, …And Then There Was X, has been his biggest hit to date, helped in large part by an all-out media blitz in support of its release. He appeared on Saturday Night Live, Queen Latifah, as well as an episode of Moesha.
Like Tupac, DMX's post celebrity life has been touched with crimes and alleged misdeeds. In 1998, charges that he raped a 29 year old stripper were dropped after DNA tests on the woman came back negative for a match. In addition, he's been arrested in connection with stabbings in Denver and Yonkers, though both of those cases were dropped.
He also was arrested on drug paraphernalia and weapons charges in addition to spending two nights in a Trinidad jail for swearing during a concert, were the practice is legally forbidden. Ironically, his hit What's My Name has drawn protests from The Humane Society of the United States (HSUS), which they say glamorizes dog fighting, though Def Jam countered that there is no actually dog fighting in the video and that no dogs were harmed. DMX's own love for dogs supports the theory that were was no bad intent with the video, as he has said "I used to take dogs on the street. I used to bring them home if I could, make somewhere for them to sleep right outside the building. I had dogs as long as I could remember, you know."
Toward the end of 1999, DMX released his third album, …And Then There Was X, which became his third straight to debut at number one. It also produced his biggest hit single since "Get at Me Dog" with "Party Up (Up in Here)," which became his first Top Ten hit on the R&B charts. The follow-ups "What You Want" and "What's My Name?" were also quite popular, and their success helped make …And Then There Was X the rapper's best-selling album to date, moving over five million copies. During its run, DMX returned to the big screen with a major supporting role in the Jet Li action flick Romeo Must Die. In the meantime, he was indicted by a Westchester County, NY, grand jury on weapons and drug charges in June of 2000.
He also entangled himself in a lengthy legal battle with police in Cheektowaga, NY (near Buffalo), when he was arrested in March for driving without a license and possession of marijuana. He missed one court date, and when he turned himself in that May, police discovered more marijuana in a pack of cigarettes the rapper had brought with him. He pleaded guilty and was sentenced to 15 days in jail, and his appeal to have the sentence reduced was finally denied in early 2001. After stalling for several weeks, he turned himself in and was charged with contempt of court. He was further charged with assault when, upon learning he would not be let out early for good behavior, allegedly threw a food tray at a group of prison officers. He later bargained the charges down to reckless assault and paid a fine, and accused guards of roughing him up and causing a minor leg injury.
Not long after DMX's release from jail, his latest movie, the Steven Seagal action film Exit Wounds, opened at number one in the box office. DMX also contributed the hit single "No Sunshine" to the soundtrack, and signed a multipicture deal with Warner Bros. in the wake of Exit Wounds' success. With his legal problems finally resolved, he returned to the studio and completed his fourth album, the more introspective The Great Depression.
It was released in the fall of 2001 and became his fourth straight album to debut at number one. Although it went platinum quickly, it didn't have the same shelf life as his previous releases. In late 2002, DMX published his memoirs as E.A.R.L.: The Autobiography of DMX, and also recorded several tracks with Audioslave (i.e., the former Rage Against the Machine). One of their collaborations, "Here I Come," was featured on the soundtrack of DMX's next film, a reunion with Jet Li called Cradle 2 the Grave. The film opened at number one upon its release in March 2003, and its DMX-heavy soundtrack debuted in the Top Ten.
Born
December, 18, 1970
Mount Vernon, NY
Died
April, 09, 2021
White Plains, NY
Cause of Death
heart attack at his home possibly resulting from a drug overdose
Cemetery
Oakland Cemetery
Yonkers, New York
357 profile views