DMiss DixieiMiss DixiexMiss DixieiMiss DixieeMiss Dixie Miss DixieHMiss DixieaMiss DixielMiss DixielMiss Dixie
(Violet May Lawrence)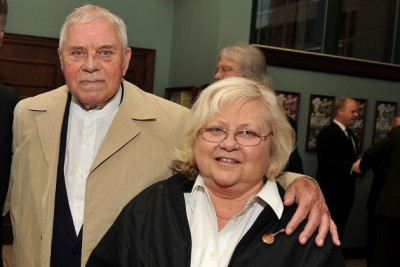 Dixie Hall
Dixie Hall, bluegrass and country music songwriter and wife of Country Music Hall of Fame member Tom T. Hall, passed away on Jan. 16.
"Miss Dixie," as she was often known, was 80 years old. She had, in recent years, been diagnosed with a brain tumor and had other health troubles.
Born Iris Lawrence, a native of the English town of Sutton Coldfield, Hall first got involved in the music industry after a chance meeting at a train station with cowboy movie star Tex Ritter, during which Hall promised to help distribute his albums in Europe. She had no prior experience.
"I took some of his material over to EMI Records, and they wound up releasing 'Green Grow The Lilacs' and some other things," Hall told Bluegrass Unlimited in 2013. "I didn't at all know what I was doing. I guess I found their address in the phone book, or I just asked until I found out."
Hall came to America in 1961, for a job with Starday Records, where she helped promote the Stanley Brothers, David 'Stringbean' Akeman and others. She met her future husband at the BMI Country Awards in 1964, and they married in March 1968.
As a songwriter, Hall penned more than 500 commercially recorded bluegrass songs, including tunes sung by Johnny Cash and Miranda Lambert; her song catalog is larger than that of any other bluegrass female songwriter.
Already successful in her own right, Hall began writing with her husband in the 1990s. Together as a team, they received the Songwriter of the Year Award from the Society for the Preservation of Bluegrass Music of America for 10 years in a row, as well as a Grand Masters Gold Prize. Dixie Hall was also an International Bluegrass Music Association Distinguished Achievement Award winner.
Additionally, Hall was head of Blue Circle Records, an independent label, and Good Home Grown Music, a publishing company, with her husband. She spent time as a country music journalist and was an animal rights activist, helping to raise over $1 million for the Nashville Humane Society. She also had experience raising and showing Bassett Hounds and released her first single as a performer, 'Sunny Flower One,' in 2014.
"She accomplished everything she wanted to accomplish in life," Tom T. Hall tells the Tennessean.
Read More: Bluegrass Songwriter Dixie Hall Dead at 80 | http://theboot.com/dixie-hall-dead/?trackback=tsmclip
Born
January, 01, 1970
Manchester, England
Died
17830 profile views