Diane Disney Miller
(Diane Disney Miller)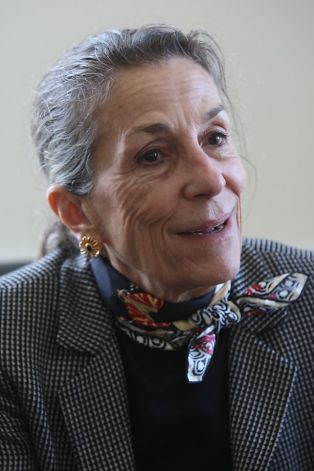 Diane Disney Miller (December 18, 1933 – November 19, 2013) was the elder and only biological child of Walt Disney and his wife Lillian Bounds Disney. Diane and her husband, Ron W. Miller, had seven children. She had a younger sister, Sharon Mae Disney, whom the Disneys adopted at birth in 1936. Sharon died in 1993.  Ron W. Miller was CEO of The Walt Disney Company until 1984, when Diane's cousin, Roy E. Disney, supported his ouster in favor of Michael Eisner, Frank Wells and Jeffrey Katzenberg.
In the early-1970s, the Millers purchased a vineyard in Napa Valley, California. Their intention was to upgrade the property, replant to premium varietals, install new trellising and frost protection, but not to build or run a winery. Disney Miller and her husband decided to construct their own winery in 1980. Since 1981, they have operated Silverado Vineyards Winery on a tract of their Napa property.  Disney Miller was instrumental in pushing ahead with the Walt Disney Concert Hall in downtown Los Angeles. The project was initiated with a $50 million gift from Lillian Disney, but got bogged down in wrangling over costs. Miller ensured the original design by Frank Gehry went ahead, and Walt Disney Hall finally opened in 2004.  Disney Miller read her father's original dedication fifty years later to the day at the birthday celebrations of Disneyland on July 17, 2005. Miller organized the development of The Walt Disney Family Museum in the Presidio of San Francisco. The museum opened in October 2009.
Diane Disney Miller wrote the foreword to the book Walt Before Mickey by Timothy Susanin. The book covers the early years of Walt Disney's career.  Animation historian Michael Barrier reports that Miller, in August 2007, sent a fax to a number of executives at the Walt Disney Company, denouncing Neal Gabler's biography of Walt Disney published in 2006, titled Walt Disney: The Triumph of the American Imagination, as "a monstrous piece of libelous junk. My parents were not the people he creates in this book, and I cannot understand why all of you who aided and abetted Gabler in writing this book, and who praise it and promote it, can do so without suffering serious qualms."
She died on November 19, 2013 from complications after a fall at the age of 79. She is interred at Forest Lawn Memorial Park, Glendale where Walt Disney is buried.  The film Saving Mr Banks is dedicated to her memory (Disney Miller died shortly before it opened theatrically).
Born
December, 18, 1933
USA
Los Angeles, California
Died
November, 19, 2013
USA
Napa, California
17587 profile views