Dennis Farina
(Dennis Farina)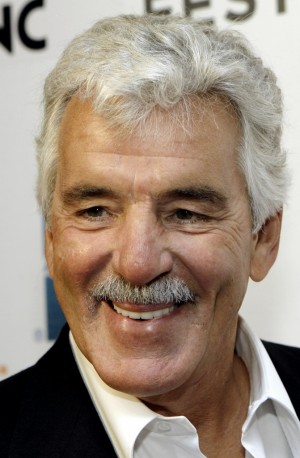 Farina was born in Chicago, Illinois, to Sicilian-American parents Joseph Farina, a doctor, and his wife Yolanda Donati. His father was from Villalba, Sicily. He had three brothers and three sisters.  Before becoming an actor, Farina served three years in the United States Army, followed by 18 years in the Chicago Police Department's burglary division, from 1967 to 1985.
Farina began working for director Michael Mann as a police consultant, which led Mann to cast him in a small role in the 1981 film Thief. Farina moonlighted as an actor in Chicago theater before Mann chose him for his Crime Story series. Farina played mobster Albert Lombard in Michael Mann's other television show, Miami Vice.  Two of his best known movie characters were Jimmy Serrano, the mob boss from Midnight Run, and Ray "Bones" Barboni, a rival criminal to Chili Palmer in Get Shorty. He also played FBI Agent Jack Crawford in the first Hannibal Lecter crime film, Michael Mann's Manhunter.
Other movies include Steven Spielberg's Saving Private Ryan (as Lieutenant Colonel Walter Anderson), Striking Distance, Another Stakeout, Little Big League, Snatch, The Mod Squad, Big Trouble and Out of Sight. He starred with Bette Midler in the romantic comedy That Old Feeling.  Farina had a flair for comedy. He won an American Comedy Award for his performance in Get Shorty and starred in a television sitcom, In-Laws, from 2002 until 2003. He had a comic role opposite Ed Harris and Helen Hunt in the HBO production of Empire Falls in 2005 and opposite Alan Rickman in 2008's Bottle Shock.  In early 2005, Farina provided the voice of aging boxer-turned-superhero Wildcat on Justice League Unlimited.
The producers of the television series Law & Order hired Farina as Det. Joe Fontana after retiring Jerry Orbach's character Lennie Briscoe. Farina stayed for two years, but his character was not as popular as Orbach's had been. In May 2006, it was announced Farina was leaving Law & Order for other projects, including 2007's You Kill Me opposite Ben Kingsley and 2008's What Happens in Vegas with Cameron Diaz and Ashton Kutcher.  His role of Detective Lt. Mike Torello on Crime Story was as a Chicago police officer, who was assigned to the U.S. Justice Department. Farina's Law & Order character, Joe Fontana, worked for Chicago Homicide before his transfer to the NYPD. Fontana shared a number of other characteristics with the actor who played him; they came from the same Chicago neighborhood, attended the same parochial school, and had the same tastes in clothes and music and were fans of the Chicago Cubs.
In October 2008, Farina became the new host of Unsolved Mysteries when it returned to television with a new five-season, 175-episode run on Spike TV. Farina replaced Robert Stack, who had hosted the series for its entire original 15-year run before his death in 2003. This version featured re-edited segments from previous incarnations on NBC, CBS, and Lifetime (all originally hosted by Stack).  Farina played the title role in a 2011 independent film, The Last Rites of Joe May, written and directed by Joe Maggio, shot on location in Chicago.  He co-starred in the 2012 HBO horse-race gambling series Luck, with Dustin Hoffman, directed by Michael Mann. He also had a recurring guest role in 2013 in the television comedy series New Girl, though his character was killed off prior to the actor's death.
Farina was married to Patricia Farina from 1970 until their divorce in 1980. They have three sons together: Dennis Jr, Michael and Joseph. His youngest son, Joseph, is also an actor. He has two granddaughters, Brianna and Olivia, and four grandsons: Michael, Tyler, Matthew and Eric. He lived with his longtime girlfriend Marianne Cahill in Arizona.  Farina was a lifelong Chicago Cubs fan and played in this role in a 1988 revival of the successful 1977 Organic Theater Company stage play The Bleacher Bums, which was written by and starred fellow Chicago actors Joe Mantegna and Dennis Franz.
Farina was arrested on May 11, 2008, for carrying a loaded .22 caliber pistol through Los Angeles International Airport security. Farina was taken to the Los Angeles Police Department's Pacific Division and booked on suspicion of carrying a concealed weapon, and bail was set at $25,000. He claimed he had simply forgotten the weapon was still in his briefcase and had never intended to take it on a plane. After police determined the weapon was unregistered, the charges were upgraded to a felony and bail was increased to $35,000.  On July 17, 2008, after reaching a plea agreement with prosecutors, Farina pleaded no contest and was sentenced to two years' probation.  Farina died on July 22, 2013, in a hospital in Scottsdale, Arizona after suffering a pulmonary embolism. Farina is buried at Mount Carmel Cemetery in Hillside, Illinois.
Born
February, 29, 1944
Chicago, Illinois
Died
July, 22, 2013
Scottsdale, Arizona
Cause of Death
Cemetery
Mount Carmel Cemetery
Hillside, Illinois
17423 profile views