Del Wood
(Polly Adelaide Hendricks)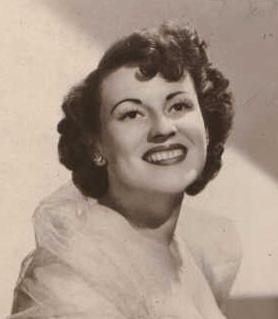 Del Wood
A lifelong resident of Nashville, Del Wood is recognized as being the most successful female country solo instrumentalist. From 1953 until her death in 1989 she was a fixture at the Grand Ole Opry, playing rollicking piano instrumentals from the days of ragtime jazz. Her stage name was created by combining part of her middle name with part of her married name. She was married to Carson Hazlewood from 1941 until 1959.
Her parents gave her a piano for her fifth birthday with the hope that she would become a classical pianist. However, she had different ideas and developed a preference for a honky-tonk style. Wood gained early experience playing piano in the sheet music sections of Nashville dime stores. Later she was hired as a staff pianist at WLBJ in Bowling Green, Kentucky. She was already in her thirties when she recorded her career record.
A producer for the Nashville-based Tennessee label hired the pianist to record "Mine All Mine", a potential A-side, and the old minstrel show tune "Down Yonder" from 1921. The latter, played in Wood's trademark ragtime style, struck the right chord with the fans and entered the pop charts on September 1, 1951, peaking at # 4 during a run of 25 weeks. It crossed over to the country charts, where it reached # 5, and sold an estimated 3 million copies. Wood was the first female instrumentalist to chalk up a million seller, just before Winifred Atwell. In late 1951 Tennessee Records ran into a conflict with the local musicians union and Del was advised to do no further work for the company. She did a session for Decca in March 1952 (four tracks that were not issued until 1953) and then, in February 1953, signed with Republic Records, which was in fact a continuation of the Tennessee label under a new name. Her biggest seller for Republic was "Elmer's Tune", a sizeable regional hit.
After guesting on the Grand Ole Opry in 1952 and refusing the chance of playing with Bob Crosby, she joined the roster in November 1953, fulfilling her long-time dream. Her playing proved so popular that she toured with Opry shows, even to Japan. She recorded more than sixty singles and twenty-six albums – most of them for RCA (1955-60) and Mercury (1961-64) – earning her the sobriquet Queen of Ragtime Piano. "Down Yonder" would remain her only hit, though.
In the UK she had four releases on the London label between December 1951 and April 1954 : "Down Yonder" (L 1127), "Ragtime Melody" (L 1141), "Twelfth Street Rag" (L 1188) and "Ragtime Annie" (HL 8036). During the Vietnam War, Wood was part of one of the Grand Ole Opry package tours that entertained troops overseas in 1968. Her recordings after the late 1960s were infrequent at best, but her appearances at the Opry continued until just before her death.
In 1973 Jerry Lee Lewis made his first and only appearance on the Grand Ole Opry. He interrupted his performance and called Del Wood, whom he cited as a primary influence. Together they performed Wood's hit "Down Yonder". She made a cameo appearance in the 1984 film "Rhinestone", featuring Dolly Parton and Sylvester Stallone.
Del Wood died at the Baptist Hospital in Nashville on October 3, 1989 (aged 69), following a stroke on September 22, the day she was scheduled to play on the Legendary Ladies of Country Music Show. She was interred in the Mount Olivet Cemetery in Nashville.
Born
February, 22, 1920
Nashville, Tennessee,
Died
October, 03, 1989
Nashville, Tennessee,
Cause of Death
Cemetery
Mount Olivet Cemetery
Nashville, Tennessee
17152 profile views