David Brinkley
(David McClure Brinkley)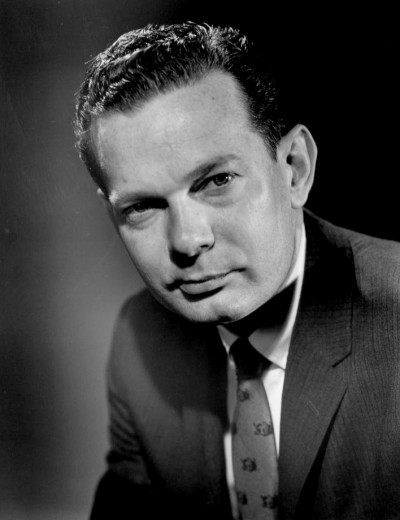 Brinkley was born in Wilmington, North Carolina, the youngest of five children born to William Graham Brinkley and Mary MacDonald (née West) Brinkley. He began writing for a local newspaper, the Wilmington Morning Star, while still attending New Hanover High School. He attended the University of North Carolina at Chapel Hill, Emory University, and Vanderbilt University, before entering service in the United States Army in 1941. Following his 1943 discharge, he moved to Washington, D.C., looking for a radio job at CBS News. Instead, he took a job at NBC News, became its White House correspondent, and in time began appearing on television.  In 1952, Brinkley began providing Washington reporting on NBC Television's evening news program, The Camel News Caravan (the name changed over time), hosted by John Cameron Swayze. In 1956, NBC News executives considered various possibilities to anchor the network's coverage of the Democratic and Republican political conventions, and when executive J. Davidson Taylor suggested pairing two reporters (he had in mind Bill Henry and Ray Scherer), producer Reuven Frank, who favored Brinkley for the job, and NBC's director of news, Joseph Meyers, who favored Chet Huntley, proposed combining Huntley and Brinkley. NBC's top brass consented, but they had so little confidence in the team that they withheld announcing it for two months. Their concern proved unfounded.
The pairing worked so well that on October 29, 1956, the two took over NBC's flagship nightly newscast, with Huntley in New York City and Brinkley in Washington, D.C., for the newly christened Huntley–Brinkley Report. Brinkley's dry wit offset the serious tone set by Huntley, and the program proved popular with audiences turned off by the incessantly serious tone of CBS's news broadcasts of that era. Brinkley's ability to write for the ear with simple, declarative sentences gained him a reputation as one of the medium's most talented writers, and his connections in Washington led CBS's Roger Mudd to observe, "Brinkley, of all the TV guys here, probably has the best sense of the city–best understands its moods and mentality. He knows Washington and he knows the people." Most often described as "wry," Brinkley once suggested on the air that the best way to resolve the controversy over whether to change the name of Boulder Dam to "Hoover Dam" was to have former president Herbert Hoover change his name to "Herbert Boulder".
Another example of Brinkley's seething wryness was evinced on the third night of Chicago's infamous Democratic Convention of 1968. After continuous abuses made on the floor of the convention of NBC correspondents – namely, interference and shadowing of the media staff by supporters of Hubert Humphrey, presumably with connections to political boss Richard J. Daley – voiced a protest of Daley's behavior and his alleged interference with freedoms of the press following Senator Abraham Ribicoff's stormy nomination of George McGovern. Perhaps in reply to a control room for objectivity, referencing Daley's refusal to be interviewed by John Chancellor earlier in the evening, Brinkley can be heard over the McGovern demonstration to have scolded "Mayor Daley had his chance!"
The catchphrase conclusion to each evening's broadcast, "Good night, Chet; Good night, David," entered the language, and it was followed by the beginning of the second movement of Beethoven's 9th Symphony, played as the program credits rolled. The Huntley–Brinkley Report was America's most popular television newscast until it was overtaken, at the end of the 1960s, by the CBS Evening News, anchored by Walter Cronkite. Brinkley and his co-anchor gained such celebrity that Brinkley was forced to cut short his reporting on Hubert Humphrey in the 1960 West Virginia primary because West Virginians were more interested in meeting Brinkley than the candidate.[6] From 1961 to 1963, Brinkley anchored a prime time news magazine, David Brinkley's Journal. Produced by Ted Yates, the program won a George Foster Peabody Award and two Emmy Awards.
When Huntley retired from the anchor chair in 1970, the evening news program was renamed NBC Nightly News, and Brinkley co-anchored the broadcast with John Chancellor and Frank McGee. In 1971, Chancellor was named sole anchor and Brinkley became the program's commentator, delivering three-minute perspectives several times a week under the title David Brinkley's Journal. By 1976, though, NBC decided to revive the dual-anchor format, and Brinkley once again anchored the Washington desk for the network, until October 1979. However, the early years of Nightly News never achieved the popularity Huntley-Brinkley Report had enjoyed. For its part, NBC attempted to launch several news magazine shows during the 1970s with Brinkley as anchor; none of them succeeded. An unhappy Brinkley left NBC in 1981; NBC Magazine was his last show for that network.
Almost immediately after leaving NBC, Brinkley was offered a job at ABC. ABC News President Roone Arledge was anxious to replace ABC's Sunday morning news program, Issues and Answers, which had always lagged far behind CBS's Face the Nation and NBC's Meet the Press. Brinkley was tapped for the job, and in 1981 began hosting This Week with David Brinkley. This Week revolutionized the Sunday morning news program format, featuring not only several correspondents interviewing guest newsmakers, but also following up with an opinionated roundtable of discussion. The format proved highly successful and was soon imitated by Brinkley's NBC and CBS rivals, as well as new programs which later came into existence.  As part of the remembrance of World War II, Brinkley and ABC News produced the special The Battle of the Bulge; 50 years On, with Brinkley hosting and interviewing survivors of the battle from both sides. The special, which aired during the Christmas 1994 period was well received, both critically and in viewership.  Days before his announced retirement from regular news coverage, Brinkley made a rare on-air mistake during evening coverage of the 1996 presidential election, at a moment when he thought they were on commercial break. One of his colleagues asked him what he thought of Bill Clinton's re-election. He called Clinton "a bore" and added, "The next four years will be filled with pretty words, and pretty music, and a lot of goddamn nonsense!" One of his team pointed out that they were still on the air. Brinkley said, "Really? Well, I'm leaving anyway!" Brinkley worked this mistake into a chance for an apology as part of a one-on-one interview with Clinton that followed a week or so later.
Brinkley stepped down from hosting This Week on November 10, 1996, but continued to provide small commentary pieces for the show until 1997. He then fully retired from television. He had been an electronic journalist for over fifty years and had been anchor or host of a daily or weekly national television program for just over forty years. His career lasted from the beginning of televised news to the information age.  During his career, David Brinkley won ten Emmy Awards and three George Foster Peabody Awards. In 1958 Brinkley received the Alfred I. duPont Award.[8] In 1982 he received the Paul White Award for lifetime achievement from the Radio Television Digital News Association. In 1988, he was inducted into the Television Hall of Fame. In 1992, President George H. W. Bush awarded him the Presidential Medal of Freedom, the nation's highest civilian honor. Bush called him "the elder statesman of broadcast journalism"; but Brinkley was much more humble. In an interview in 1992, he said "Most of my life, I've simply been a reporter covering things, and writing and talking about it".  Brinkley is the father of historian and former Columbia University Provost, Alan Brinkley, and of Pulitzer Prize-winning journalist and Stanford professor, Joel Brinkley.  Brinkley died in 2003 at his home in Houston, Texas, from complications after a fall. His body is interred at Oakdale Cemetery, Wilmington, North Carolina.
Born
July, 10, 1920
USA
Wilmington, North Carolina
Died
June, 11, 2003
USA
Houston, Texas
Cause of Death
complications after a fall
Cemetery
Oakdale Cemetery
Wilmington, North Carolina
USA
15615 profile views