David Anthony Kennedy
(David Anthony Kennedy)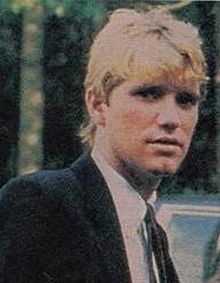 David Anthony Kennedy
The Palm Beach County authorities said today that David Anthony Kennedy died of "multiple ingestion" of three drugs found in his body fluids. They also announced the arrest of two men in connection with his death.
Cocaine, Demerol and Mellaril were found in the body of David Anthony Kennedy, the authorities said. The 28-year-old son of Robert F. Kennedywas found dead April 25 in a Palm Beach hotel suite.. Drugs From Various Sources
Investigators, none of whom would speak for attribution, said it had been determined that David Anthony Kennedy probably obtained some or all of the high- grade cocaine he used on his final visit here through the two men arrested.
The Demerol, a stong pain killer, is believed to have been obtained from the mansion on Palm Beach where David Kennedy's grandmother, Rose Kennedy, spends winter months. A source familiar with the investigation said the family matriarch, who has been ill for several months, was taking Demerol by prescription.
The Mellaril, a drug used for psychotic disorders ranging from behavior problems in children to depression and anxiety in adults, belonged to Mr. Kennedy, the authorities said. Tablets of the drug were found in a prescription bottle with Mr. Kennedy's name on it, investigators said.
An affidavit filed with the Circuit Court here by the state to support its arrest warrants also stated that a small package of cocaine was found in Mr. Kennedy's wallet when the police searched his room.
David H. Bludworth, the state attorney for the 15th Judicial Circuit of Florida, and Joseph Terlizzese, Chief of Police of the Town of Palm Beach, said at a news conference today that Peter Andrew Marchant, 24 years old, of Warrick, R.I., and Linwood Dorr, 31 of West Warmouth, Mass., had been arrested and charged by the state attorney's office here with conspiracy to sell cocaine and with selling cocaine. Mr. Marchant voluntarily arrived here late this afternoon, appearing shaken. He surrendered to the county police and posted a $35,000 surety bond with arraignment set for June 8.
Mr. Dorr also surrendered voluntarily late this morning to the authorities in Barnstable County, Mass., after learning through family members that he was wanted on a Massachusetts fugitive warrant for his arrest stemming from the charges here.
His bail was set at $50,000 cash, which his attorney, Frank Mondano, said Mr. Dorr was unable to raise. He said his client was being held pending a hearing May 24 on Florida's request to have Mr. Dorr returned to Florida. He said his client had not decided whether to return voluntarily or fight the extradition request.
Both men had been seasonal employees at the Brazilian Court Hotel in Palm Beach, where Mr. Kennedy was found dead, the authorities said. The two men, who were bellhops and helpers at the hotel, were working there for most or all of Mr. Kennedy's stay, according to investigators. In addition, it was learned that Mr. Dorr had worked previously for the Kennedy family as a landscaper for about four months.
Under Florida law, formal judicial charges can be brought against a person at the discretion of the local state attorney or by a grand jury. In this case, Mr. Bludworth personally filed the charges against the two men.
Conspiracy to sell cocaine is a third- degree felony in Florida, punishable by five years imprisonment, a $5,000 fine or both. Sale of cocaine as a second-degree felony punishable by 15 years in prison, a $10,000 fine or both.
Mr. Bludworth stressed in an interview with reporters that "the probability of them being charged with his death is remote, these two." He was referring to Mr. Marchant and Mr. Dorr. Third Man Reported Sought
Mr. Bludworth would not comment on reports of a third man being sought in connection with investigating the source of the cocaine. The man, believed to be a foreign national and possibly out of the country at this time, was referred to in the state's affidavit in support of probable cause to charge the two men.
It was learned, however, that the placing of murder charges against any single party could be complicated considerably because of the presence of several drugs in Mr. Kennedy's body.
Although Mr. Bludworth and Chief Terlizzese disclosed a cause of death and identified the three drugs, they continued to withhold the full autopsy report under a local court order issued May 3.
Much of the information in the state's affidavit linking Mr. Kennedy to the two men arrested today appeared to rely on statements obtained from Derrick Evans, a prep school classmate of Douglas Kennedy, a younger brother of David. The brothers were among several family members visiting Mrs. Kennedy for the Easter holidays.
Mr. Evans was staying with Douglas Kennedy at the Brazilian Court in a room separate from that of David Anthony Kennedy. Affidavit Describes Request
The affidavit said the two men arrested today met David Anthony Kennedy at the Brazilian Court on or about April 20 and were asked by him to obtain some cocaine for him.
The affidavit said Derrick Evans was present when the purchase of cocaine was discussed, when the two men "called a person concerning arranging a purchase," and on April 22 when David Kennedy was reported to have told Mr. Marchant and Mr. Dorr "that the cocaine they had obtained for him was of good quality."
The affidavit said Mr. Dorr "made statements" to Robert Lucke, a hotel employee and now a state witness in the case, according to Mr. Bludworth, "that he had purchased and delivered the cocaine to David Kennedy."
Mr. Evans has not been available to reporters, and Kennedy family members have also remained silent about the investigation. Local authorities have been protected from providing any information about their probe of Mr. Kennedy's death, except at their discretion, by county court order barring disclosure of information about "ongoing" police investigations. Drugs That Were Found
According to Dr. Solomon Snyder, professor of neuroscience at Johns Hopkins University, the action of each of the three drugs found in David Kennedy's body is powerful, and when taken together they are even more potent than if used individually. Mellaril is a tranquilizer often used to treat schizophrenics, he said. It depresses brain activity in general.
Demerol is an opiate related to morphine and heroin, according to Dr. Snyder, and is used in hospitals to treat severe pain. In an overdose it can kill by depressing the action of brain centers that control breathing, so that a person suffocates.
"When you have two depressant drugs, they act synergistically," he said, "meaning they act more powerfully than if taken individually."
Cocaine, he said, is a stimulant, and would not have the effect of being an antidote for the two depressants but would "make matters worse," he said.
Born
June, 15, 1955
Washington, D.C.
Died
April, 25, 1984
Palm Beach, Florida
Cause of Death
Cemetery
Holyhood Cemetery
Brookline, Massachusetts
1251 profile views