Davey Allison
(David Carl Allison)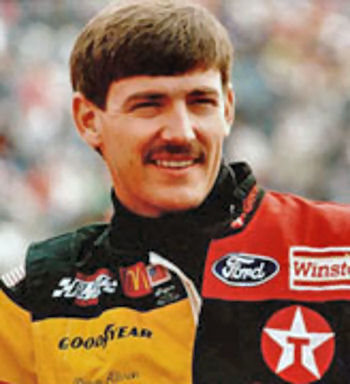 Davey Allison
Though 1992 had been a heartbreaking year for Davey Allison and the Robert Yates Racing team in more ways than one, they had to be encouraged by their run for the championship. But 1993 opened on a sour note with Allison finishing 28th at Daytona. That finish was followed by a 16th at Rockingham, but Davey rebounded to win at Richmond the following week. No one knew at the time, but it would be Davey Allison's last win.
The next race at Atlanta was delayed a week by a blizzard that blanketed much of the Southeast. Morgan Shepherd won the race and Davey finished 13th. He then posted an 11th at Darlington. Despite the early season struggles, Davey was sixth in the Winston Cup standings, while defending series champ Kulwicki was ninth.
Davey Allison had debuted in the International Race of Champions (IROC) in 1992, but his injuries forced him to miss the last two races. 1993 was shaping up to be a far better year for Davey, with a second place at Daytona and a victory at Darlington, giving him a large points lead.
Three days after Kulwicki's death in an airplane crash, Davey Allison finished fifth in an emotional race at Bristol. He followed that finish with a fourth at North Wilkesboro, second at Martinsville, seventh at Talladega, and 15th at Sears Point. He finished a disappointing 30th in the Coca-Cola 600 at Charlotte, but rebounded at Dover, finishing third. He was sixth at Pocono, but finished 35th at Michigan and 31st at Daytona. Halfway through the 1993 season, Davey was fifth in the point standings, but was 323 points behind leader Dale Earnhardt. Still, Davey and the Robert Yates team were confident that they could put their early season struggles and inconsistency behind them and could make a run for the championship in the second half. The inaugural race at New Hampshire International Speedway proved the team's optimism was not unfounded. Davey led 38 laps of the event and finished third behind Rusty Wallace and Mark Martin.
On Monday, July 12, 1993, Davey Allison boarded his newly acquired Hughes 369HS helicopter to fly to Talladega Superspeedway to watch family friend Neil Bonnett and his son David test a car for David's Busch Series debut. He picked up another family friend, legendary racer Red Farmer, en route to the track. Allison was attempting to land the helicopter inside a fenced-in area of the track infield when the craft nosed up suddenly, then crashed. The National Transportation Safety Board blamed the crash on Allison's inexperience in helicopters, coupled with the decision to attempt a landing. Neil Bonnett was able to free a semi-conscious Farmer from the wreckage, but Allison was unresponsive and could not be freed until paramedics arrived. Farmer would go on to a lengthy but successful recovery, but Allison never regained consciousness after sustaining a critical head injury. He was pronounced dead at 7:00 a.m. the next morning by a neurosurgeon at Carraway Methodist Medical Center in Birmingham after a procedure to relieve pressure on his brain proved unsuccessful.
Thousands packed the auditorium at St. Aloysious Church in Bessemer, Alabama to pay their respects at his funeral. He is buried near his brother, Clifford, in Bessemer's Highland Memorial Gardens. Allison's organs except his corneas were donated.
After the final race of the season, series champion Dale Earnhardt and race winner Wallace drove a side by side Polish Victory Lap carrying flags for fallen drivers Alan Kulwicki and Allison.
In his short NASCAR Winston Cup career, Davey Allison posted 19 wins, 66 top-five and 92 top-ten finishes. He also won 14 poles and earned $6,724,174. He is survived by his wife, Liz, and two children, daughter Krista Marie, and son Robert Grey.
Born
February, 25, 1961
Hollywood, Florida
Died
July, 13, 1993
Birmingham, Alabama
Cause of Death
Helicopter crash at Talladega Superspeedway
Cemetery
Highland Memorial Gardens
Bessemer, Alabama
17962 profile views