Dave Brockie
(David Murray Brockie)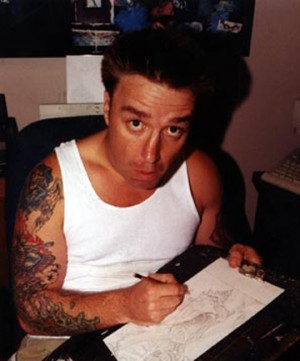 Dave Brockie
Brockie portrayed Oderus Urungus, Gwar's lead singer, from Gwar's inception in 1982 until his death. Oderus appeared as an intergalactic humanoid barbarian with devil horns and a meaty-looking face, and carried a long sword named "Unt Lick" and a cuttlefish around his loins.  In 1990, Brockie was arrested by police for "obscenity" after a North Carolina concert, that almost led to him being deported (Brockie was, at the time, a Canadian citizen and did not have a driver's license), reportedly taking the Cuttlefish into custody as "evidence." In the end, Brockie was not deported.
The arrest was written into the Oderus Urungus mythology. Oderus attracts trouble wherever he goes, including one instance where, according to the storyline of Gwar's America Must Be Destroyed album and Phallus in Wonderland movie, Corporal Punishment of The Morality Squad ambushes and detaches his (Oderus's) alleged penis, the Cuttlefish of Cthulhu. This is detailed in the song "Ham On The Bone" (although the song predates the event in question by more than a year, it fits the context of the story perfectly). Since that incident, Oderus had made it a point to appear with the Cuttlefish whenever possible (though some tours downplayed the "fish", Gwar's more recent tours had utilized a re-designed Cuttlefish as a means to spray the audience with various fluids).
On Sunday March 23, 2014, Brockie was found dead, his body sitting upright in a chair in his home, by a band member. The cause of death was determined to be a heroin overdose. Gwar's management confirmed initial reports of Brockie's death on the official Gwar website at 4am on March 24 and news of Brockie's death spread quickly with many of his fellow musical peers and bandmates responding through social media. Mike Bishop, a former member of Gwar and his replacement on vocals, was one of the first to confirm Brockie's death.
News of Brockie's death spread very quickly through the metal community, with many
fans and fellow musicians taking the time to honor his memory, including Lamb of God lead singer Randy Blythe, Foo Fighters lead singer Dave Grohl, and The Daily Beast writer Andy Hinds. Oderus Urungus was given a traditional Viking funeral in a public memorial prior to the 5th annual GWAR-B-Q event the next day.
Born
August, 30, 1963
Ontario, Canada
Died
March, 23, 2014
Richmond, Virginia
Cause of Death
Cemetery
Hollywood Cemetery
Richmond, Virginia
16859 profile views