Cowboy Copas
(Lloyd Estel Copas)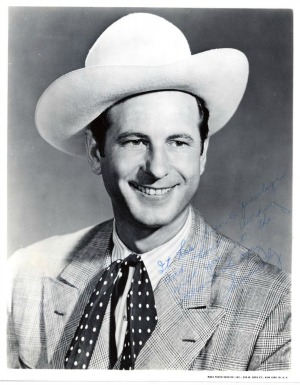 Cowboy Copas
On March 3, 1963, Copas, Patsy Cline, Hawkshaw Hawkins and others performed at a benefit concert at the Soldiers and Sailors Memorial Hall in Kansas City, Kansas for the family of disc jockey Cactus Jack Call, who had died the previous December in an automobile accident.
On March 5, they left for Nashville in a Piper Comanche piloted by Copas' son-in-law (and Cline's manager), Randy Hughes. After stopping to refuel in Dyersburg, Tennessee, the craft took off at 6:07 p.m. CT. The plane flew into severe weather and crashed at 6:20 p.m. in a forest near Camden, Tennessee, 90 miles from the destination. There were no survivors. A stone marker, dedicated on July 6, 1996, marks the location of the crash.
Copas was buried at Forest Lawn Memorial Gardens in Goodlettsville, Tennessee in "Music Row" with Hawkins and other country music stars.
Born
July, 15, 1913
Muskogee, OK
Died
March, 05, 1963
Camden, Tennessee
Cause of Death
Cemetery
Forrest Lawn memorial Park
Goodlettsville, Tennessee
17250 profile views